You are here
Back to top
OZblu Blueberries Make Chinese Mainland Debut in Shanghai
October 11, 2019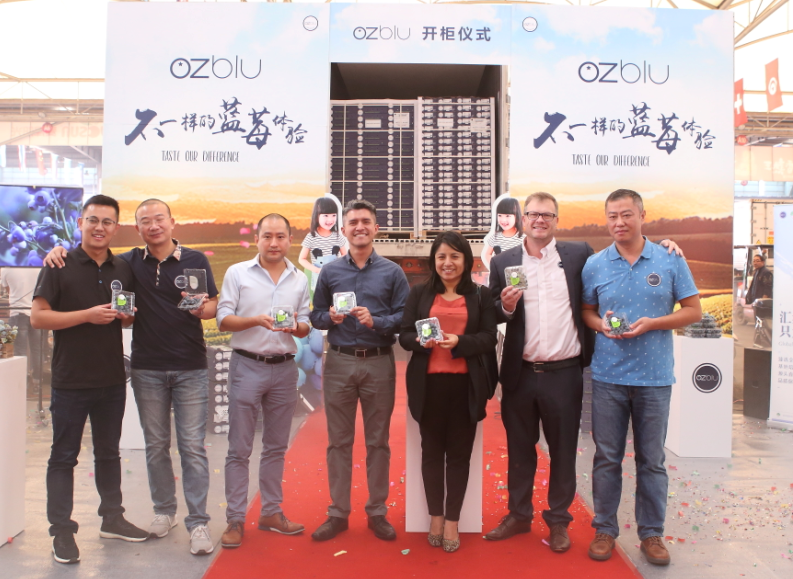 On the morning of September 29 at Shanghai Huizhan Fruit and Vegetable Market, a grand ceremony was held to celebrate the mainland China debut of OZblu blueberries from Ica, Peru. Along with Ms. Carla Cieza, Commercial Officer in the  Economic and Commercial Department of the Consulate General of Peru in Shanghai, representatives from OZblu, Riverking, and Shanghai Huizhan Fruit and Vegetable Market attended the event.
OZblu is a world-renowned blueberry brand which features a range of premium varieties including "OZ Magnifica", "OZ Bella", "OZ Bonita", "OZ Julieta" and "OZ Magica". As OZblu co-founders and sole breeders of the brand's varieties, David and Leasa Mazzardis have been highly engaged for decades in their work to develop superior blueberry varieties that are juicier, crunchier and overall tastier. Now, OZblu's commercial production has spread to Australia, New Zealand, Peru, Chile, Mexico, USA, Morocco, Tunisia, South Africa, Zimbabwe, Zambia and several European countries. Also worth noting is that OZblu broke the Guinness World Record for the world's heaviest blueberry in March 2018.
In a speech onstage, Mr. Mark Pidgeon, Sales Manager at OZblu Asia, noted that the Migiva Group and United Exports had entered into a joint venture in 2018. United Exports is the parent company of OZblu, which has extensive expertise in blueberry breeding, and Migiva is a successful and diversified agri-group based in Peru with a rich background in precision agriculture. It is widely believed that the joint venture will help to speed up the delivery of the much anticipated, next-generation OZblu blueberries. According to Mr. Mark Pidgeon, all blueberries in this shipment were grown in a natural environment at over 2,000 meters above sea level in Peru. Furthermore, a farm-to-table traceability system has been put in place to ensure all OZblu blueberries meet the high expectations consumers have for quality and freshness.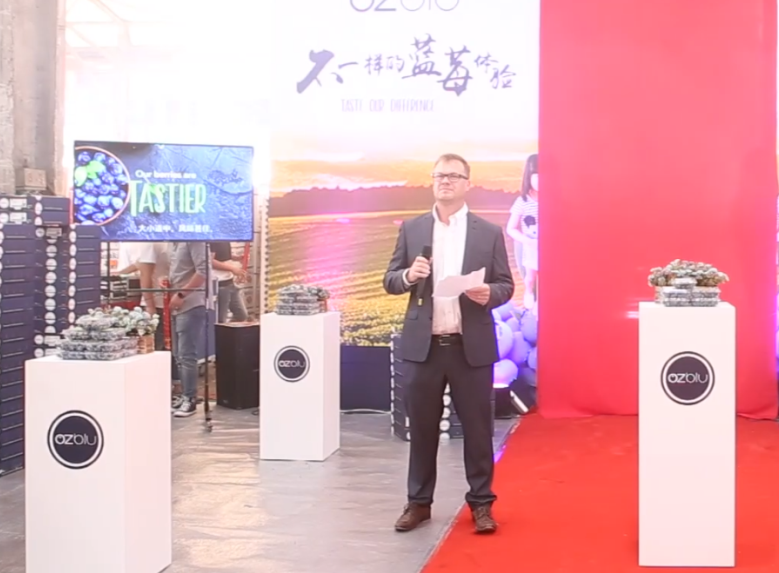 Ms. Carla Cieza spoke highly of the role Riverking played in drawing China and Peru closer. She stressed that the opening ceremony itself was a good display of the strong momentum generated through economic exchanges and general cooperation between the two nations. As to OZblu blueberries, Ms. Carla Cieza expressed her confidence that the premium brand is certain to win the trust and preference of Chinese consumers.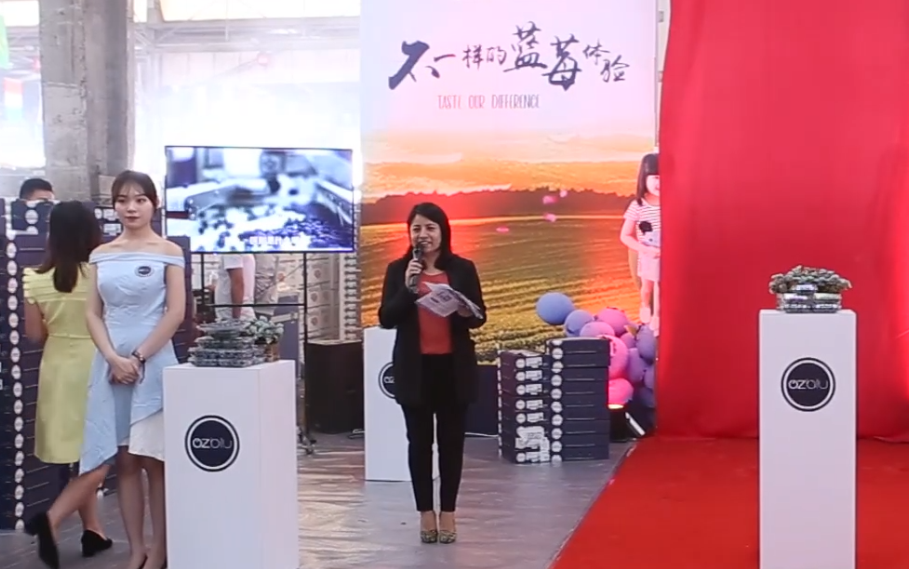 Mr. Tian Xin, Sales Vice-General Manager of Riverking, and Mr. Lin Zhehao, Deputy General Manager of Shanghai Huizhan Fruit and Vegetable Market Management Co., Ltd, also praised OZblu's distinct standards for production and quality and expressed their optimism for OZblu's future in China.
In an interview with Produce Report after the event, Mr. Luo Lian, Brand Operation Manager for Riverking, revealed that OZblu blueberries enjoy their superior characteristics such as a sweeter and juicier taste, larger fruit size and firmer texture due to the concerted and consistent efforts focused on variety development over the past decades. "Considering Riverking's pronounced advantage in extensive sales channels, these blueberries are expected to be soon sold in a number of large chain stores, supermarkets, wholesale markets and e-commerce platforms across China".
It was reported that shortly after the opening ceremony, the first container shipment of OZblu blueberries had already completely sold out.
Image Source: Riverking
Upcoming Events

September 06, 2023

to

September 08, 2023
October 19, 2023

to

October 21, 2023
Featured Produce
Produce Marketplace
Elangeni Food Group

·

South Africa

Universal Capital Gr

·

Ecuador

AGRI GATEX LIMITED

·

Africa
Joshua Lim

·

Malaysia

City fresh fruit co.

·

Thailand

Chun lin orchard-Sel

·

Taiwan nan
China Market Access List