You are here
Back to top
Organic NZ Apple "Posy" Gets Exclusive China Debut Via Fruit Day
March 21, 2018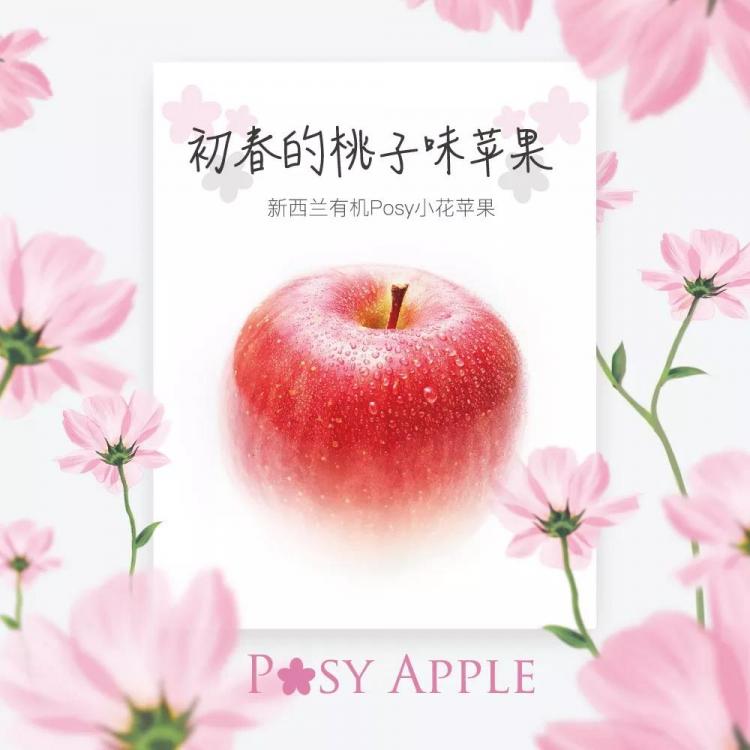 The organic fruit market has been expanding in China. Recently, Fruit Day, an e-commerce platform specialized in importing global fruit to China, introduced the Posy, an organic apple grown in New Zealand. Fruit Day is gearing up to debut a limited quantity of the apple, which is described possessing the taste of an early spring peach.
Organic fruits are no strangers to European and American markets. According to data issued by Organic Produce Network (OPN) and Nielson, retail sales of organic fruit in the United States amounted to nearly USD 5 billion in 2017 — an 8% increase from the previous year. The proportion of organic food products selected by consumers grew from 52% in 2015 to 62% in 2017. The report suggests that organic food only accounted for 8% of total food sales.
The Posy is a novel apple product coming out of New Zealand. This year marks the inaugural batch of mass-produced Posy apples along with its debut in the Chinese market. Fruit Day commented that the Posy apple has a sweetness degree of over 14.  They explained the Posy as pink and bright red — a fine, delicate skin — with sweet, juicy and crisp flesh. Organic apples are grown without pesticides and chemicals, producing a flavor comparable to honey, muskmelons, and watermelon. Even more surprising is the Posy's subtle peach aroma.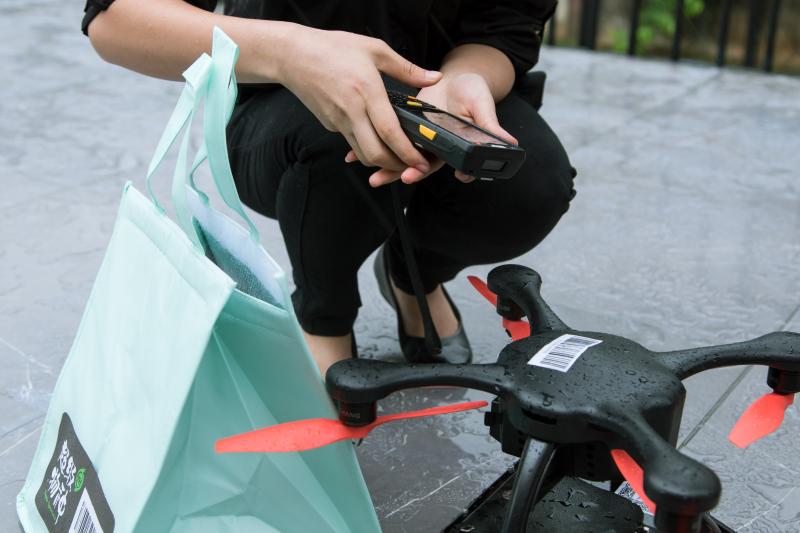 Posy apples are grown in Hawke's Bay, an area known as the best place in the world to grow apples. This region's local topography, abundant sunlight, and warm climate are the perfect natural conditions for apple farming without the need for pesticides and other chemicals. New Zealand's largest organic apple grower, Bostock New Zealand, farms Posy apples. As the single largest apple grower in the southern hemisphere, Bostock New Zealand utilizes over 470 hectares of certified organic land, which is responsible for 90% of New Zealand's organic apple exports. Their orchards have received global and Chinese organic certification along with New Zealand's only fair trade certification. Bostock New Zealand adheres to eco-friendly principles by upholding sustainable development and organic growing practices to protect the environment.
In 2016, in order to meet the demand of international markets, Bostock New Zealand began to update their roster of apple varieties. Accordingly, they started to grow Premier Star, TCL3, and Kingsbeer Red. They set a goal to reach a market size of NZD 1 billion by the year 2022 after the elimination of varieties. After two years of preparations, Bostock New Zealand's new varieties finally landed in Asian markets.  
As for the export of Posy organic apples, Bostock New Zealand International Trade Representative, Jane Maclean, expressed her company's excitement for the launch of the Posy apple in China. She mentioned that the sweetness level and peach-like flavor make the Posy unique. They hope Fruit Day shoppers will enjoy New Zealand's springtime, organic apple.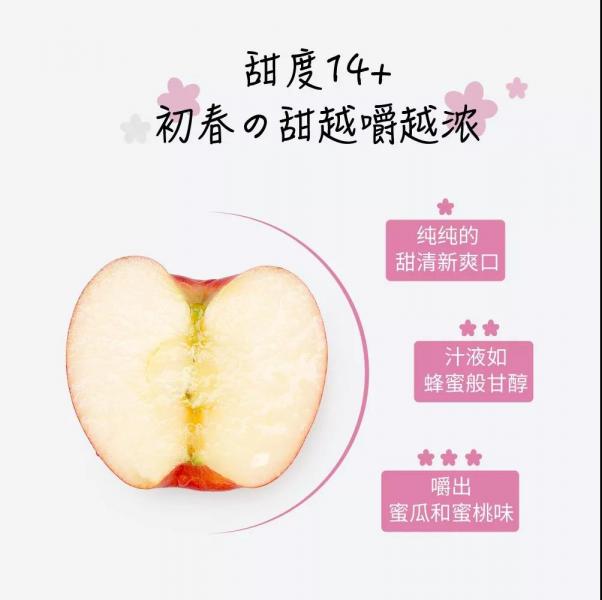 An individual in charge of Fruit Day's procurement said their decision to bring the Posy to Chinese consumers was made the moment they laid eyes on it. Every aspect of the Posy, including its flavor and appearance, gave them confidence that this variety could satisfy the demand for delicious fruit by Chinese consumers. The Fruit Day representative urges apple lovers not to miss out on the Posy. Fruit Day told Produce Report that New Zealand apples are well known at home and abroad. Organic apples—such as the Posy—are expensive compared to common apples and are difficult to transport due to the fruit's delicate nature. On top of that, this type of good needs to pass both Chinese and Australian organic certification. Even so, Fruit Day insists on expanding the domestic organic market and bringing the prized and delicious Posy to Chinese shoppers. Fruit Day mentioned that organic fruit represents the pursuit of health and safety by childbearing mothers and fitness fanatics.
Fruit Day imports many hot-selling global fruits, such as Zespri kiwis, American grapes, and Envy apples, to the Chinese market. Along with the consumption upgrade in the Chinese economy, consumers will gravitate increasingly towards healthy lifestyle choices—choosing fruit over unhealthy snacks, for example. This is the main driver for importing organic fruits in many countries. Fruit Day expressed their continued effort to bring fashionable and healthy concepts of fruit consumption to more consumers.
Upcoming Events

September 06, 2023

to

September 08, 2023
October 19, 2023

to

October 21, 2023
Featured Produce
Produce Marketplace
Elangeni Food Group

·

South Africa

Universal Capital Gr

·

Ecuador

AGRI GATEX LIMITED

·

Africa
Joshua Lim

·

Malaysia

City fresh fruit co.

·

Thailand

Chun lin orchard-Sel

·

Taiwan nan
China Market Access List