You are here
Back to top
JD Launches Offline Supermarket 7Fresh
January 02, 2018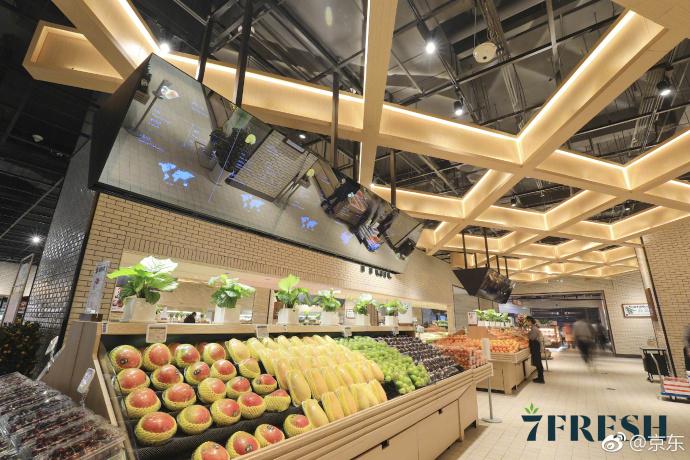 On Dec 29, Beijing Jingdong Century Trade Ltd., commonly known by the name of its B2C e-commerce platform, JD.com or JD, launched its offline supermarket - 7Fresh, in Beijing. The new store, with a 4,000 square meters of floor space, is located at the Dazu Plaza Shopping Center, close to JD's headquarters in Yizhuang District.
7Fresh would employ Big Data Analytics, it was said, to select the most suitable product portfolio to meet the needs of its shoppers. To ensure products' freshness, it would source these products directly from their origins. Fresh produce would account for 75% of 7Fresh's total product range. Further more, customers can have their purchased fresh seafood and meats prepared for them to be consumed inside the store. 7Fresh thus combines a supermarket and a cooked food stall. This mode of operation is similar to Hema Supermarkets owned by Alibaba.
7Fresh also offers delivery services for customers located within a 5km diameter, versus 3km for Hema. Delivery may be completed as quickly as 30 minutes after a purchased is made. The new supermarket has introduced a range of new technology, including smart shopping carts, sensor-activated product information images, and automated suspension rails etc, to give customers a new hi-tech shopping experience. Smart shopping carts, for instance, would not only follow the shoppers around, eliminating the need for pushing, but also have the capability to guide the shoppers to their desired display isles.
A second 7Fresh outlet would soon be opened in Beijing's Haidian District. According to Mr. Wang Xiaosong, president of JD's Fresh Produce Department, 7Fresh would achieve breakthroughs in offline supermarket operation in terms of products, food service, supply chain, and smart technology etc. It would complement JD's online retailing of fresh produce and even the whole JD e-commerce platform.
Integrating online and offline resources is the general trend of today and competition in this new formats of retailing has intensified since early 2017. Alibaba Group has been expanding its territories continuously. Its Hema Supermarkets revolutionized traditional grocery stores. A new Hema outlet is due to open in Yizhuang in January, 2018. Its location is just within 3km from 7Fresh. Fierce competition between them can be expected.
Apart from Alibaba and JD, Tencent, the social media giant, has also entered the scene with its acquisition of 5% of Yonghui Superstores. Tencent is said to be injecting more capital into Yonghui to raise its shareholding to 15%. Bolstering its mobile payment business appears to be part of the strategic thinking behind Tencent's move.
Photo source: JD
Upcoming Events
October 19, 2023

to

October 21, 2023
Produce Marketplace
Elangeni Food Group

·

South Africa

Universal Capital Gr

·

Ecuador

AGRI GATEX LIMITED

·

Africa
Joshua Lim

·

Malaysia

City fresh fruit co.

·

Thailand

Chun lin orchard-Sel

·

Taiwan nan
China Market Access List