You are here
Back to top
Italian Nurseries Eyeing up the Chinese Market
August 30, 2017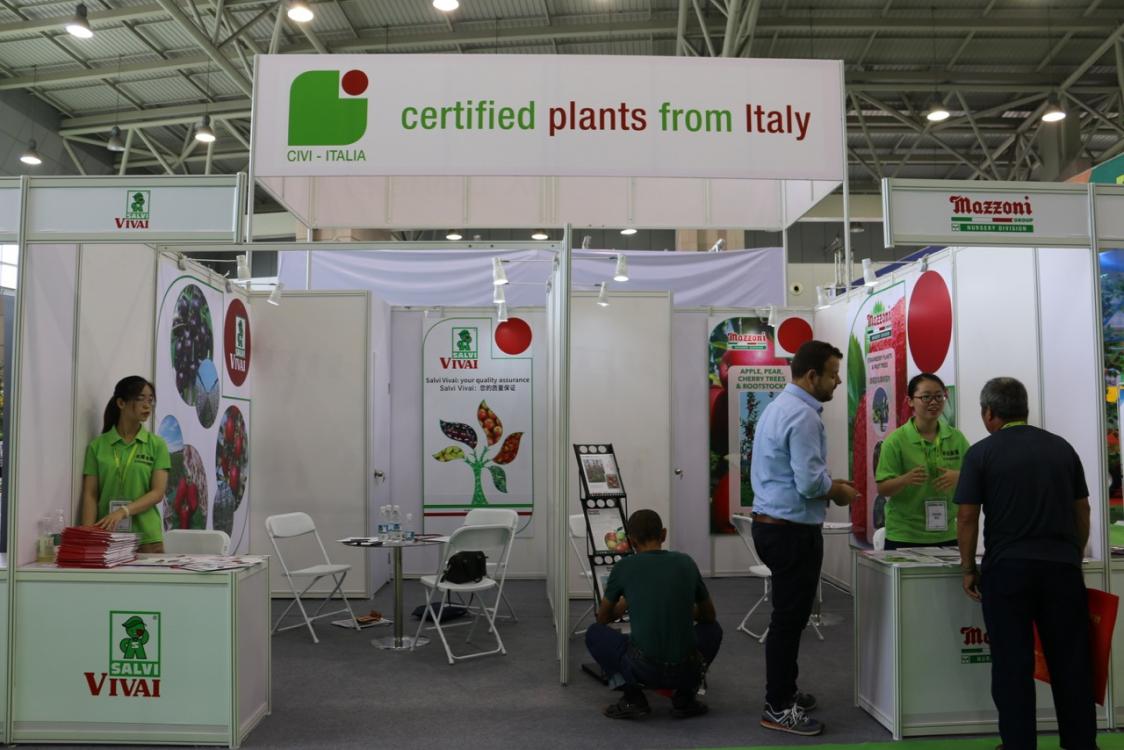 The still low yields of Chinese orchards make the country an attractive market for foreign nurseries such as Salvi, which is considering how best to bring Italian plants and know how to the country.
For those not used to high density fruit production, Italian orchards are an unusual sight arranged as they are, much like the country's omnipresent vineyards. The thin short trees extend down neat, tight rows, giving immediate access to one of Italy's prized agricultural products, apples. In contrast, China's apple industry still relies on more traditional plants providing more difficult access to the fruit and notably lower yields per hectare.
This state of affairs has not gone unnoticed by Italian nurseries, which are eyeing up China as a potentially vast market for their high yield trees. At Interpoma's first overseas fair in China's Shandong province, Produce Report met Jacopo Diamanti, research and development manager of Salvi Vivai, one of Italy's largest and most established nurseries and a member of the board of directors of Civi Italia, a consortium of over 25 nurseries.
Over the 125 years that Salvi has been in business it has built up an enviable worldwide value chain of distribution that goes from the development of varieties to nurseries, farms, orchards and finally a commercial organisation, which sells the fruit all over the world.
The jewel in the company's crown however is Salvi's Centro Innovazione Varietale (the Centre for Variety Innovation), which since its foundation in 1983 has developed 35 varieties of strawberry and 10 varieties of apple.  These are sold mainly in the European community, Russia, the Baltic, North Africa and also in the Middle East. "However, we're trying to open a new market in China for trees and strawberry plants," explains Jacopo Diamanti, "We have to understand whether or not it is possible to export plants to China and what barriers and problems there may be in developing this new market."
From the view of Salvi all the pieces are in the right place, "The safety certification system in Italy is already far more demanding than that of other countries, and certifies not only the product, but the entire production process…so the plants we finally deliver to the growers are safe and high quality."
This certification has been further raised by the introduction of the CIVI brand, which adds self imposed quality restrictions to the already demanding controls.
Moreover Salvi owns over 700 hectares of orchards all over Italy producing among others fruit for Zespri and Pink Lady. "Our growing areas are increasing every year and we are growing new products such as table grapes, apples, kiwifruit, pears and also stone fruits." Among these are Salvi's cherries, "We have developed our own very high density growing system for cherries. We're talking about 6600 plants per hectare, which produce extremely high quality fruit, with a diameter of over 28 millimeters , a uniform dark red color and very sweet, because we grow a new variety developed by the university of Bologna."
Exports account for the bulk of Salvi's revenues: 65 percent of fruit sales and 80 percent of the company's tree business.
Through Civi, a recently founded consortium of Italian nurseries, Salvi and other members hope to be able to work in concert with the Italian government to negotiate the terms of entry for trees and rootstock to China. The hope being that they will find another market for their production of an average 125 million strawberry plants and over 1 million apple trees and root stocks per year.
"We have seen that the Chinese growing systems are not up to date and are far from those we have in Italy…so the potential for growth in China is exceptional. For the time being however, we are trying to understand how to behave in this market," says Diamanti. The conclusion that the company is coming to is that in addition to the plants, the company will also need to provide know-how, "I don't believe leaving the growers to their own devices is an option. Once you've given them the plants you also need to provide them with a plan for what to do with them," concludes the R&D manager.
Diamanti has no illusions about the barriers and difficulties that stand in the way of exporting products to China. However his hope is that the newly formed consortium may pave the way for the entry of Italian plants and growing techniques to China.
Featured Produce
Produce Marketplace
Elangeni Food Group

·

South Africa

Universal Capital Gr

·

Ecuador

AGRI GATEX LIMITED

·

Africa
Joshua Lim

·

Malaysia

City fresh fruit co.

·

Thailand

Chun lin orchard-Sel

·

Taiwan nan
China Market Access List