You are here
Back to top
FruitDay Strengthens O2O Strategy
August 20, 2015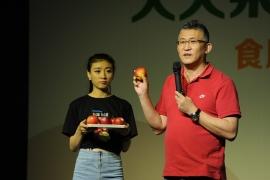 On the afternoon of August 19, FruitDay held a press conference in Beijing with the theme of "Taste a Fresh World" to allow participants an up-close opportunity to understand the supply chain and the online produce supplier. At the press conference, founder Wang Wei gave a keynote speech, addressing the extent of change in online produce suppliers and consumption patterns. He also officially announced that FruitDay has begun an expanded Online-to-Offline (O2O) product strategy.
FruitDay O2O services target white-collar business hours so that customers can order fruit at any time, making it possible to have a "meal delivery" style of ordering fruit while at the office. FruitDay uses brick-and-mortar stores within major distribution areas and employs self-built logistics so that the customer can simply use FruitDay's app to quickly place an order. As long as their delivery address is within the distribution range, they will receive orders of small packaged fruits, juices, and other products within two hours.
Concerning O2O strategic goals, Wang explained, "FruitDay's B2C (business-to-consumer) + O2O business model uses different scenarios to meet consumer needs, providing consumers with more convenience, and a higher quality of life. Allowing people all over the country to eat good fruit was the heart of why FruitDay was founded. With the development of a deeply integrated supply chain over the past six years, the B2C model has achieved good results, and now the B2C + O2O business model will further meet the needs of users in different situations, providing more convenience, and a 'fresher', better life."
With an integrated supply chain and a user-demand-driven business advantage, FruitDay is expected to maintain an average performance increase of 150% per year. In 2014, sales reached RMB 500 million, and in 2015, annual sales are expected to exceed RMB 1 billion.
Image source: FruitDay
Featured Produce
Produce Marketplace
Elangeni Food Group

·

South Africa

Universal Capital Gr

·

Ecuador

AGRI GATEX LIMITED

·

Africa
Joshua Lim

·

Malaysia

City fresh fruit co.

·

Thailand

Chun lin orchard-Sel

·

Taiwan nan
China Market Access List