You are here
Back to top
Former Chilean Agricultural Attaché Joins SAFCO Shanghai
December 02, 2015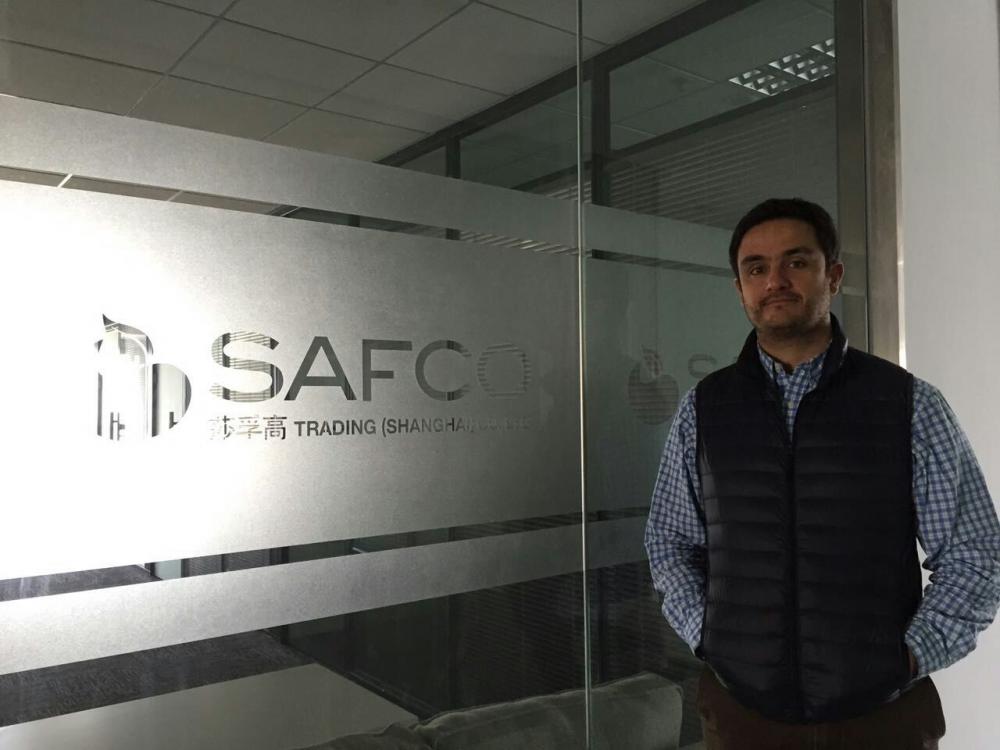 Image Source: MZMC
Produce Report recently had the opportunity to interview the former Chilean Minister Counselor for Agricultural Affairs, Mr. Alvaro Aspee, who came back to China in November to take up his new role as Commercial Manager at SAFCO Trading (Shanghai). Mr. Aspee replaces his predecessor at SAFCO's Shanghai office, Mr. Nicolas Fernandez, who has now returned to Chile after seven successful years in China to communicate directly with the growers on the requirements of the Chinese market.
SAFCO established its Shanghai office in 2008, becoming the first Chilean fruit import company in China. Its parent company Rio King was split in 2014 from Rio Blanco, the largest table grape exporter in the world, retaining 70% of the farms and most of the commercial management and offices abroad. Rio King focuses on cherries and grapes and has over 3000 hectares of plantations in Chile and Peru. SAFCO, which also has an office in Peru and over the last ten years has developed a successful operation in the US (SAFCO US), now intends to repeat this success in Asia. Mr. Aspee explained how "China is changing. So, as it's changing, you need someone here to understand what's going on and take the opportunity when it arrives."
The Shanghai office will focus on expanding SAFCO's operations in the Chinese market and across Asia. Mr. Aspee stressed the importance of having an office in Shanghai in order to respond quickly to issues and emergencies throughout the entire region. A major part of his new role will be locating and building relationships with the right partners through face-to-face meetings and visiting premises. According to Mr. Aspee, "I believe I will help this company to find the right partners in China. We already have good partners, that's very important. This company would not be here if we didn't have good partners." He also highlighted the value of SAFCO's partnership with Rio King, which has over 30 years of experience in the fruit business.
As a fruit import company, SAFCO sells its produce to both wholesalers and retailers and is currently monitoring the opportunities to branch out into e-commerce. Its sales in 2013 reached 10 million dollars, with the majority of its clients in the south of China, including Shanghai and Guangzhou, though the company continues to investigate interesting possibilities in more northern cities such as Chengdu. SAFCO's main focus is on cherries and grapes, including the grape varieties red globe, autumn royal, autumn king, Thompson seedless, and patented cultivars. The company also has smaller imports of kiwi fruits, apples, and plums. Its sea shipments of cherries to China for this season, with an estimated volume of 50 containers, are scheduled to begin in early December.
Featured Produce
Produce Marketplace
Elangeni Food Group

·

South Africa

Universal Capital Gr

·

Ecuador

AGRI GATEX LIMITED

·

Africa
Joshua Lim

·

Malaysia

City fresh fruit co.

·

Thailand

Chun lin orchard-Sel

·

Taiwan nan
China Market Access List