You are here
Back to top
Dutch Peppers Blossom into Spring as Jiajiayue Invites Flavors from the Country of Tulips
April 16, 2018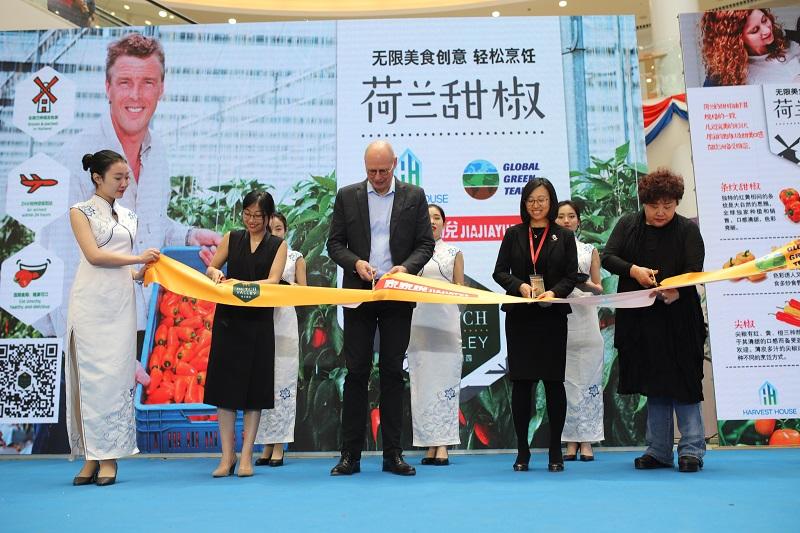 As Dutch tulips are about to blossom, a few varieties of Holland's beautifully vibrant sweet peppers have already made it to Weihai, a coastal city in Shandong, China. It is reported that these exquisite peppers, which are cultivated by the largest cooperative of growers in the Netherlands—Harvest House, were shipped to China by air in April. Thereupon Shandong's leading supermarket chain, Shandong Jiajiayue Group Co. Ltd, sourced directly and invited consumers to have a taste of Holland's colorful, sweet peppers.
On April 14, Jiajiayue Supermarket and Global Green Team held a product launch ceremony to celebrate this first batch of Dutch sweet peppers in the Chinese market. Delegates of Global Green Team, senior officials of Jiajiayue and Marina Bay, and media representatives attended the event.
This batch of sweet peppers from Holland is understood as having complied with stringent production standards. Additionally, in no more than 48 hours, the peppers were picked, packaged and air-shipped to China, ensuring the product's freshness and flavor.
According to Mr. Arno Verboom—the general manager of Global Green Team, a globally operating Dutch fruit and vegetable trading company and the sales arm of Harvest House—many varieties of sweet peppers will be introduced to the Chinese market this year. One noteworthy variety is the red and yellow Enjoya pepper, a bicolored bell pepper that once received the nomination of Innovation Award at BerlinFruit Logistica. The flamboyant Enjoya not only personifies the charm of Dutch tulips, it also bestows an artistic sense of beauty and a sweet, crisp flavor. Mr. Arno Verboom said their sweet peppers can be used for cooking or eaten as a snack. Bold consumers can try sweet peppers in a salad or smoothie. Even so, he mentioned that the color of their peppers is so beautiful that simply admiring them is fine as well.
Meanwhile, the vice general manager of Jiajiayue Group, Ms. Li Mei, expressed Dutch sweet peppers that entered the Chinese market in 2016 achieved a great response in first-tier cities. Shandong Jiajiayue was poised for action last year with the first batch of directly procured sweet peppers from Holland. The supermarket chain has improved product awareness and purchase rate of Dutch sweet peppers in China. And now they are ready to provide a broader selection of nutritious products for the wide range of Chinese consumers who are pursuing healthy lifestyles. "Healthy, nutritious, safe and delicious are the main selling points of the Dutch sweet peppers."Said Ms. Li.
Holland is well known for its cultivation and export of sweet peppers. In fact, about 85% of Holland's sweet pepper crop is exported to overseas markets. The vast selection of Dutch sweet peppers, which are differentiated by color and shape, include the colorful bell pepper, bicolored bell pepper, pointed pepper, and sweet snack peppers. The varieties of Sweet pepper horticulture are precious and takes meticulous efforts to grow.Crop cultivation utilizes Holland's most advanced greenhouse technologies including glass greenhouse environmental control systems, which result in stylish, nutrient-rich sweet peppers. This time around, in addition to bicolored bell peppers, Shandong Jiajiayue also introduced red, yellow, and orange sweet snack peppers to Chinese consumers.
About Harvest House
Harvest House is the largest cooperative of fruit and vegetable growers in the Netherlands. Under its umbrella, there are 69 growers specializes in tomato, bell pepper, and cucumber cultivation. Together they operate on 1000 hectares of land of which 50% is utilized for growing peppers. Growers of Harvest House employ the most modern greenhouse technologies for all forms of planting. Moreover, sustainable practices—such as biological pest control, pollination by honeybees, geothermic heating, and water conservation—are incorporated into all growing methods. Besides exporting to Germany, the United Kingdom, and other European countries, Harvest House has also cooperated with Global Green Team to export products to the United States, the Middle East, and countries in Asia.
Image Source: MZMC
Upcoming Events

September 06, 2023

to

September 08, 2023
October 19, 2023

to

October 21, 2023
Featured Produce
Produce Marketplace
Elangeni Food Group

·

South Africa

Universal Capital Gr

·

Ecuador

AGRI GATEX LIMITED

·

Africa
Joshua Lim

·

Malaysia

City fresh fruit co.

·

Thailand

Chun lin orchard-Sel

·

Taiwan nan
China Market Access List