You are here
Back to top
Dutch Valley Sweet Pepper Make Chinese Mainland Debut
June 26, 2017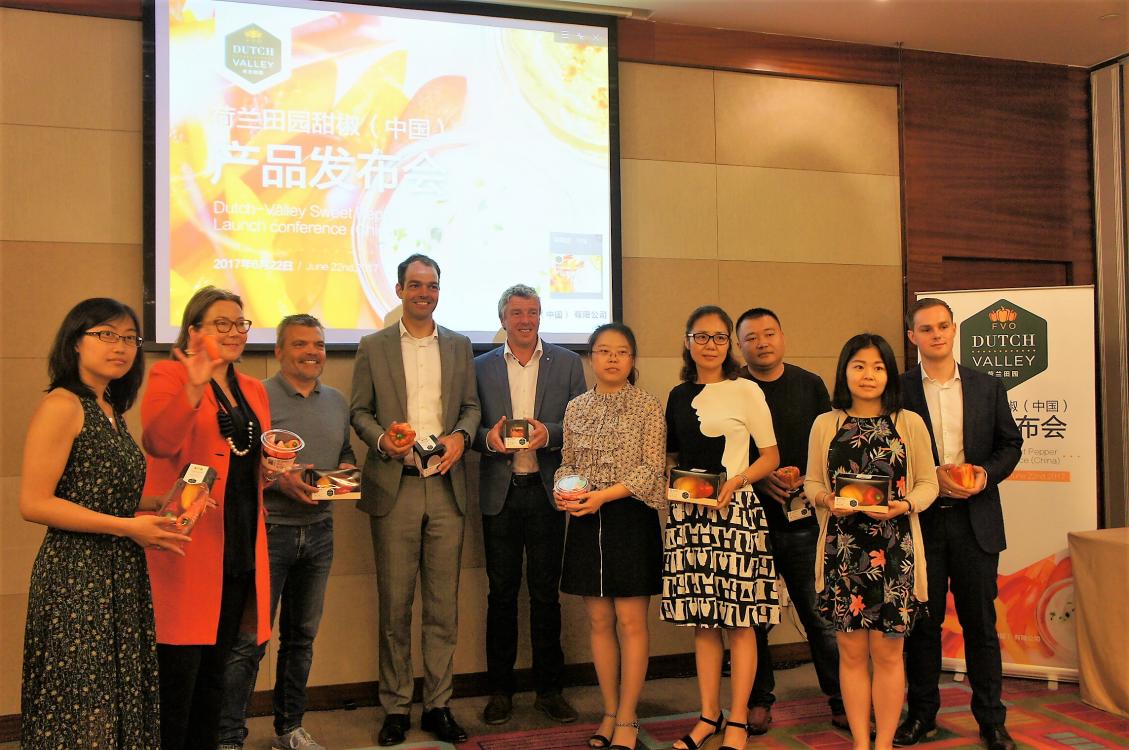 Vitapep, or "Snack Peppers" (small, sweet bell peppers meant to be eaten as snacks), may well be within reach for Chinese consumers in just a few days. On June 22nd, FVO China held a launch event at the Swissotel Grand Shanghai for Dutch Valley sweet peppers, marking the official entrance into mainland China of this brand tailor-made for the Chinese market. FVO China's shareholders, Van Nature, Harvest House, Best of Four, Door, The Greenery, and ZON, are the six largest fruit and vegetable growers in the Netherlands and decided to jointly-establish FVO China with the specific goal of exporting bell peppers to China.
Matthijs Jasperse, managing director of FVO China, together with Wim Zuidgeest, general manager of Zuidgeest Growers, delivered a detailed introduction of the sweet peppers and outlined Dutch Valley's 'five promises.' According to Mr. Jasperse, Holland has long enjoyed a reputation for delivering the best and most reliable vegetables in the world, and that their bell peppers will be, as always, of premium quality.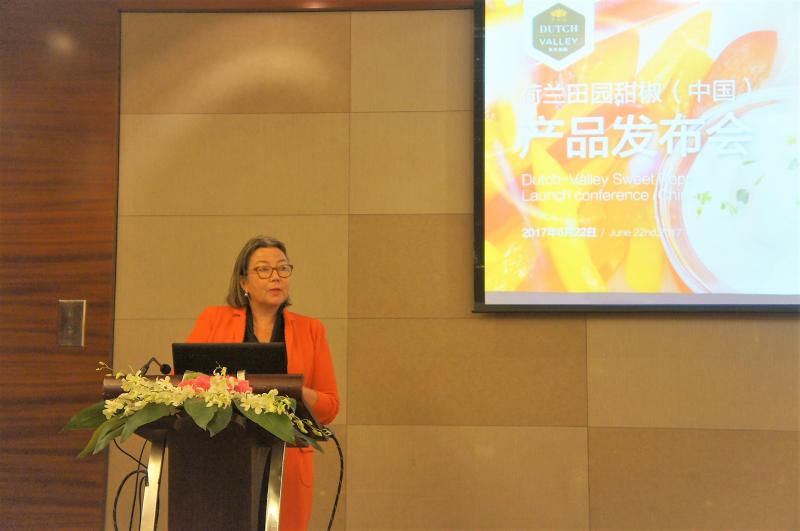 Matthijs Jasperse went on to say that Dutch Valley promises 100% food safety standards for their peppers, a level of confidence which is derived from their natural production methods. Mrs. Anneke Adema, Consul General of the Kingdom of the Netherlands in Shanghai explained that the bell peppers grow in climate-controlled greenhouses, where they benefit from optimal growing conditions involving ideal levels of nutrients, water, and light. Farmers use bees for pollination, install specialized LED lights, and utilize geothermal heating to enhance production. "Today, greenhouse Dutch bell peppers enjoy a yield of 15.5 kg per sqm², compared to the average yield in China of 7.5 kg for the same acreage. In this aspect, the Netherlands has a lot of know-how to be shared with their Chinese counterparts," Mrs. Adema noted. "It's a mix of innovative science, logistical skills, and pure nature," added Mr. Jasperse.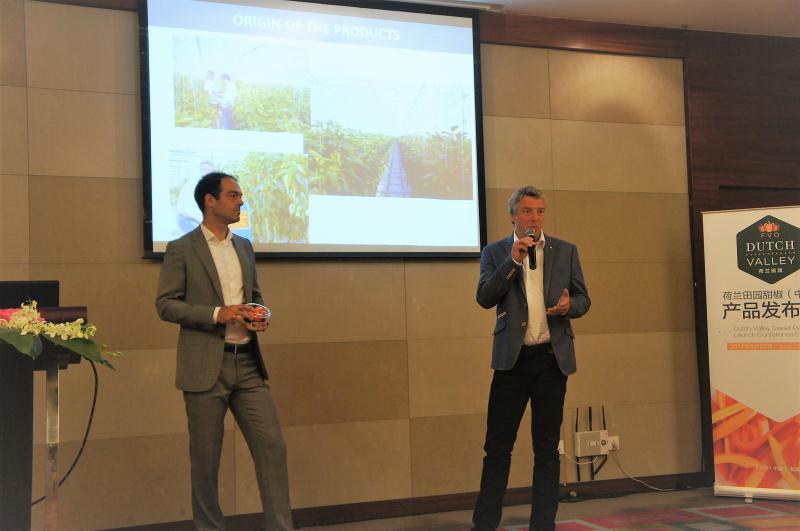 Apart from Snack Peppers, other varieties of bell peppers, such as Block Peppers, Enjoya (or striped peppers), and pointed peppers called Sweet Point, were exhibited at the launch, being displayed in six different package designs. All of these bell peppers come with a natural crunchy, sweet taste and a Vitamin C level much higher than that found in oranges and bananas. Snack peppers rank first in terms of Vitamin C levels with 135mg per 100g, or almost twice as much as sweet oranges, and thus provide the significant health benefits associated with a higher Vitamin C intake.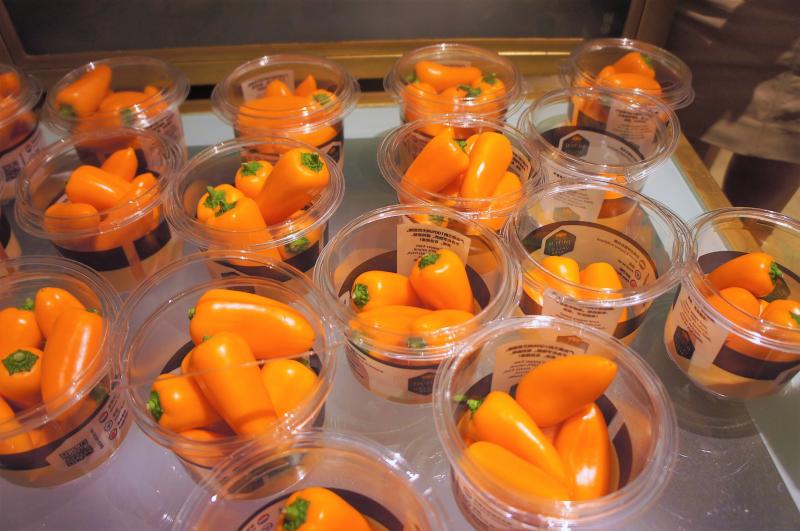 As to pepper pricing and marketing strategies in China, Mr. Jasperse admitted that there were some challenges to be faced and that in order to reach Chinese consumers, more distributors and retailers were needed. As Mr. Jasperse noted his introductory statement, there are currently four major Dutch distributors with significant involvement in China: Levarht, Staay, The Greenery overseas, and the Global Green Team. Chinese retailers and shops present at the event included Carrefour, Metro AG, City Super, ParknShop, Quenfend Fruits, SPAR, and Anhui Letus. Prices of sweet Dutch peppers vary from €7 to €10 (¥54 to ¥77) per kilogram in Europe, and according to Mr. Jasperse, pricing in China will take into consideration both these European prices as well as the reaction of Chinese consumers to this pricing model.
Nonetheless, snack peppers seem to have gotten off on a good foot in China. Several Chinese retailers, such as Anhui Letus and ParknShop have started the in-store promotions with Dutch Valley, with several others to follow, and soon Chinese consumers will be able to get their hands on these sweet snack peppers from Holland.
Upcoming Events
October 19, 2023

to

October 21, 2023
Produce Marketplace
Elangeni Food Group

·

South Africa

Universal Capital Gr

·

Ecuador

AGRI GATEX LIMITED

·

Africa
Joshua Lim

·

Malaysia

City fresh fruit co.

·

Thailand

Chun lin orchard-Sel

·

Taiwan nan
China Market Access List