You are here
Back to top
Chinese Importers Prepare for Arrival of Spanish Grapes
August 04, 2019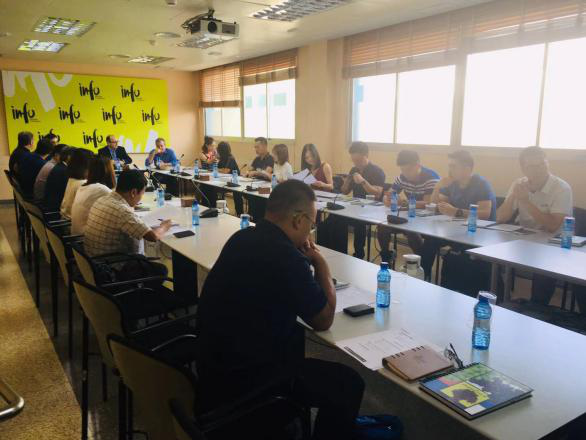 Chinese delegation at INFO
China looks set to soon gain a new northern hemisphere supplying country for table grapes. This May, the Chinese General Administration of Customs (GAC) published phytosanitary protocols for grapes from Spain, which would be allowed to be imported into China should those requirements be met. Recently, quarantine and inspection personnel from Chinese agencies visited Spain and it was expected that a list of approved orchards and processors would be announced imminently. A delegation of Chinese importers took the opportunity to visit the Region of Murcia, an autonomous community in the southeast of Spain, which is famous for its table grapes.
On July 22, an international meeting on fresh grapes and citrus fruits was held at the Regional Development Agency of Murcia (INFO) to discuss the markets for these products in Asia—particularly their potential in China and Vietnam. Joaquín Gómez Gómez, Director General of the Institute of Development of the Region of Murcia, Joaquín Gómez Carrasco, president of APOEXPA (the Association of Producers and Exporters of Fruit, Table Grapes and Other Agricultural Products), and Manuel Tornel, representative of the Society for Table Grape Research and Technology (ITUM), joined the delegates from China and Vietnam. 
During the meeting, APOEXPA's Rafael Molina introduced the table grape industry of the Region of Murcia and ITUM's Manuel Tornel presented the development programs for new varieties of table grapes in Spain, while Kurt Huang of Shanghai Oheng Import & Export Co. gave the Spanish side an overview of China's fresh fruit market outlook.
Spain is a major producer of fresh table grapes in Europe. Together with Italy and Greece, these three countries account for 93% of total production in the European Union.
Spanish table grapes are mainly produced in the Region of Murcia which accounts for 90% of the country's total production. Geographic and climatic conditions, particularly ample sunshine and warm weather, enable the harvesting period to begin as early as April and last through summer and autumn.
The Region of Murcia mainly produces seedless table grapes, and is known for varieties with good flavor that are resistant to fungus and can thus be stored for long periods. Spain has been actively promoting its table grape exports and creating new overseas markets. Harvest volumes begin to peak in July, when export volume may reach 17,000 tons. August and September's volumes may be as high as 20,000 tons per month. 45% of Spanish grapes are exported to the UK, 35% to Germany, 10% to Holland and 7% to South Africa.
Moyca, Frutas Esther, and el Ciruelo are among the region's big packers. These companies employ large numbers of workers to pack the grapes into 200-500gm retail packs. The growers tend to focus on production volume and treat packaging secondary. Adjustments in growing methods and packaging may be necessary in order to export to China and other Asian markets.
The producers in Murcia have incorporated new research and technology into traditional growing, harvesting and packaging methods in order to ensure the quality of the grapes from the field to the dining table. The region has launched a "Healthy Grape" project aiming at sustaining the supply of high-quality table grapes with the help of improved production technologies.
The Region of Murcia is also the leader in the development of new table grape varieties for Spain. Under the guidance of by ITUM and IMIDA (the Murcia Institute of Agri-Food Research and Development), new varieties have been developed using genetic improvement technology. So far, 14 varieties of seedless table grapes have been registered. One of them, ITUM15 was rated highly by the Chinese importers.
According to the Spanish producers, their fresh table grapes may be shipped to China by either sea or air. Sea freight takes 32 days. Since the EU bans fumigation, the grapes are required to undergo cold treatment according to the phytosanitary protocols. The protocols for cold treatment are 1.11℃ or below for 15 days, 1.67℃ or below for 17 days, or 2.22℃ or below for 21 days. 
As for land transportation, with Russia lifting the ban on shipping EU food products across its borders, Spanish fruits may in principle be shipped using train service from Madrid to Yiwu City in China. The journey would take 16 days, half that for sea freight and costing less. If this can be done, it would be a major boost to the export of Spanish table grapes to China. However, issues such as Yiwu's port infrastructure, and availability of reefer train cars have yet to be addressed.
Images: Oheng Import & Export Co., ITUM, Produce Report
Upcoming Events
October 19, 2023

to

October 21, 2023
Produce Marketplace
Elangeni Food Group

·

South Africa

Universal Capital Gr

·

Ecuador

AGRI GATEX LIMITED

·

Africa
Joshua Lim

·

Malaysia

City fresh fruit co.

·

Thailand

Chun lin orchard-Sel

·

Taiwan nan
China Market Access List