You are here
Back to top
China Has Become Thailand's Third Largest Importer of Orchids
April 12, 2016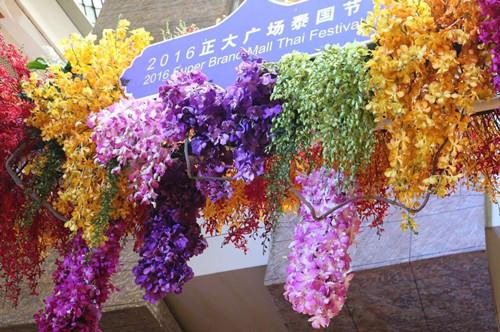 A huge orchid garden was presented at the Shanghai Super Brand Mall last week. Thousands of Thai orchids in various colors of pink, purple, yellow, and green decorated the venue and transformed it into an exotic Thai wonderland.
At "The Fabulous Thai" Festival 2016, Sudsakorn Pattarakulnit, Deputy Director General of the Department of Agricultural Extension of Thailand, said, "Actually in 2015, China was Thailand's third largest importer of orchids with a total value of more than 159 million baht and a total volume of 7082 tons. For the festival, we selected our best Thai enterprises to introduce to the Chinese market the highest-quality orchids that are excellent in quality, variety, and color."
Each year, Thailand exports orchids to China, mainly in the five orchid varieties Dendrobium, Mokara, Aranthera, Heliconia, and Phalaenopsis. Apart from orchids, Thai roses are also quite popular on the overseas market. The demand for Thai flowers has risen continuously during the past five years and last year the rate hit 7%.
However, due to the high logistics costs, the main channel for transportation is overland, which means orchids are usually transported in trucks to Kunming from Thailand and then distributed by air to various markets across China. "We hope to solve the logistics problems so that we can increase air transport in the future," Mr. Pattarakulnit said.
Wuthichai Pipatmanomai, Marketing Manager of Sun International Flower Co., Ltd., told Produce Report in an interview that Thailand is one of the main orchid exporters in the world, with around 100 varieties of orchids exported to various global destinations. The key destinations for Sun International Flower Co., Ltd., are Australia, India, South Korea, the Middle East, China, and Europe.
"Our brand is Riona. It is a medium to high-end brand well known for rich colors, varieties, and high quality. The export volume hits over 20,000 cartons per year. At the peak season, each day, 60 cartons of orchids are exported," Mr. Pipatmanomai said.
"Our orchids can last two to three weeks, longer than other brands. And our secret method to keep flowers alive longer is to use 'nutritious water' for flower roots during the whole process of transportation in cold-chain trucks. As well, we apply the anti-ethylene method to ensure flowers' life and full bloom," he added.
On the subject of the Chinese market, he said that Sun International Flower Co., Ltd., has already opened a florist's shop in Guangzhou. However, the current problem is that Chinese importers prefer mediocre quality products, and the variety and color of orchids available on the Chinese market are still simple and limited.
Despite the existing problems, he said, "We still look forward to expanding our business in this market, and hope to open our company and florist's shop in Shanghai one day."
Image source: MZMC
Upcoming Events
October 19, 2023

to

October 21, 2023
Produce Marketplace
Elangeni Food Group

·

South Africa

Universal Capital Gr

·

Ecuador

AGRI GATEX LIMITED

·

Africa
Joshua Lim

·

Malaysia

City fresh fruit co.

·

Thailand

Chun lin orchard-Sel

·

Taiwan nan
China Market Access List