You are here
Back to top
Chilean Delegation Seeks Stronger Ties in Visit to China
September 02, 2016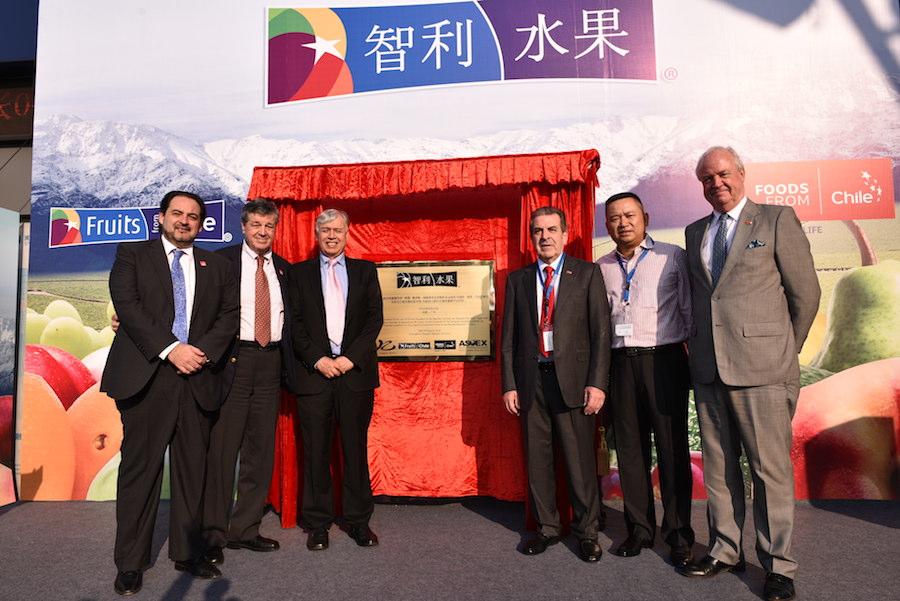 During an August 29 visit to the Guangzhou Jiangnan Fruit and Vegetable Wholesale Market in southern China, Chile's Minister of Agricultural, Carlos Furche, told Produce Report that Chile is striving to double the growth of its fruit exports to China.
The remarks came as a delegation of diplomats, trade support personnel and industry representatives visited China on a trade mission. In addition to Furche, the delegation also included former Chilean president Eduardo Frei and Chilean Fruit Exporters Association (ASOEX) President Ronald Brown.
During the visit to the Jiangnan Market—among the most important entry points for imported fruit to the Chinese Market—delegates received a tour from the market's Chairman and General Manager Ye Canjiang, Assistant General Manager Lai Yongjin, General Manager of the fruits division Zheng Nanshen and Assistant General Manager of the fruits division Lin Guoxun.
ASOEX, the Chilean Ministry of Agriculture, Jiangnan Market and ProChile (the Chilean export promotion bureau) then jointly held a ceremony celebrating goodwill and cooperation between Jiangnan Market and Chilean fruit producers and exporters.
"I am honored to promote further exchange between Chile and China," said Frei. "Chile has always been China's faithful, reliable and sincere partner. The deepening of cooperation between Chile and China will carry great benefits to both sides."
China has become an increasingly important trade partner and export market for Chile, with a relationship that includes a bilateral Free Trade Area and increasing market access into China for Chilean fruit exports—with avocados having notably been approved this year.
Chile produces about half of the southern hemisphere's fruit exports, 98% of all Chinese imports of blueberries and roughly 80 to 90% of China's imported cherries. Chilean grapes, kiwifruit, avocados and apples are also popular with Chinese consumers. The Jiangnan market alone sold 160,000 tons of Chilean fruit in 2015.
But Furche still thinks there is plenty of room to grow. Gaining market access for new types of fruit could prove helpful in meeting his lofty ambitions for Chilean fruit exports to China. Among examples cited by Furche are peaches, oranges and lemons.
Featured Produce
Produce Marketplace
Elangeni Food Group

·

South Africa

Universal Capital Gr

·

Ecuador

AGRI GATEX LIMITED

·

Africa
Joshua Lim

·

Malaysia

City fresh fruit co.

·

Thailand

Chun lin orchard-Sel

·

Taiwan nan
China Market Access List