You are here
Back to top
Cherries from Chile Achieves a Guinness World Records™ Title for Longest Line of Fruits
January 10, 2019
History was made in Shanghai today as a Guinness World Records™ official adjudicator presented the Chilean Cherry Committee of the Chilean Fruit Exporters Association (ASOEX) with a World Record certificate for constructing the world's longest line of fruits. To achieve the record, the Chilean Cherry Committee of ASOEX used 24,638 individual deep red, lustrous cherries, set side-by-side and each touching the next. The line of cherries continuously curved and looped back on itself to form a giant image of two cherries.
The Guinness World Records™ Book was dreamed up in the 1950s by an executive at the iconic Guinness Brewery as a reference book to help men in Irish pubs settle arguments about what was fastest, biggest, longest, and other such superlatives. It went on to become one of the top-selling books in history. And now Chilean cherries have their own place in the famed Guinness World Records™ archive.
Today's celebration of the new Guinness World Records™ title was hosted at the Shanghai Port International Cruise Terminal on the Bund by the Chilean Cherry Committee of ASOEX, which promotes Chilean cherry exports under the "Cherries from Chile" brand. The event brought together representatives from China's fruit industry, the Chilean government, and Chilean exporters and growers, as well as cherry lovers from across China.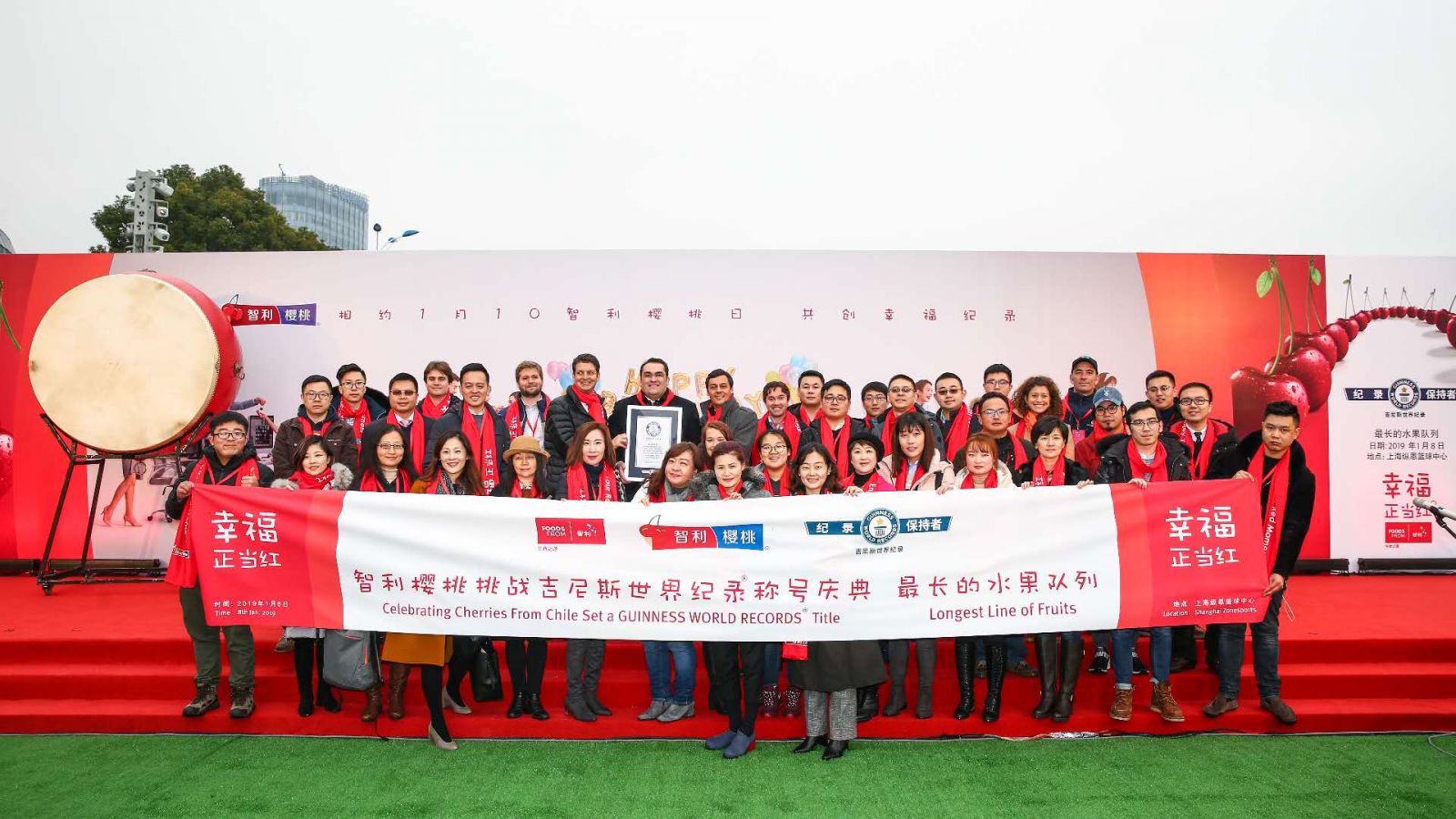 "While consumers in China are bundled up for winter weather and looking forward to reuniting with their families for Spring Festival, it's currently early summer in Chile, which produces fruit like cherries counter-seasonally to China," said Ronald Bown, Chairman of ASOEX. "This means that from November to February, the cherry crop is gradually ripening down the length of our skinny country, which is 4,720km long from north to south, but only an average of 217km wide from east to west."
According to Christian Tagle, President of the Chilean Cherry Committee of ASOEX: "Over the past decade, eating counter-seasonal cherries has quickly become a new tradition for the holiday season in China. As the tradition of cherries in winter is relatively new to China, they do not have the same cultural history and meaning of some other fruits—such as mandarins for good fortune, or apples to signify peace and tranquility. Therefore, Cherries from Chile is establishing for our sweet, juicy red fruit, a new positioning of 'Enjoy Your Red Moments'. Red Moments are those special times when we gather with our family, friends and colleagues and share Chilean cherries."
Chile is the largest supplier of cherries to China, which is also its top customer for cherries, buying over 85% of Chile's cherry export volume. "During the winter months from November to February, the majority of cherries a consumer in China buys come from Chile," said Juan José Vidal Wood, Trade Commissioner at the Shanghai office of ProChile.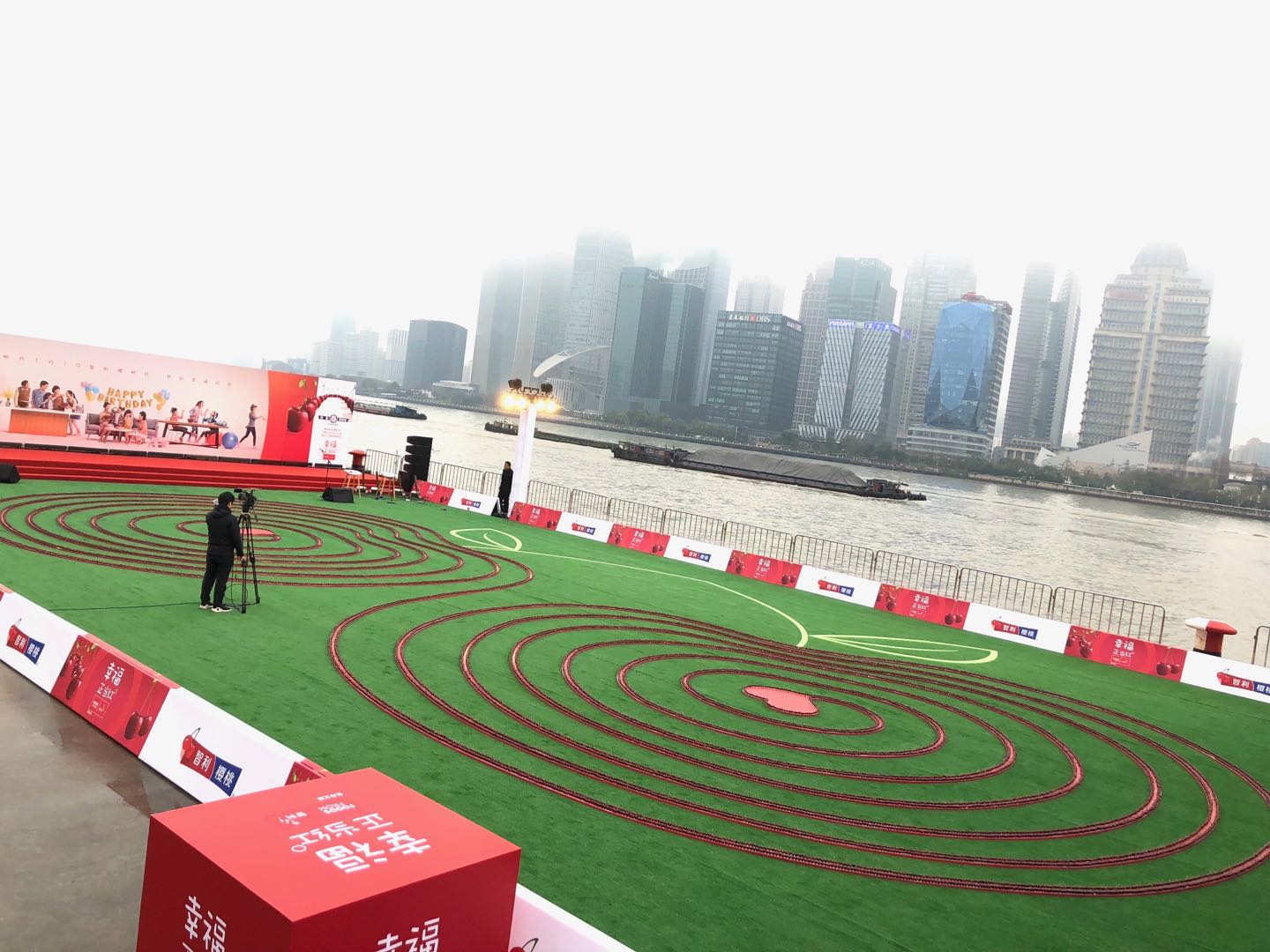 Under the 2005 China-Chile Free Trade Agreement (FTA) Chilean cherries are imported into China with zero tariff, as is the case with more than 97% of Chile's total exports to China, including all fresh fruit. "Chile greatly values its friendly trading relationship with China," said Wood.
The audience at today's event was composed of approximately 200 guests who had been invited by Cherries from Chile. Roughly half were from within the fruit industry, such as representatives from major importers, wholesalers, and retailers of fruit. The other part of the audience was composed of cherry fans from across China who had won their trip to the event through a lucky draw organized by Cherries from Chile.
According to Charif Christian Carvajal, Marketing Director, Europe and Asia, of ASOEX: "We would like Chilean cherries to be a part of Red Moments during all sorts of occasions for people across China. That is why we were so excited to construct a Guinness World Records™ record-breaking line of cherries here in Shanghai: it represents the shipments of cherries that flow from Chile to China in the winter months, each ready to be shared and enjoyed during a Red Moment. Last year we exported almost 160,000 tons of fresh cherries to China, which equates to millions of individual cherries. So, ultimately, this world's longest line of fruits represents an even longer line of fruit that originates in orchards nestled in Chile's beautiful natural landscape and stretches to homes and workplaces across China, carrying with it the potential to be a part of millions of Red Moments every winter."
The event wrapped up with an announcement of the donation by Cherries from Chile of the tens of thousands of cherries used during the world record challenge and celebration. The cherries were kept under strict hygienic conditions throughout the world record challenge and celebration, and could therefore be given as holiday gifts to less-fortunate families around Shanghai.
Shanghai-based charity Beautiful Mind Foundation served as the event's social welfare partner, and will distribute the donated cherries to needy children, families and the elderly. The organization works to raise standards of living and provide professional services such as psychological care, in order to resolve community problems in Shanghai and around China. "In addition to providing essential services like educational materials and improved environments for living and learning, we also think its important to warm people's hearts, especially children," said Beautiful Mind Foundation's President, Maria Ma. "And I think this lovely gift of Cherries from Chile will do just that."
Featured Produce
Produce Marketplace
Elangeni Food Group

·

South Africa

Universal Capital Gr

·

Ecuador

AGRI GATEX LIMITED

·

Africa
Joshua Lim

·

Malaysia

City fresh fruit co.

·

Thailand

Chun lin orchard-Sel

·

Taiwan nan
China Market Access List