You are here
Back to top
2016: Positive Change in Market Outlook for Chinese Apples
October 06, 2016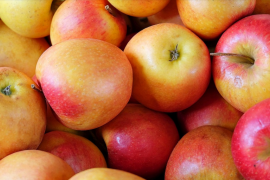 This market outlook is based on the sales volumes and selling prices of China's major apple producing regions. Shandong, Liaoning, and Hebei provinces traditionally are China's major apple producing regions while others included the area which was the ancient Yellow River course, the Northern foot of the Qinling Mountain, Northwest and Southwest highlands, as well as Xinjiang province. A survey of the seven apple producing provinces indicates that, as of the first half of June, four have exceeded same period last year. Shaanx's production grew by 10-15%, Gansu around 15%, Shanxi around 10%, and Shangdong around 5%. Three provinces have lower production than last year: Henan by 15-20%, Liaoning by around 15%, Hebei by around 10%. According to people in the industry, production has increased this year but quality suffered. Sales of good quality ones are stable, lesser quality ones sell badly even at low prices. This is an extension of the trend since 2015.
On September 26 and 27, China Fruit Marketing Association held the China Apple Annual Conference at Jibo city, Shandong province. The association reported the 2016 apple market outlook. Produce Report excerpted the report as follow:
2015's total production dipped 4.1% compared with the previous season, sales for the whole year was slow and wholesale prices around the country dropped by 18.92%. For those traders and farmers who held inventory, it was a difficult year. Losses have been widespread throughout the industry. Due to drop in apple prices, increased prices for bags and increased labor cost, most farmers have reduced their investments in managing their farms. The number of farms that did not bag their apples has increased significantly. Furthermore, weather and temperature were unstable during blossom and the period when the apples grew in size. Hence the fruits were generally smaller. In June, some areas were also affected by hail storms. Thus, the percentage of harvestable fruits also registered quite significant drop versus year-ago.
As the current season unveils, early maturity species' selling prices are under pressure, sales have been slow. Among them, bagged Gala wholesales for RMB4.5-5 ($.0.67-0.75) per kg, RMB0.8-1.0 ($0.11-0.15) lower compared to last year. Bagged Fuji sells for RMB5.5-6.0 ($0.75-0.90) per kg, a reduction of around RMB0.6-1.0 ($0.09-0.15). The overall situation would hopefully change by mid October when Fuji apples come into the market in a big way. The late maturity species' situation is relatively more optimistic.
2016's apple prices would become even more polarized, high quality ones are priced at a premium and poor quality ones sell cheap. Lesser quality apples are difficult to sell. Based on the production and sales performance in recent years, impacted by premium quality imports and other high quality fruits from overseas, producing low-end, poor quality apples would be money losing business. Low quality apples would be squeezed out from the market.
Due to price drops in 2016, the export outlook for Chinese apples has started to change. According to China's IFC shiguohui (organizer for China's International Fruit Conference) and China Chamber of Commerce of Fruit Stuffs and Native Produce – Chamber of Fruits, apples' import volume and value have both dropped in the first half of this year compared with same period in 2015, while average import price has increased. On the other hand, apples' export volume and value have both increased in the first half of 2016, while average export price has dropped by a definitive degree. Between January and June, total export volume was 630,000 tons, an increase of 89% compared with same period last year. The growth rate for January to August was 81.5%. 2017 may see a further increase on this year's basis. This good news would be a big shot in the arm for the 2016 season, giving the market a good sentiment.
Featured Produce
Produce Marketplace
Elangeni Food Group

·

South Africa

Universal Capital Gr

·

Ecuador

AGRI GATEX LIMITED

·

Africa
Joshua Lim

·

Malaysia

City fresh fruit co.

·

Thailand

Chun lin orchard-Sel

·

Taiwan nan
China Market Access List