You are here
Back to top
Yiguo's Advanced Cold-Chain System Amazes New Zealand Food Giant
April 16, 2016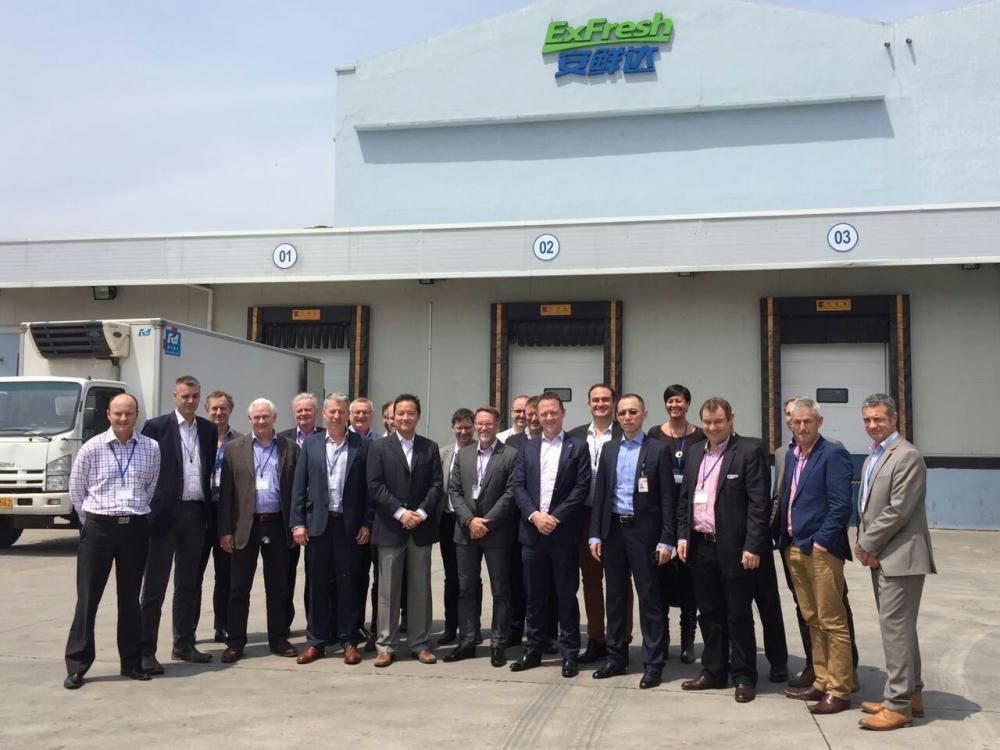 Primary Collaboration New Zealand Ltd. (PCNZ), accompanied by New Zealand Trade and Enterprise officials, recently visited ExFresh, Yiguo's cold-chain supply chain located in Baoshan District.
PCNZ includes six companies: Sealord, which harvests deep-sea fish species and shellfish from the ocean around New Zealand; Silver Fern Farms, a New Zealand multinational meat cooperative owned by 16,000 New Zealand sheep, cattle and deer farmers; Synlait Milk, an innovative dairy processing company; Kono, a high-quality New Zealand produce supplier; Pacific Pace; and Villa Maria Estate, a wine producer. These six companies' total global trade volume hit 3 billion NZD (13.4 billion RMB).
ExFresh has so far set up seven cold-chain storage centers in six cities in China, covering the supply to 27 provinces and 310 major cities. Annette Phoebe Young, Assistant of General Manager at Shanghai Yiguo E-commerce Co. Ltd., explained that the name of ExFresh in Chinese means that food delivered to the door of consumers would be guaranteed to be safe and fresh. To achieve that, the cold-chain storage center is divided into three temperature zones and six thermospheres, with the lowest temperature reaching −60 °C.
The advanced technology of Yiguo's supply chain and its food safety lab impressed the New Zealand visitors. Andy Borland, Managing Director of Scales Corporation Ltd. and Chairman of the Board of PCNZ, commented after the visit, "New Zealand is an island country far away from the China market. Seeing such a large-scale and highly efficient cold-chain system of Yiguo, I really feel impressed. The cold-chain can cover a huge population in China – that is very amazing."
With the development of the fresh produce industry, e-commerce businesses and fresh produce suppliers all face the critical problem of logistics. Managing the cold chains means winning more market shares. And for Yiguo, it is due to its skillful management of the cold-chain system as well as other factors that it can keep a strong foothold in the e-commerce market in China.
Eric Li, Vice President of the Global Purchasing Department of Shanghai Yiguo E-commerce Co. Ltd., said, "China's e-commerce is very powerful now. For example, Alibaba Group's Tmall's Singles' Day promotional sales last year hit a record high of 91.2 billion RMB. This figure shows that Chinese people's consuming concepts and habits have changed greatly in recent years. Shopping online is the new trend and many people tend to get information about products via channels such as the internet and social media. We fully understand that consumers want more convenience in shopping; hence we provide a 'one-stop' service and there is a huge potential market ahead."
Besides local and imported produce, Yiguo strives to increase direct purchasing overseas to cater to the ever-changing and more demanding tastes of consumers yearning for more varieties of products from abroad. In addition to New Zealand apples and cherries, Yiguo also directly purchased greengage plums from New Zealand, which became a hit among consumers. Furthermore, lamb, prime ribs, mussels, milk, and red wine from New Zealand have also tempted many consumers to buy online.
"Our sourcing teams cover 147 countries around the world to ensure that our consumers can get the most fresh, in-season, and good-quality food. Our consumers are not only Chinese but also those from the US, New Zealand, Australia, Italy, Chile, Mexico, Thailand, Vietnam, Malaysia, South Korea, and Japan," Jin Guanglei, Co-founder of Shanghai Yiguo E-commerce Co. Ltd., told reporters.
New Zealand Trade and Enterprise commented that the full-blooming Chinese e-commerce sector is the core of interest for these New Zealand food giants who are impressed by Yiguo's achievement in its e-commerce business and its cooperation with Tmall, a Chinese-language website for business-to-consumer (B2C) online retail, spun off from Taobao, operated in China by Alibaba Group.
This visit provided a good opportunity for New Zealand food giants to attain a deeper understanding of Chinese e-business and will help to nurture future strategic business cooperation with their Chinese partners such as Yiguo, it added.
New Zealand is renowned around the world for its high-quality agricultural products thanks to its clean air and natural geographic environment. According to statistics, it is among the top ten countries for fruit exports to China, with a 78.5% increase rate of exports to the Chinese market.
Image Source: MZMC
© 2016 国际果蔬报道 保留所有权利
Featured Produce
Produce Marketplace
Elangeni Food Group

·

South Africa

Universal Capital Gr

·

Ecuador

AGRI GATEX LIMITED

·

Africa
Joshua Lim

·

Malaysia

City fresh fruit co.

·

Thailand

Chun lin orchard-Sel

·

Taiwan nan
China Market Access List