You are here
Back to top
Washington Apples Benefit from Alibaba Traceability Plan
October 15, 2015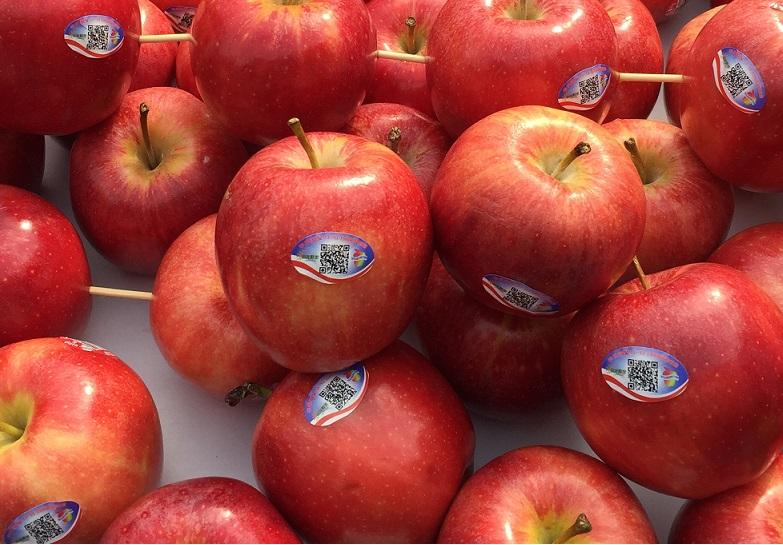 Just in time for China's major annual e-commerce shopping event, Chinese consumers can benefit from a pilot program on Alibaba's Tmall ecommerce platform to scan and verify the authenticity of Washington apples with their mobile phones.
A recent shipment of specially labeled apples from Washington state was among the first fresh fruits to be added to Alibaba's "Blue Star" (Mantianxing) traceability and authentication program.
Blue Star, which was rolled out in May of this year starting with cosmetics and other consumer goods, employs two-dimensional "QR" bar codes to label each individual goods with a unique serial number. When consumers scan the QR code using one of Alibaba's ecommerce apps, the serial number is encrypted and sent to Alibaba's servers to be compared against a central database.
The system poses a serious hurdle for would-be counterfeiters, Blue Star Project Manager Liu Yang told Produce Report. "If the same QR code is scanned repeatedly and in different locations, the system will flag it as a possible case of counterfeiting, thereby blocking the online and offline sale of fake products," said Liu.
Liu said that Alibaba is now implementing the scheme on Tmall's Miaoxiansheng fresh goods channel, starting with Washington apples and a Chinese citrus brand, Chuyou—with more fresh goods such as cherries and avocados from Chile set to be added in the future.
The first shipment of Washington apples with Blue Star codes is being sold on Miaoxiansheng by Sunshine Fruit. Project Manager George Liu of Sunshine Fruit introduced the technology to Produce Report, by scanning an apple's QR code with Taobao or Tmall App, aside from confirming the authenticity and variety of the specific piece of fruit, the app also displayed information about Washington apple growers, orchards, geography, and even photos of the growers.
Alibaba Group Holding Ltd Chairman Jack Ma appeared with the Consul General of the US Consulate General in Shanghai, Hanscom Smith on October 13 at the Miaoxiansheng Summit in Hangzhou to taste Washington apples and learn more about the industry. The summit followed Hangzhou-based Alibaba's launch ceremony for the "Double Eleven" promotional event. Occurring annually on November 11, Double Eleven day features discounts and promotions across China and generates more ecommerce sales than any other single day.
The event and cooperation with Alibaba are also supported by the USDA Agricultural Trade Office and Washington Apple Commission. Representatives from Zespri Kiwifruits, South African oranges, Chilean gala apples, Dole fruits and Yiguo fruits from Thailand also attended the summit.
Featured Produce
Produce Marketplace
Elangeni Food Group

·

South Africa

Universal Capital Gr

·

Ecuador

AGRI GATEX LIMITED

·

Africa
Joshua Lim

·

Malaysia

City fresh fruit co.

·

Thailand

Chun lin orchard-Sel

·

Taiwan nan
China Market Access List