You are here
Back to top
Tencent, Yonghui Superstores to Invest in Carrefour China
January 25, 2018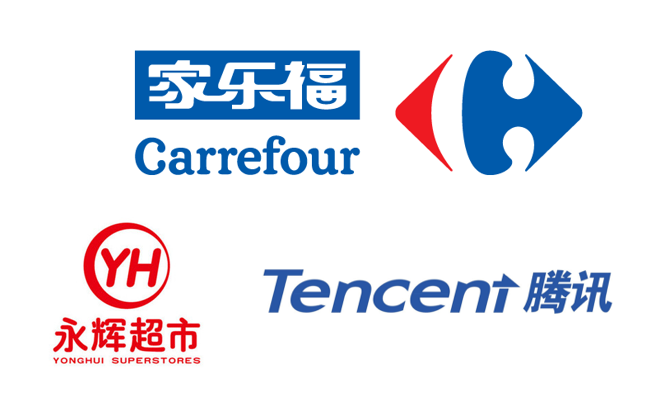 On January 23, Carrefour S.A. announced that Chinese Internet and social media giant Tencent Holdings together with supermarket chain Yonghui Superstores intend to invest an undisclosed sum in Carrefour China.
According to a statement released by Carrefour, this potential investment aims to leverage Carrefour's global retail knowledge with Tencent's technological expertise and Yonghui's business assets, especially its in-depth knowledge of fresh products. "Thanks to this partnership, Carrefour will improve its online visibility, increase the traffic of its offline and online retail activities and benefit from Tencent's advanced digital and technological expertise to develop new smart retail initiatives."
This partnership may prove a crucial turnaround for Carrefour China, who is losing ground in China to other retailers, such as the Alibaba-backed SunArt's Auchan and RT-Mart outlets. Carrefour's CEO Alexandre Bompard also expects operating profits for 2017 to fall by up to 15 per cent. Late to the e-commerce game, Carrefour is now aiming to play catch up by investing €2.8 billion in e-commerce and digital transformation between 2018 and 2022 through the company's "Carrefour 2022" strategy. Partnering with Tencent will give Carrefour access to the e-commerce capabilities of JD.com, of which Tencent is the largest shareholder, to bolster online sales in China's lucrative yet highly competitive online retail space. Carrefour China will also retain control as the largest shareholder of the company.
For its part, Tencent will gain access to Carrefour's 250+ brick-and-mortar hypermarkets and convenience stores across China, as well as further promote WeChat Pay as China's premier retail mobile payment application. As detailed in Carrefour's press release, "Tencent will further develop the retail services offered on its social platforms and promote the use of Weixin [WeChat] as well as Weixin [WeChat] Pay, cloud computing and other services within the Carrefour ecosystem…the contemplated scope of cooperation includes key partnership areas such as cooperation on data, smart retail, mobile payment, in-store experience and data analysis to boost Carrefour China's customer traffic."
This investment represents a significant development in Tencent's attempts to expand into the offline retail space and serves to draw up the battle lines of China's fiercely-competitive retail scene between Tencent and its retail partners on one side and Alibaba Group Holding and its partners on the other. In December 2017, Tencent agreed to buy a 5 per cent stake worth $639 million in Yonghui Superstores, who owns over 580 supermarket outlets across China. This move followed Alibaba's $2.9 billion purchase of a 36 per cent stake in Sun Art in November 2017, who operates roughly 400 hypermarkets under the Auchan and RT-Mart names across China.
Upcoming Events
February 08, 2023

to

February 10, 2023

September 06, 2023

to

September 08, 2023
October 19, 2023

to

October 21, 2023
Produce Marketplace
Universal Capital Gr

·

Ecuador

AGRI GATEX LIMITED

·

Africa

Qualipac Pty Ltd

·

Australia
AI Global

·

AI Global

Joshua Lim

·

Malaysia

City fresh fruit co.

·

Thailand
China Market Access List