You are here
Back to top
Sutherland's Canadian cherry production to increase by 400%
November 14, 2018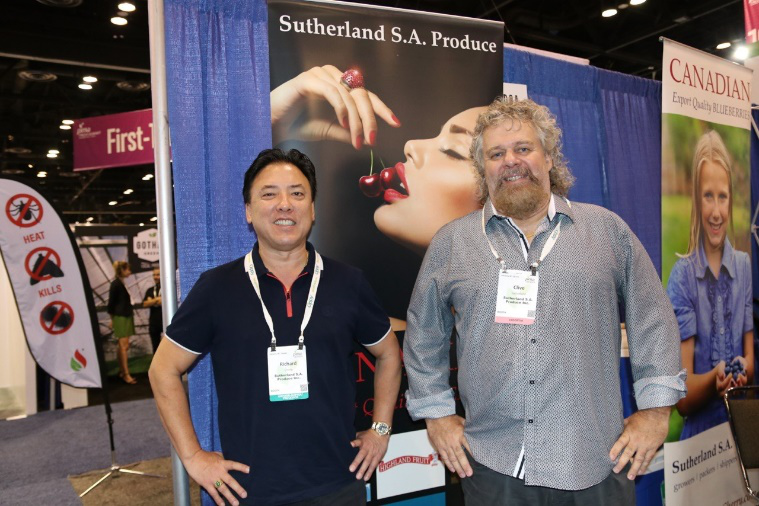 Partners and founders of Sutherland SA Produce: Clive Sutherland, President and CEO, and Rick Chong, Director of Sales
Chinese buyers have developed a taste for Canadian cherries and Sutherland SA Produce in British Columbia looks to be in prime position to benefit from this.
Chinese buyers have developed a taste for Canadian cherries and Sutherland SA Produce in British Columbia looks to be in prime position to benefit from this. Produce Report caught up with Rick Chong, Director of Sales at Sutherland SA Produce Inc., to discuss Chinese demand for their Canadian cherries and the importance of the China market to the company.
China has emerged as the most important market for Sutherland cherries – between 50% to 70% of Sutherland's total production is sold to China, with Chinese wholesale markets and e-commerce companies its two main buyers. For the last two years, the company has been focused on increasing its supply to online sellers, as oversupply in Chinese wholesale markets have driven down prices and have made online e-commerce a much more attractive sales channel. Sutherland supplies a number of Chinese buyers such as FruitDay, Yiguo, Win-Chain (Alibaba), and JD.com, and enjoyed a large influx of new buyers from China this past season.
Following recent tariffs between China and the United States, Chinese buyers have flocked to Canada and Canadian cherries, many of whom had never purchased Canadian cherries before. According to Rick, demand from China for Sutherland cherries increased by more than seven-fold this past season. To meet this massively increased demand, Sutherland is planning to have more orchards online next season and will be shifting a large portion of its domestic fruit production to supply for Asian markets. Mr. Chong told Produce Report that this is expected to increase Sutherland's total volume of cherries available for export by 400% next season.
Sutherland currently ships roughly half of its cherries to China by sea and the other half by air. Online retailers in China prefer air shipments, which have an orchard-to-shelf transit time of 48 hours, to ensure that cherries remain as fresh as possible for their online customers. In addition to charter flights, Sutherland pre-books space on airlines to ensure daily arrivals of fresh cherries from Canada to Beijing, Shanghai, and Guangzhou. The company also provides produce for both the Air China and China Eastern Airlines airmiles programs, through which customers can use their airmiles to order 2-pound clamshells of fresh Sutherland produce online.
For 3 to 4 weeks a year, Sutherland is in China inspecting its arriving sea freight and performing quality control inspections at the port of arrival. Sutherland sea shipments take 17-18 days to reach China (usually Hong Kong or Shanghai), as Sutherland pays the highest price for faster ocean freight to ensure quicker and fresher delivery.
According to Mr. Chong, China's evolving cherry preferences have forced Sutherland to adjust which cherry varieties it grows. "When China first started buying Canadian cherries, they weren't too particular about the variety – they just wanted cherries. Now however, with technological improvements and access to an increasing number of different cherry varieties, Chinese consumers have developed their own, unique preferences." Specifically, Chinese consumers have come to dislike Lapin cherries for their texture and prefer firmer cherries, mistakenly believing that the softness of the Lapin indicates that it is not fresh. Given this, Sutherland is replacing parts of its Lapin crop with China-favoured varieties such as Centennial, Skeena, and Staccato, and is developing more labels specifically created for the China market to add to the nine cherry labels it already ships to China, such as Smiling Buddha, Golden Dragon, and Royal Crane.
Despite the massive increase in interest from Chinese buyers for Canadian cherries, Mr. Chong told Produce Report that Sutherland's export volumes to China this year were in fact lower than previous seasons as last season was the first in which Chinese buyers did not want to buy Lapins, preferring to purchase other varieties more inline with Chinese consumer preferences. Last season Sutherland shipped 52 containers by sea and roughly the same amount by air, and with changes to varieties being offered this season, Mr. Chong expects these figures to quadruple to approximately 125 sea containers and 275 by air. "This is an exciting time for us. We get daily enquiries from China as to volumes of cherries that are available, and we spend much of our time in the orchards assessing the quality and quantity of the fruit that is destined for the China market."
Featured Produce
Produce Marketplace
Elangeni Food Group

·

South Africa

Universal Capital Gr

·

Ecuador

AGRI GATEX LIMITED

·

Africa
Joshua Lim

·

Malaysia

City fresh fruit co.

·

Thailand

Chun lin orchard-Sel

·

Taiwan nan
China Market Access List