You are here
Back to top
In-Store Displays Boost Envy Apples Sales in Leadup to CNY
March 04, 2019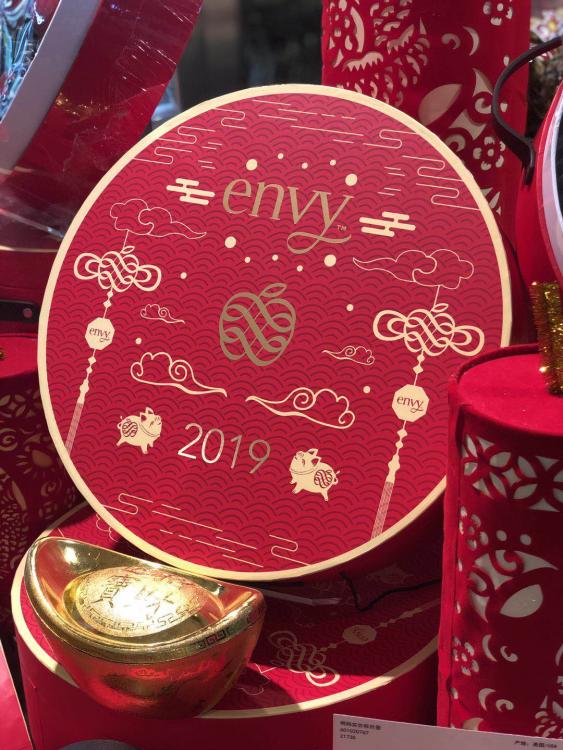 This year's edition of the Fruit Logistica trade show on February 6-8 in Berlin coincided with China's Spring Festival celebrations of the lunar New Year. Gifting of high-end fruit is a very popular part of the holiday celebrations. Because it's wintertime in China, and there is not a lot of domestic production, it's a key sales time for many imported fruits, especially those from the southern hemisphere.
Produce Report has already reported extensively on the large-scale marketing campaign undertaken this season by the Chilean Cherry Committee for the star product of winter fruit sales in China. So we thought we'd look at another type of fruit and how it was marketed for the holiday in China this year.
We stopped by the stand of T&G, the owner of the Jazz™ and Envy™ apple brands, and spoke to Marketing Manager Sandi Boyden who shared some experiences and photos for Envy apple promotions in China leading up to New Year 2019.
Envy and Jazz have already both been performing well in China in recent years, but a focused in-store promotional campaign this season yielded some pretty dramatic results for Envy, according to what we learned from Boyden.
The in-store campaign consisted of special displays located at high end retailers City Shop, CitySuper, Ole and Hema, with a total of 40 outlets.  The displays created opportunity to remind shoppers about gifting during this occasion.  Boyden says that T&G discovered that during the period before Spring Festival, sales of Envy apples lifted in stores where the displays were installed compared to stores that continued to use the normal retail presentation.
As more and more exporters are hoping to get a piece of the Spring Festival fruit gifting pie, it will likely become more and more necessary to invest in promotions to stand out from the crowd during the winter months in China.
Upcoming Events

September 04, 2019

to

September 06, 2019

September 23, 2019

to

September 27, 2019

September 26, 2019

to

September 28, 2019
Produce Marketplace
Tien Thinh Agricultu

·

Vietnam

Tien Thinh Agricultu

·

Vietnam

Tien Thinh Agricultu

·

Vietnam
China Market Access List