You are here
Back to top
South Tyrol Reveals the Secrets to its High-Quality Apples
January 01, 2019
Hannes Tauber (left), Marketing Manager at VOG, and Benjamin Laimer (right), Marketing Coordinator at Val Venosta (VI.P) at Interpoma 2018
From November 15 to 17, Interpoma 2018, the world's only trade fair dedicated solely to apples, was held in the northern Italian city of Bolzano, attracting more than 20,000 visitors from 70 different countries. Produce Report managed to sit down with Hannes Tauber, Marketing Manager at VOG, and Benjamin Laimer, Marketing Coordinator at Val Venosta (VI.P), to discuss the apple industry of South Tyrol in northern Italy, its unique model of farming cooperatives, and the importance of innovative apple varieties and brands.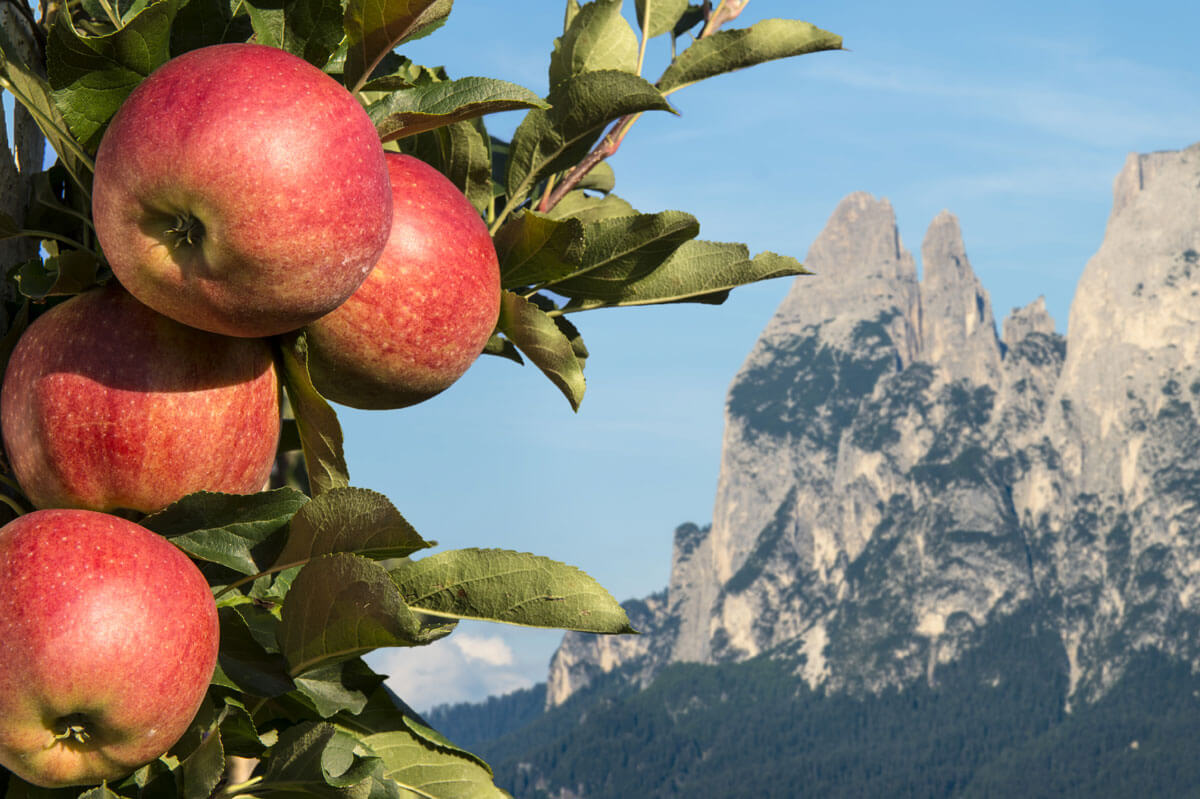 Although mountainous terrain does not seem like the ideal place to grow apples, the unique geography of the South Tyrol region in northern Italy and its location between two major climate groups lends itself surprisingly well to apple production. South Tyrol is the largest closed apple-producing region in the Europe, with a total production of roughly 910,000 tons in 2017, and accounts for half of all apples produced in Italy and 10% of total EU apple production. Situated between the colder alpine climate of the mountains of northern Italy and the warmer Mediterranean climate of the plains to the south, South Tyrol's farmers are able to take advantage of the region's unique geography to produce premium, high-quality apples up to an impressive maximum elevation of 1,000 metres above sea level.
Growing apples on steep mountainous terrain is difficult, but does have its advantages: at higher altitudes, apples mature slower and as a result are more dense, crisp, and compact. Additionally, the wide temperature swings between day and night in these mountainous regions contributes to the striking colour of the apples, making their hues of red or yellow more intense and vivid, which is highly valued by European consumers.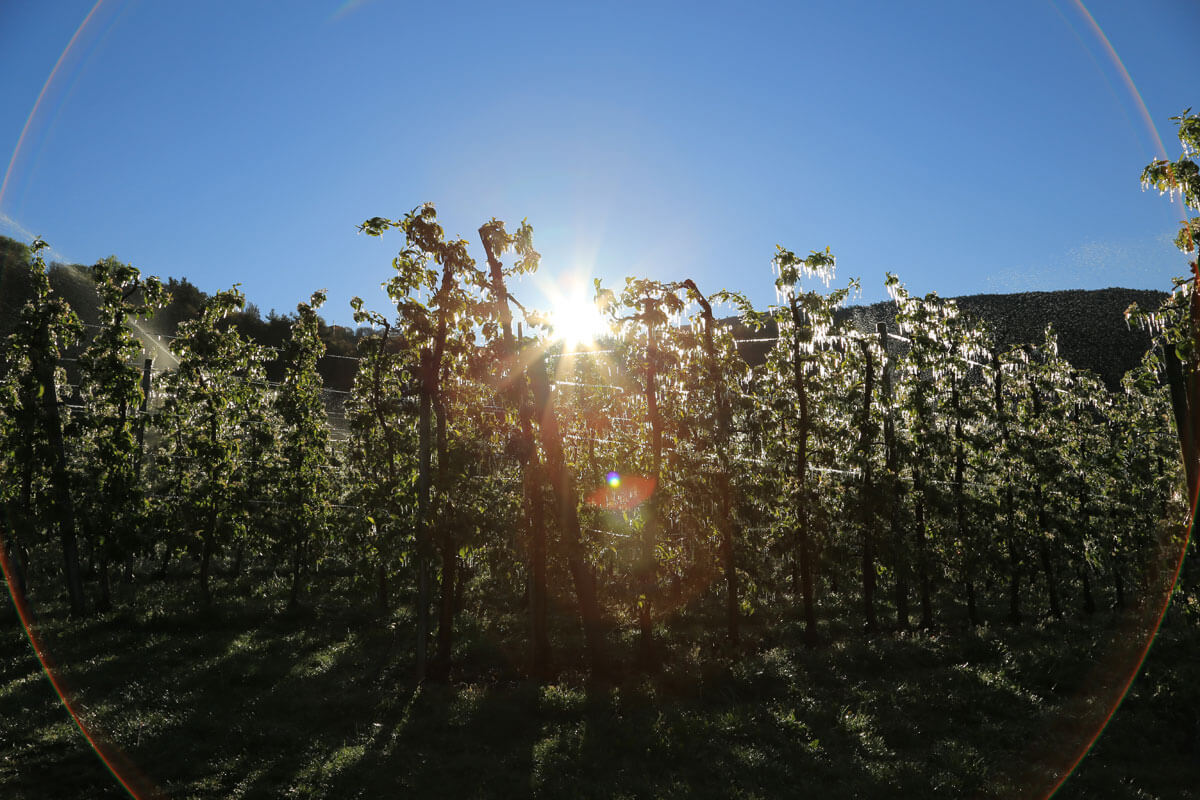 South Tyrolian apple farmers also have a unique form of internal organization. Considering the average farm in South Tyrol is quite small at 2-2.5 hectares, growers initially needed a way to ensure that their produce made it to market and were not overrun by larger corporate growing operations. The roughly 8,000 apple growers in the region are organized into cooperatives, which allow for coordination in apple growing and harvesting but also allow farmers to retain 100% ownership of their farms and the crops they produce. However, even after being organized into groups of cooperatives, the apple growers of South Tyrol realized their need to centralize certain aspects of their operations. Out of this need, the Italian fruit consortiums VOG and VI.P were born.

In the valleys of central South Tyrol, stretching from Meran in the west to Brixen in the east, VOG (founded in 1945) supports 13 member cooperatives, representing 5,000 farmers and 600,000 to 650,000 tonnes of apple production annually. VI.P represents 7 member cooperatives with 1,800 growers and 300,000 to 350,000 tonnes of production in western South Tyrol, from Meran up to the Val Venosta valley. Both VOG and VI.P have a crucial role as sole marketers of all fruit produced by its growers. They act as coordinator between all the apple farmers and cooperatives of South Tyrol for issues like quality standards, selection of varieties, packing, storing, and distribution activities.
VOG and VI.P advise growers as to the varieties best suited for current market trends, although as noted by Mr. Laimer, the farmer has the final say and can choose which variety they themselves want to grow. They help the farmers determine which varieties are ideal for specific growing regions, considering numerous factors such as hours of sunlight, altitude, soil type, and even angle of the orchards (east vs. west-facing).
VOG and VI.P sell their apples under three brands, which have also the status of a "protected geographic indication (PGI)", meaning that these brands can only be used for apples grown in South Tyrol. These brands are: Marlene®, owned exclusively by VOG, Vinschgau/Val Venosta brand, unique to VI.P, and South Tyrolean Apple PGI, which both VOG and Val Venosta can use and market. Apple varieties which can use these brands include Golden Delicious, Gala, Red Delicious, Braeburn, Fuji, Granny Smith, and several others.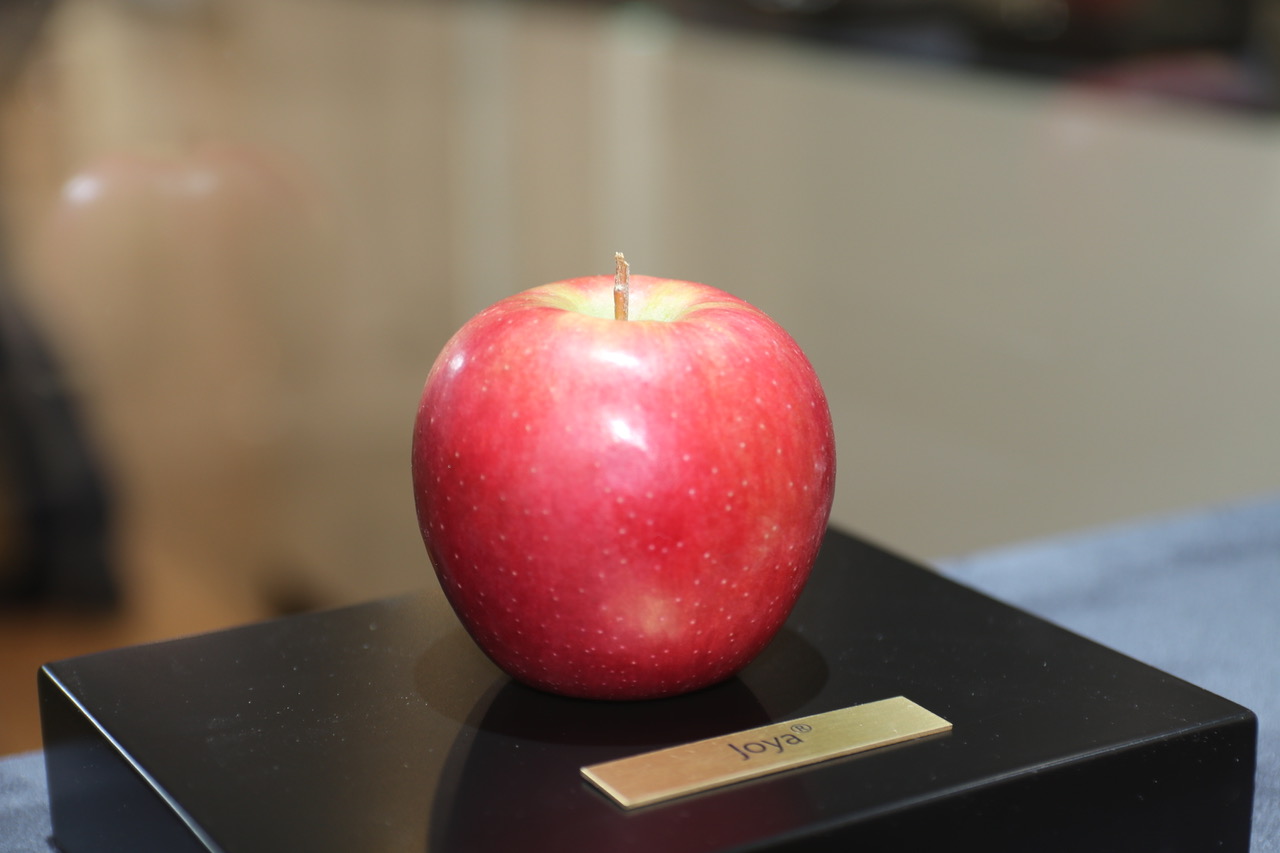 In addition to the three PGIs brands, VOG and VI.P's cooperatives also grow club apples, which continue to increase in popularity among growers and consumers alike. Mr. Tauber noted that South Tyrolian apple farmers are increasingly moving from traditional varieties to growing club apples, as these possess unique qualities which help them sell better in certain markets. "We believe that there is still a market for standard varieties. However, new and emerging club varieties present us with opportunities to explore new markets, attract new consumers, and even offer consumers a fresh apple-eating experience through innovation in taste, look, quality, and shelf life." By expanding the number of apple varieties available to their farmers, VOG and VI.P hope to better adapt to specific consumer preferences, such as southern Europeans fondness for big, sweet apples versus northern Europeans preference for medium or small apples with a sweet-sour flavour profile.
According to Mr. Laimer and Mr. Tauber, the most popular new Club-apples grown in South Tyrol now are Pink Lady®, Kanzi®, Envy®, Ambrosia®, and Yello®. Each apple has its unique characteristics: Envy® is a bright red, sweet apple with a crispy and crunchy texture, Kanzi® is a shiny, bright red apple with yellow back and a unique sweet-sour flavour, whereas Yello® has a smooth yellow-gold skin and a sweet, juicy, and crunchy taste. Yello® is the brand for the variety Shinano Gold, which has been bred in Nagano, Japan and is now grown exclusively in South Tyrol.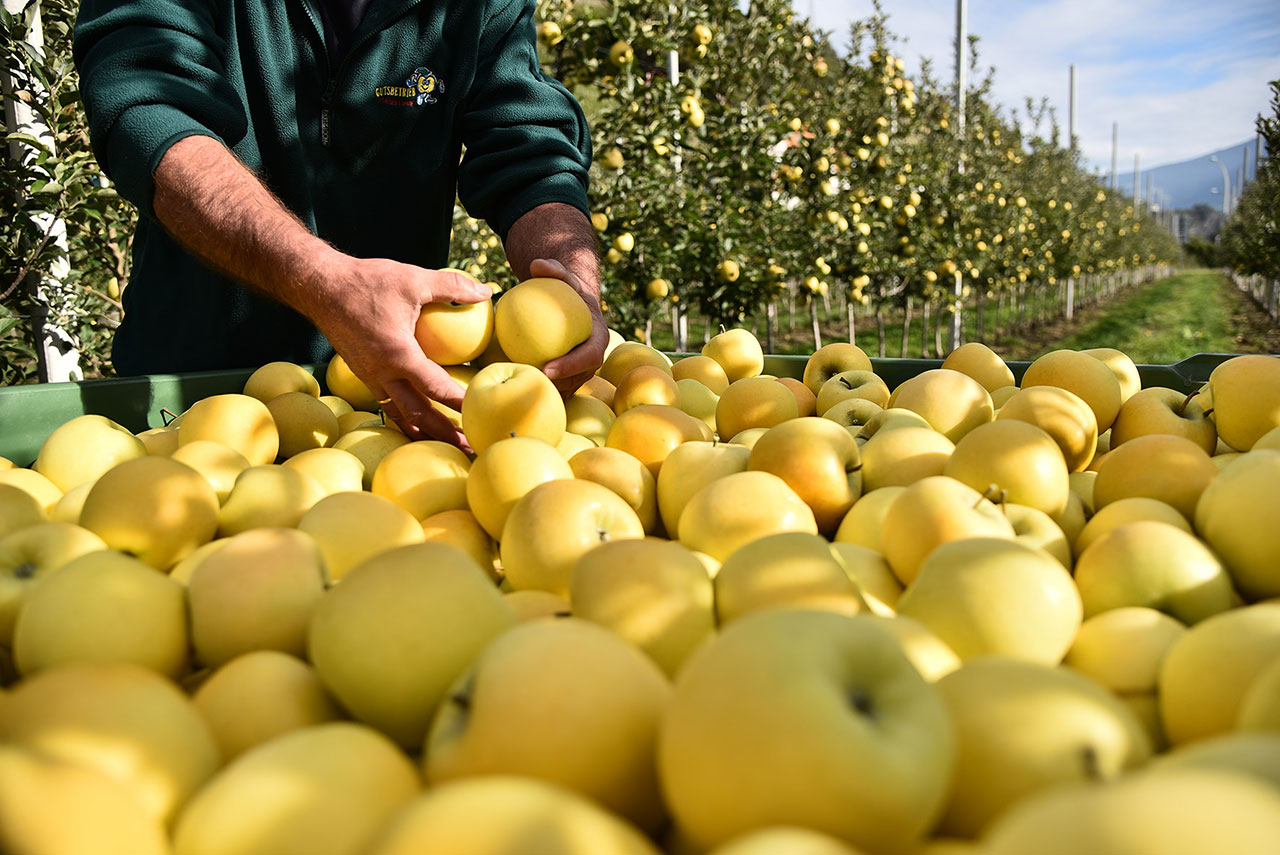 Europe is the largest market for South Tyrolian apples, followed by non-European markets located around the Mediterranean Sea. Only a smaller volume is exported to India or oversea markets in South East Asia. Distribution is centralized through a main sales desk and tailored for regional preferences: for example, retailers are the preferred distributor in Scandinavia, whereas in Mediterranean markets like Italy and Spain wholesale markets still play a central role in distribution.
Mr. Tauber admitted that although their business model of having large numbers of independent farmers organized in cooperatives was more expensive than the large-scale corporate apple production of other countries, the sheer amount of experience and unique perspectives South Tyrolian apple farmers possess lead to a higher quality product. "In order to justify our higher sales prices to the consumer, it is very important for us to be able to communicate to consumers the value-added aspect of our apples, namely that they have been grown by experts, are of the highest quality, and come in many different varieties and brands. If we do this effectively, consumers will be more than willing to pay extra for our higher quality product."
With 2,000 hectares of organic apple cultivation, South Tyrol is also one of the biggest players in the ecological sector and sustainable production in Europe. "Our apples are grown according to the guidelines of integrated fruit production (IFP). IFP is a clear commitment of our fruit growers to salubriousness, preservation of the environment, and sustainability. Our farmers try to maintain a natural balance in their orchards through sparing use of the natural antagonists of pests, intervening only if absolutely necessary to protect the plants and crops. This way, the grower preserves the health and fertility of the soil. As IFP is subject to strict controls, this is effectively a guarantee for healthy and high-quality apples."
Upcoming Events
October 19, 2023

to

October 21, 2023
Produce Marketplace
Elangeni Food Group

·

South Africa

Universal Capital Gr

·

Ecuador

AGRI GATEX LIMITED

·

Africa
Joshua Lim

·

Malaysia

City fresh fruit co.

·

Thailand

Chun lin orchard-Sel

·

Taiwan nan
China Market Access List