You are here
Back to top
Satisfying China's New Taste for Flowers
May 14, 2017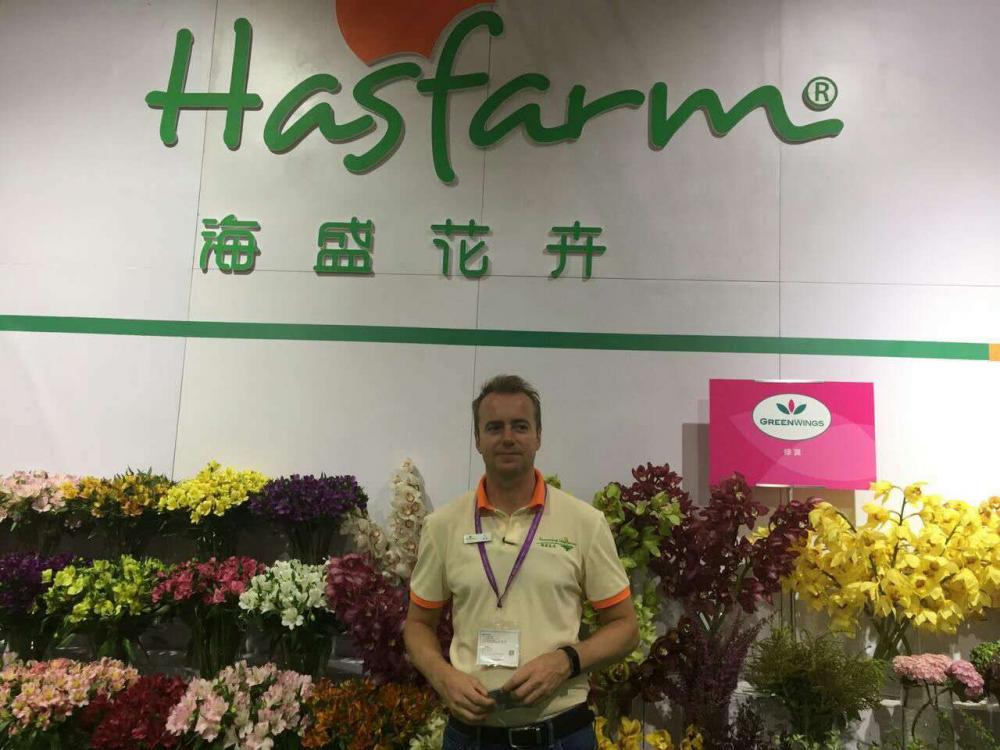 Kunming, in China's south-western province of Yunnan, almost obsessively refers to itself as the Spring City, due to its relatively forgiving climate. Indeed, the climate of the city and the province in general is attracting an increasing number of foreign owned agro-businesses to set-up here. Produce Report spoke to just one such business, Kunming Hasfarm Flowers and its Managing Director, Tim Scalongne, about its China operations.
The company is part of an international group that is one of the largest floricultural producers in Asia and runs two farms in Kunming covering 26 hectares. "Actually, we run two types of company," specified Scalongne. "One of which is a young plant company, called Hasfarm Young Plant, in which we cooperate with breeders from countries like the Netherlands, Japan and Denmark to produce young plants…we then propagate the plants and distribute them in Asia."
Between its Chinese and Vietnamese operations, the company produces over 200 million cuttings annually and hundreds of varieties in its state of the art tissue culture labs and nurseries, which are then either used in its own cut flower production, exported back to the breeders in the Netherlands, Japan or the USA, or sold to growers in China, Japan and other countries.
As well as, high-tech solutions, such the latest European Greenhouses, and western know-how, exclusive licensing agreements with the breeders play an important role, "we are the only licensee for a range of products in specific countries or even Asia. For one of our most important products, Calimero, for instance, we have a regional exclusive licence for all of Asia," added the Managing Director.
"Our second company type," he continued, "is an end product business. Here we produce pot plants or cut flowers (including Alstroemeria, Hydrangeas, Green Wickys and Carnations). In China we only sell to last step wholesalers. That is to say, those who sell directly to florists." Through these, Hasfarm distributes around 20 million stems throughout the country. This figure however, only accounts for 40 percent of Kunming Hasfarm Flowers' overall sales, with the lion's share being in Japan. What's more, the Managing Director does not expect this ratio to change anytime soon. "for instance, in Vietnam consumption is three times higher per capita than in China, because people are more used to buying flowers there. But we have noticed that consumption patterns are changing. When we started in 2006 it was mainly the government that was purchasing flowers, but now this is shifting to purchases for home use. I think most of our flowers end up in peoples' homes, so in the future we will be supplying either e-commerce companies who sell for home use or to florists that will sell to individual buyers."
So why does the company not see a changing market the size of China's overtaking Japan and Vietnam in the near future? Mainly, according to Kunming Hasfarm's managing director, because of production: "the market is there, but supplying good quality takes time, so the market is growing faster than we are able to produce. Producing is more difficult than selling. Even expanding our current operation is challenging as we are unable to find the labour to supplement the workforce in Kunming."
Upcoming Events
October 19, 2023

to

October 21, 2023
Produce Marketplace
Elangeni Food Group

·

South Africa

Universal Capital Gr

·

Ecuador

AGRI GATEX LIMITED

·

Africa
Joshua Lim

·

Malaysia

City fresh fruit co.

·

Thailand

Chun lin orchard-Sel

·

Taiwan nan
China Market Access List