You are here
Back to top
Rockit™ Apples Set for North American Blastoff
November 08, 2016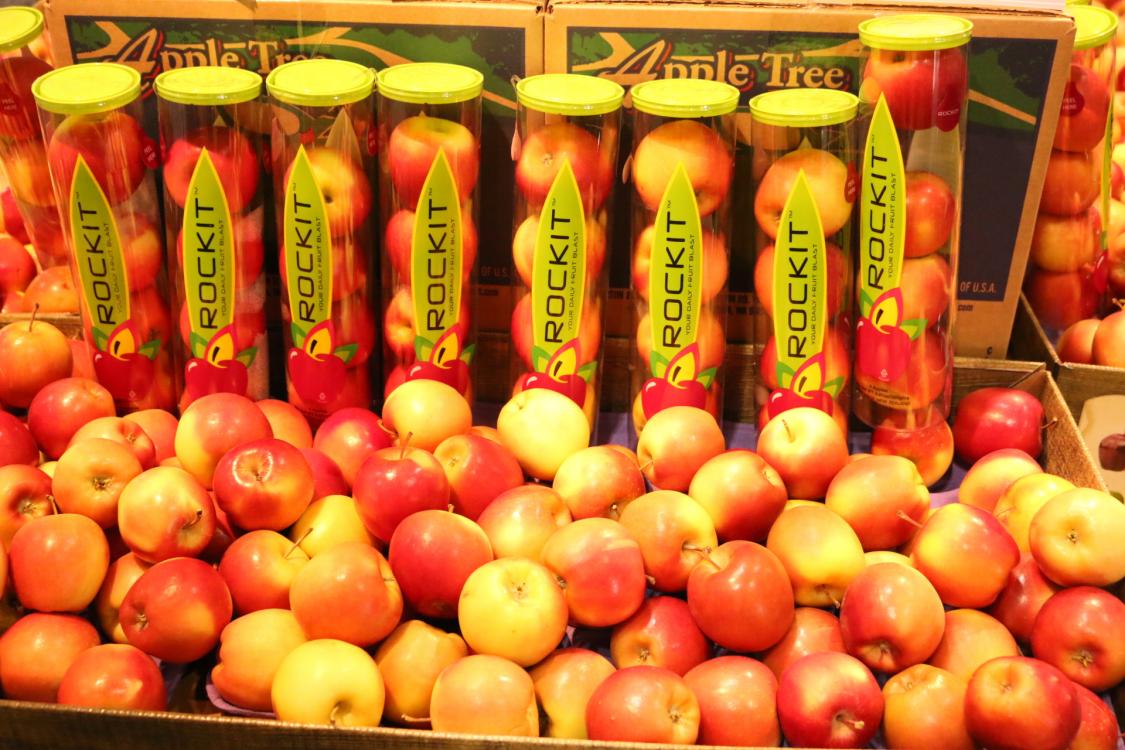 Rockit™ apples and its unique packaging on on display
Launched in 2010, the "Rockit™" apple variety from New Zealand has already proven immensely popular with consumers across the world for its crunchy, sweet taste and its uniquely small shape, "one and a half times the size of a golf ball." Through ingenious marketing packaging (sold in tennis ball-like containers) and a global licensing plan, the Rockit™ has become a worldwide phenomenon. The Rockit™ variety has been developed using natural cross breeding techniques of multiple apple varieties over a 20 year period in order to attain its desired characteristics including size, taste, colour, sweetness, and firmness. It finally became available domestically in the U.S. market in 2015, with Borton Fruit and Chelan Fresh Marketing gaining exclusive rights to grow, distribute, and market the apple in North America. In mid-October, Produce Report met up with representatives from Borton Fruit at the 2016 Fresh Summit Convention & Expo in Orlando to learn more about their increasing involvement with the Rockit™.
Eric Borton, Vice President of International Sales & Marketing at Borton & Sons Fruit, Inc., believes that the small size and high flavor of the Rockit™ apple is its most marketable asset. "We are really excited about the unique size and taste of this apple variety. We think that the smaller profile sets the apple apart from other varieties in its own category and that there is demand to be able to market the Rockit™ as a snack item, separate and apart from most all other traditional produce," he mentioned in remarks to Produce Report. He singled out kids and 'on-the-go moms' as two of these underdeveloped markets with a large potential for the Rockit™ apple: kids are drawn to Rockit™ due to the novelty of its size together with its super sweet taste, whereas for moms, Rockit™ apples represent a quick, healthy alternative to other not-so-healthy value added products and snacks.
Borton & Sons, Inc. is a 104-year old grower, packer, and shipper of premium fruit based in Washington State and is a completely vertically integrated operation that farms over 6,500+ acres of orchards, producing apples, pears and cherries. Together with Chelan Fresh Marketing, also based in Washington State, they have the exclusive rights to grow, pack, and ship Rockit™ apples in North America. Produce Report learned that Borton Fruit and Chelan Fresh Marketing work together on marketing and growing Rockit™ apples, with total production volume roughly split 50/50 between them. Rockit™ currently has modest production in Washington State from new planting of 1 and 2 year trees. Over the course of the next several seasons, production will greatly increase as the Rockit™ trees and new plantings mature.
Rockit™ apples are already grown and exported in many areas of the globe, including Europe, the Middle East, Asia, and Australia. However, in order to grow, distribute, or import Rockit™ apples, Eric told Produce Report that one must buy a license from the Havelock North Fruit Company (HNFC) in Hawke's Bay, New Zealand, who owns the master license for Rockit™ and is in charge of the brand. Growers can only export to licensed importers and vice versa, importers can only import from licensed growers.
For China, the expansion of Rockit™ to North America represents the opening of a new, valuable market for the apple. There are three licensed importers in China, Joy Wing Mau, Fruit Day, and Backbone, but there is still much room for growth. The Rockit™'s explosive growth in China has been at times hampered by lack of supply from New Zealand and other licensed growers who have young orchards and are on the early side of production volumes. As a result, the current production is having a tough time keeping up with burgeoning Chinese demand for the petit apple. The introduction of Rockit™ to America will not only increase the available supply of the Rockit™ to China, but also ensure China's voracious appetite for the apple is whet during New Zealand and China's growing counter and off-seasons.
Upcoming Events

September 06, 2023

to

September 08, 2023
October 19, 2023

to

October 21, 2023
Featured Produce
Produce Marketplace
Elangeni Food Group

·

South Africa

Universal Capital Gr

·

Ecuador

AGRI GATEX LIMITED

·

Africa
Joshua Lim

·

Malaysia

City fresh fruit co.

·

Thailand

Chun lin orchard-Sel

·

Taiwan nan
China Market Access List