You are here
Back to top
Rockit™ Apple Sales Skyrocket in China
November 14, 2016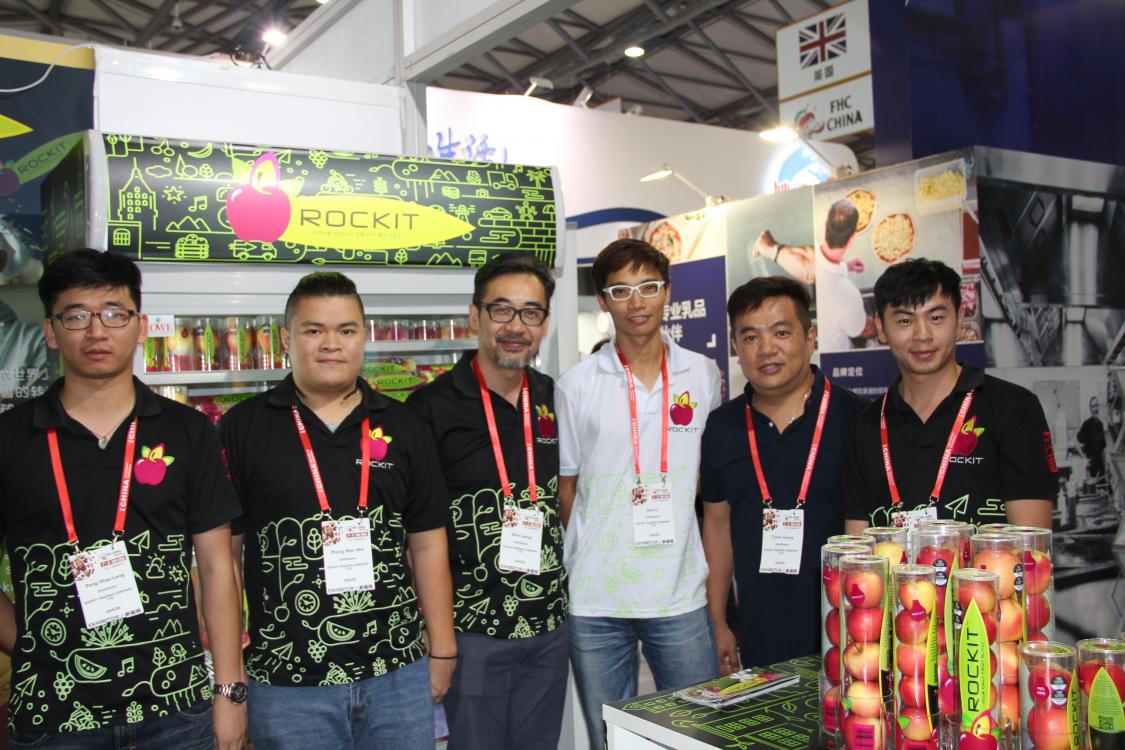 Havelock North's team introduces Rockit™ apples to the public at FHC China 2016
Photo: Produce Report
Since 2015, when New Zealand Rockit™ apples were first imported into mainland China, Havelock North Fruit Company Ltd. has shipped nearly 60 containers of the fruit into the country: 8 of these containers were delivered last year, rising to 50 containers for 2016. Even with this impressive six-fold increase, consumer demand continues to grow, and Havelock North isn't about to rest on its laurels. "For 2017, our target is 100 containers," Mr. Tyson Leung, Director of Backbone Trading HK Ltd., one of the major licensees of Havelock North, told Produce Report. "We are expecting to double our 2016 results."
Mr. Leung stated that, along with mainland China, his company also supplies Rockit apples to the Hong Kong and Macau markets. The mainland China and Hong Kong markets consume the majority of these apples: the market for this variety in Macau is rather minimal, whereas mainland China accounts for 80% of Backbone Trading's overall Rockit exports to China.
In mainland China, Backbone Trading HK Ltd. collaborates with a number of retail chains, with special focus given to Pagoda boutique fruit chain shops. Rockit apples are also licensed for e-commerce sale through the online fresh produce company Fruitday. China's leading produce distributor, Golden Wing Mau efficiently supplies supermarkets with Rockit apples.
As noted by Mr. Leung, great demand has been generated among business enterprises for Rockit apples thanks in large part to their unique packaging design. The apples are packed in plastic tubes resembling the tubes commonly used to package tennis balls. The format ranges from one to five apples per tube, and are conducive to a number of business environments. "The packaging of Rockit apples make them a convenient snack during work meetings, and they also function well as small gifts for guests in hotels and conferences, especially the single-packed variety," says Mr. Leung. As the apples are pre-washed and have no wax added, they are ready to be eaten without needing to be rinsed. Nonetheless, the main strength of Rockit apples remains its marketing as, "a healthy snack for people on the go."
In the opinion of Mr. Leung, the biggest market for Rockit apples at the moment is Asia, where the top three markets for the fruit are China, Taiwan and Vietnam, respectively.
Mr. Leung also informed Produce Report that in the coming years, Rockit apples will be available all year round, with other countries beginning to grow the variety. The US and Belgium started their commercial crop last year, while Australia, Spain and Italy started this year, meaning that Rockit apples are now harvested worldwide and consumers will be able to purchase them any time of the year.
Upcoming Events
October 19, 2023

to

October 21, 2023
Produce Marketplace
Elangeni Food Group

·

South Africa

Universal Capital Gr

·

Ecuador

AGRI GATEX LIMITED

·

Africa
Joshua Lim

·

Malaysia

City fresh fruit co.

·

Thailand

Chun lin orchard-Sel

·

Taiwan nan
China Market Access List