You are here
Back to top
Robinson Fresh® Eyes Continued Expansion in China
November 15, 2016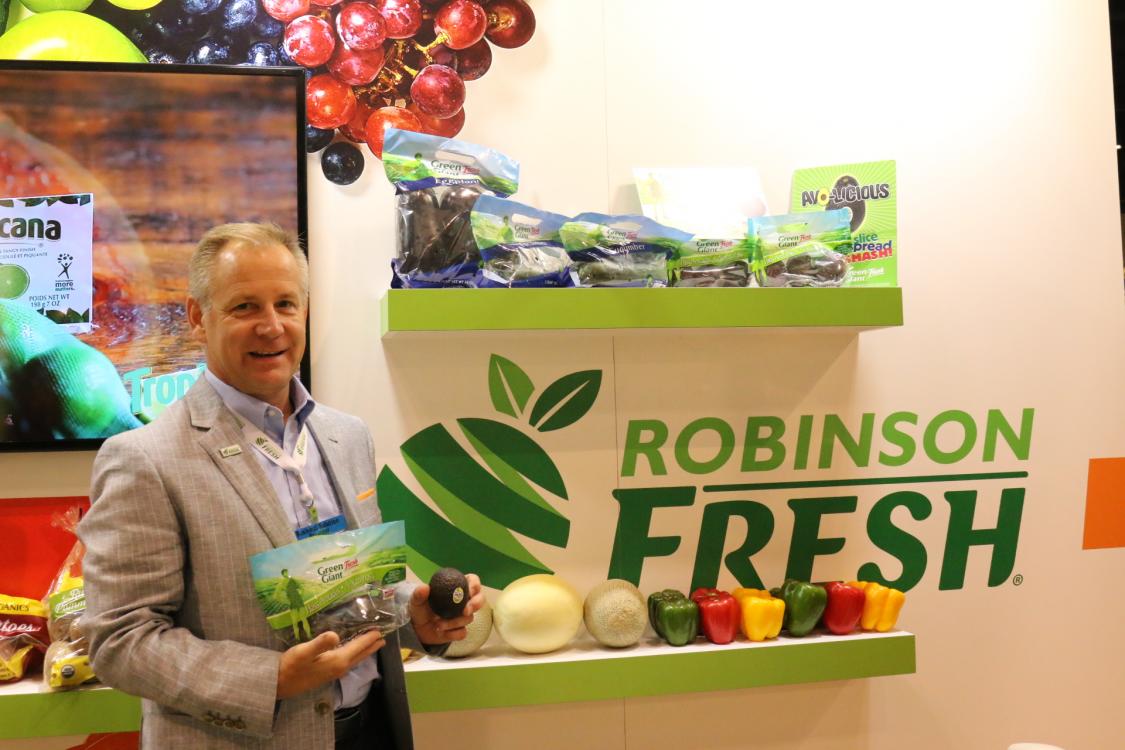 Robinson Fresh's Ray Griffin shows off Green Giant Fresh produce
Produce Report managed to sit down with Ray Griffin, director of global sourcing for the Asia-Pacific region of Robinson Fresh®, for an interview at the 2016 Fresh Summit Convention & Expo in Orlando on mid-October and discussed Robinson Fresh, its brands, and its current and future prospects for the China market.
Mr. Griffin described Robinson Fresh's role in fresh produce to Produce Report as one of a 'value-adding post-harvest service provider,' offering essential services to small and medium growers who prefer to focus on growing and packing their own product. "Many of these farms are family-owned, multi-generational operations who know the soil, the climate, and best production practices and techniques for their produce, but are not keen on product distribution and marketing. This is where Robinson Fresh comes in: we utilize our global presence through our 280 worldwide offices and help them with everything in finding the right market for their product. This can include market analysis, food safety and regulatory compliance, supply chain management services including global fresh logistics and grower support." This 'field-to-fork' cooperation with growers has proven especially attractive to Chinese consumers, who are generally eager to understand all they can about the product they are buying, such as its origins, growing conditions, and safety standards.
Robinson Fresh itself is a division of C.H. Robinson®, which was founded in 1905 as a produce company but has since become renowned as a third-party logistics provider in ground (road and rail), ocean, and air freight. Over the past 5 years, C.H. Robinson has refocused on building up its international capacities in fresh produce, formalizing these efforts in May 2014 through the creation of Robinson Fresh. In late 2014, Robinson Fresh International was launched to further concentrate Robinson Fresh's international efforts in three distinct geographic areas: Latin America, Europe, and Asia-Pacific.
Core to Robinson Fresh's success has been its proprietary brands, which include Happy Chameleon® (fruit), Tomorrow's Organics® (organic produce), and MelonUp!® (melons), as well as its diverse portfolio of licensed brands, ranging from Welch's® (grapes and berries) to Mott's® (apples in select markets) and Green Giant™ Fresh (asparagus, avocados and vegetables). Green Giant Fresh brand avocados have achieved exceptional market penetration in China, and Mr. Griffin attributed this, and Robinson Fresh's on-going success in China, to several key factors.
First among these is the explosive growth of China's middle class. As Chinese consumers become wealthier, they are increasingly more brand loyal and willing to pay for brands with a reputation of consistent high quality and known product origins. Mr. Griffin also noted that global consumer diets are "melding together," which has led to more 'Western' fruit and vegetables being consumed around the world and especially in China. Finally, Chinese consumers have developed innovative applications for new products they might otherwise be reluctant to consume traditionally: whereas avocados are primarily used in salads, sandwiches, or guacamole in the United States, consumers in China have adapted the avocado as a product for young mothers to feed to teething babies. Robinson Fresh currently carries Green Giant avocados from Mexico and Chile, with Peru soon to follow and eventually avocados from California, dependent on market access. The colour, texture, and edibility of avocados differ depending on the growing region or country, and can even differ within countries. For China, Robinson Fresh chose to carry large avocados in order to differentiate themselves from the numerous varieties of small avocados available on the market.     
Robinson Fresh's success in China has not been without challenges. Mr. Griffin noted to Produce Report that Chinese retailers had initially thought it would be difficult to market Robinson Fresh's Green Giant avocados due to packaging colour. Packaging colour is very important to the Chinese consumer, and the green packaging of the avocado was considered weaker than packaging featuring dominant colours such as gold, black, and red, colours which Chinese consumers are more drawn to. However, the iconic green giant of Green Giant proved a memorable branding character to consumers, and the green packaging was marketed with special emphasis on product freshness and healthiness, which resonated with consumers.  
Despite the challenges, Ray Griffin indicated that Robinson Fresh intends to remain in China and further expand its presence and penetration in the market. "Our future plans for China are very bullish and we are quite optimistic about the opportunities in China, not only in avocados but also in a number of other product categories that we have expertise in, such as table grapes and citrus. We believe that over the next 5 years, there will be numerous opportunities to supply our products and build a stronger presence in China."
Upcoming Events

September 06, 2023

to

September 08, 2023
October 19, 2023

to

October 21, 2023
Featured Produce
Produce Marketplace
Elangeni Food Group

·

South Africa

Universal Capital Gr

·

Ecuador

AGRI GATEX LIMITED

·

Africa
Joshua Lim

·

Malaysia

City fresh fruit co.

·

Thailand

Chun lin orchard-Sel

·

Taiwan nan
China Market Access List