You are here
Back to top
Peru Eyes China and other Global Avocado Markets
June 01, 2016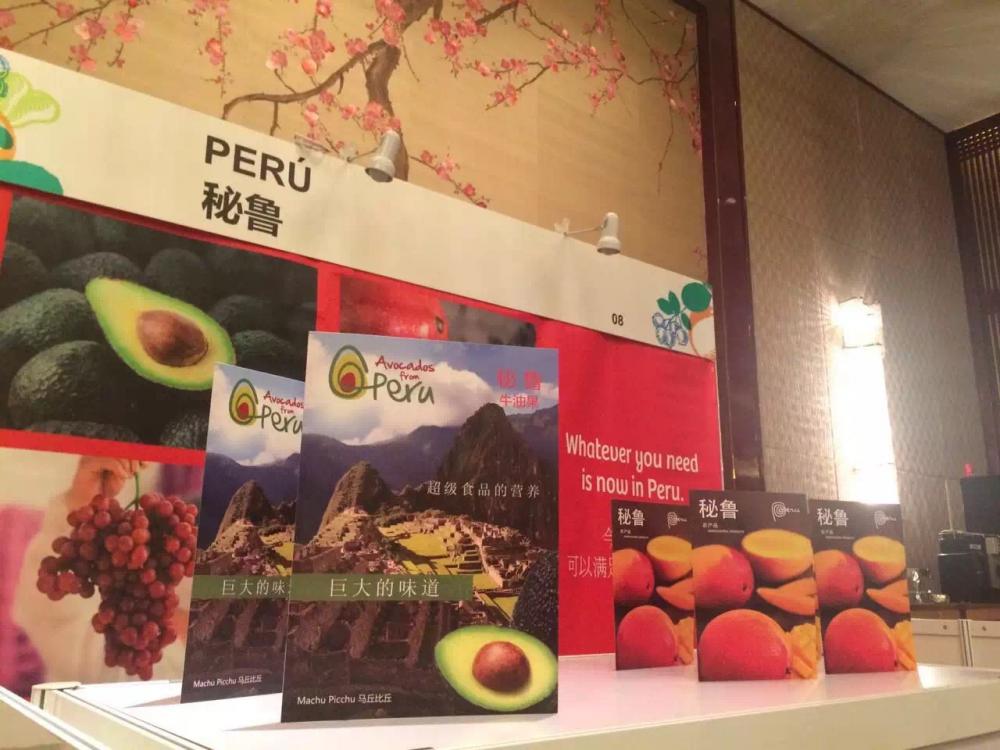 A Peruvian avocado promotional activity in Chengdu, China
With a young, dynamic industry, a strong focus on quality and counter-seasonal production, Peru is now the fourth largest producer and second largest exporter of avocados globally, with 30,000 hectares under plantation and exports of 180,000 tons in 2014 compared to 19,000 tons a decade earlier.
Already the top supplier to the European Union, Peru hopes to soon become the number two supplier of avocados to China, according to remarks during a recent Produce Report online lecture by Vladimir Kochera, Economic and Commercial Counselor of Peru in Shanghai.
Kochera says that China (which does not have significant domestic commercial production) imported 12,319 tons of avocados in 2015. Peruvian authorities project this number will rise 84% in 2016 to 22,764 tons and another 63% in 2017 to 37,075. The China avocado market will be a major focus for Peru in coming years.
After finally gaining sanitary protocol approval for Hass avocados from China's General Administration of Quality Supervision, Inspection and Quarantine (AQSIQ), two containers of Peruvian avocados were shipped to China last year on the tail end of the country's season, which runs from February into September. This year, Kochera said that Peruvian authorities expect to ship 200 containers to China, with the first shipment having already arrived on May 17.
Peru is not able to ship earlier production because those fruit come from areas such as Ayacucho in southeastern Peru that have not yet received export approval from China. The fruit being exported to China come from areas in northern coastal Peru where the main season starts later.
Kochera says that by providing fruit during the Mexican low season and after the end of the Chilean season in April, Peru is poised to overtake Chile in coming years as the number two supplier of avocados to China. So far, only Chile, Mexico and Peru have received import access for avocados from AQSIQ.
According to Kochera, another factor that will help Peru be competitive in China and other global markets is that, "we developed our avocado industry thinking about the world market." He says this stands in contrast to the industry in Mexico, which, "built its avocado industry a long time ago, focusing on the United States," where consumers are more sensitive to price and less to appearance and perceived quality.
Consumers in the EU, China and other Asian markets like South Korea and Japan have much more specific demands and are willing to pay more for fruit that fit their expectations for quality and appearance, says Kochera.
SENASA, the Peruvian food quality and safety authority has played an active role in controlling the quality of avocado exports. "SENASA is being very demanding about the quality of avocados shipped to China," says Kochera. "They are being very careful in allowing some of the containers to be shipped. We have received reports from Peru that SENASA has stopped some shipments so they can guarantee the high standard the Chinese market is demanding."
Government and private groups in Peru are also undertaking marketing campaigns to educate Chinese consumers about the virtues of avocados generally and the quality of Peruvian avocados. "We are working very closely with ProHass [Peru's major avocado producers trade group] so that we can make sure that the Chinese consumer learns quickly about the benefits of Peruvian avocados," says Kochera.
This work is crucial in the China market. Despite rocketing demand, especially among younger urban consumers, most Chinese have never tasted an avocado and would not know when it was ripe or how to prepare it. Chinese consumers are known for preferring fruit with a green skin because they look appealing, even though they are not yet ripe. Peru is addressing this and other education gaps through Chinese-language literature and by partnering with supermarket chains to offer in-store tastings and demos.
But Kochera acknowledges that it would be unwise to force notions about how to use avocados on the Chinese market: "We have observed that some people in China consume avocados with salt and some with sugar as a drink. We don't have any preference about how the avocado will be consumed. In Peru we consume them with salt, but in the end it's up to the consumer how they try this delicious fruit."
Featured Produce
Produce Marketplace
Elangeni Food Group

·

South Africa

Universal Capital Gr

·

Ecuador

AGRI GATEX LIMITED

·

Africa
Joshua Lim

·

Malaysia

City fresh fruit co.

·

Thailand

Chun lin orchard-Sel

·

Taiwan nan
China Market Access List