You are here
Back to top
Pagoda Enters Taiwan, Opening Store in Taichung
August 19, 2016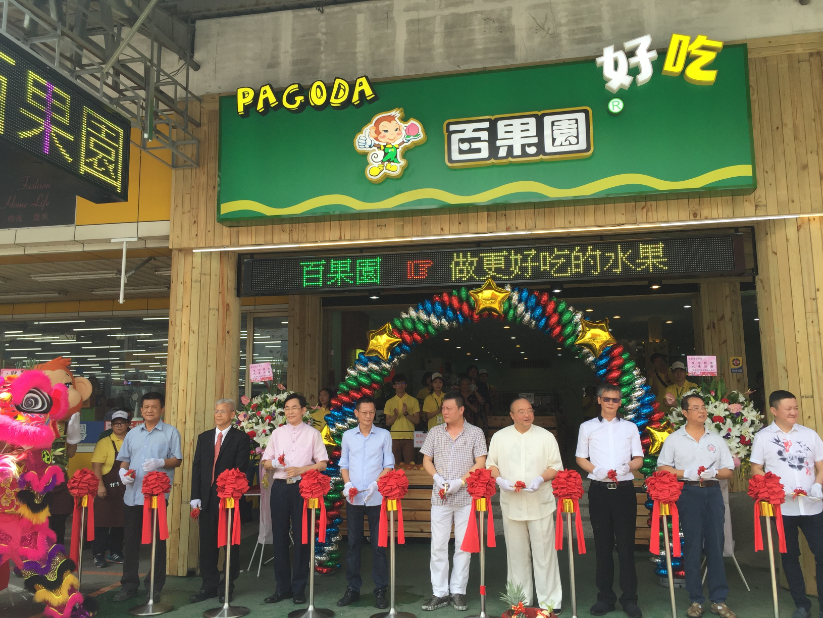 On August 14, Pagoda opened its first store in Taiwan. This first store is located in Dali District in Taichung City and makes Pagoda the first fresh fruit chain store brand to enter Taiwan.
Currently, the retail sector is depressed. Store closure is common. Pagoda seems to be unaffected, not only opening new stores in quick succession but also acquiring other chains such as Guoduomei and Fresh Time. It now even extends its business to Taiwan.
Produce Report learnt that Pagoda has been quite influential in the Taiwan fresh fruit market before its actual market entry. As early as in the 90', Pagoda's founder and chairman, Mr. Yu Huiyong, cooperated with Taiwanese companies in growing, packaging and brand development for Hosui Asian Pear. Within two years, China home grown high quality Hosui pears were produced, squeezing Japanese and Korean high quality pears out of the Pearl River Delta market. Large volumes have even been exported to Europe, America and Southeast Asia.
This experience led Mr. Yu to realize that product differentiation would have very big impact on agricultural produce and confirmed his belief in the methods by Taiwanese growers. In April, 2015, Pagoda and Taiwanese agricultural associations organized the first Taiwanese Fruits Festival, using tasty fruits as the bridge to promote cooperation and exchange in the fresh fruit industries on both sides of the Taiwan Strait.
Pagoda is not only China's largest fresh fruit retail chain but is the largest importer of fruits from Taiwan. Currently, Taiwanese fruits account for 3% of Pagoda's total purchases, at a value of about RMB120 million. However, the best known, or most respected, about Pagoda is its contribution to Taiwan's pineapple industry.
Pagoda was the first Chinese company to establish contract production in Taiwan's pineapple industry. As early as 2012, Pagoda helped Taiwanese growers to develop standards and helped them manage production according to such standards. On one hand, Taiwanese growers improved their technology and productivity. On the other hand, the foundation and standards required for pineapples' rapid sales growth in China were created. Pagoda was also the first company to introduce Taiwanese pineapples into China.
Produce Report also learnt that there is currently no sizeable chain fruit store in the whole of Taiwan. There are some scattered big fresh fruit super stores. There are 9 super stores in the North, 2 in Taoyuan County in the Northwest and 7 in the South. However, Taiwan residents are quite comfortable in buying fruits from big shopping malls.
To Pagoda, Taiwan is definitely a very important market. Pagoda's chairman Mr. Yu stated the vision of enabling everyone in the world to enjoy a life with good fruits and, more importantly, to enable every Chinese to enjoy a life with good fruits. He said, "Pagoda wants to bring the concept of working for tasty fruits to Taiwan. We have taken one step forward today. The store opening in Taiwan represents new market opportunities as well as new challenges to Pagoda."
Mr. Yu believes that Taiwanese's habit of purchasing fruits from shopping malls is probably due to the lack of specialty fruit stores in Taiwan. Pagoda would work hard to provide Taiwanese consumers with better shopping experience to enable specialty fruit stores to establish a strong foothold in Taiwan. At the same time, considering Taiwan's current marketing environment, integrating into shopping malls would be explored.
According to Manager Lin of Pagoda's Taiwan store, "bringing Pagoda to Taiwan is also my personal dream. Group headquarters has given me relevant directions and assistance related to store operation. I am confident of Pagoda's business in Taiwan." Manager Lin has received training at Pagoda's headquarters since 2014, getting familiar with the various departments in the Pagoda Group.
Pagoda currently has a national network of 1500 outlets. This number is still increasing at the rate of 2-3 per day.
Upcoming Events

April 05, 2022

to

April 07, 2022

September 07, 2022

to

September 09, 2022
Featured Produce
Produce Marketplace
ALOE ECO PARK SAPI D

·

Mexico

Tien Thinh Agricultu

·

Vietnam

Tien Thinh Agricultu

·

Vietnam
Joshua Lim

·

Malaysia

City fresh fruit co.

·

Thailand

Chun lin orchard-Sel

·

Taiwan nan
China Market Access List