You are here
Back to top
Packaging Innovation Boosted Sales of Chilean Cherries
January 25, 2017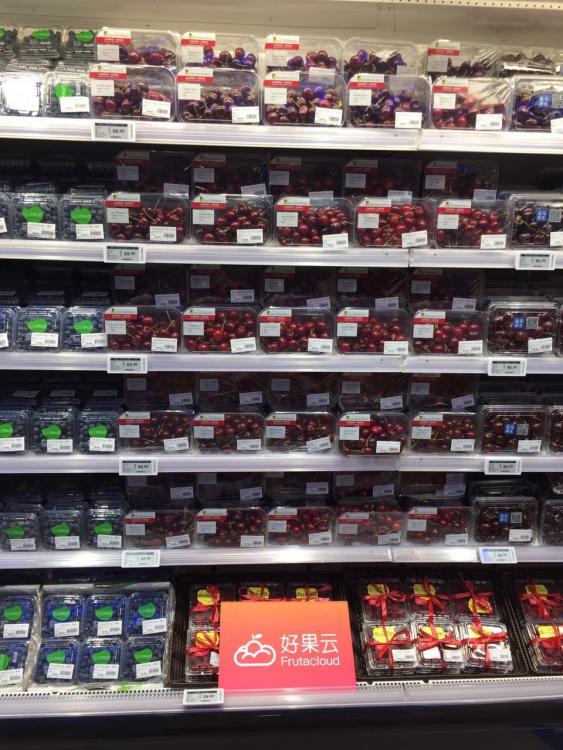 The peak selling season prior to the arrival of the Year of Rooster is coming to an end. Thanks to the ASPA1 conference vessel expedited service, more than 90% of Chilean cherries arrived in time for the festive sales. Despite arriving in big volumes on weekly basis, prices of Chilean cherries have not been affected too much as sales off-takes are satisfactory. This seems to prove that Chinese consumers have unfulfilled appetite for good quality cherries.
Fruta Cloud, a B2B fresh fruit importer and distributor, has told the press that the good sales performance of Chilean cherries this year could also be attributed to packaging innovation. 2.5 kg gift packs have become the mainstream packaging during Chinese New Year selling seasons. As the more affluent Chinese consumers are growing in numbers and demand in high quality imported cherries has been on the rise, some traders have been repacking 500 grams and 1kg clamshell packs manually from bulk to satisfy the consumers. According to Fruta Cloud, such practice might compromise food safety and the products' shelf-life, particularly as some of the repacking facilities did not meet the rigorous HACCP standards.
To ensure consumers' interest and offer them better experience, Fruta Cloud collaborated with major shippers to bring in 500 grams and 1kg packs with innovative packaging for sale at major traditional retail and e-commerce stores such as HEMA and Mr. Fresh. The products were directly packed at source in Chile and the special packaging was equipped with atmosphere modification technology to keep the fruit fresh longer. Even though such packages cost more, many customers were willing to pay 30% more, for the fresher products, compared with the manually repacked clamshells.
Fruta Cloud believed that some technical challenges still exist for the new packaging technology but the work to enhance customer experience would be key to ensure continual growth in demand for Chilean cherries in China.
Fruta Cloud is a new B2B e-commerce operator invested by Kingo Fruits Co Ltd which is a major fresh fruit trader with 30 years of history in China.
Photo source: Fruta Cloud
Featured Produce
Produce Marketplace
Elangeni Food Group

·

South Africa

Universal Capital Gr

·

Ecuador

AGRI GATEX LIMITED

·

Africa
Joshua Lim

·

Malaysia

City fresh fruit co.

·

Thailand

Chun lin orchard-Sel

·

Taiwan nan
China Market Access List