You are here
Back to top
Oranges from Egypt Outperform Grapefruit, Lemons in China
November 29, 2016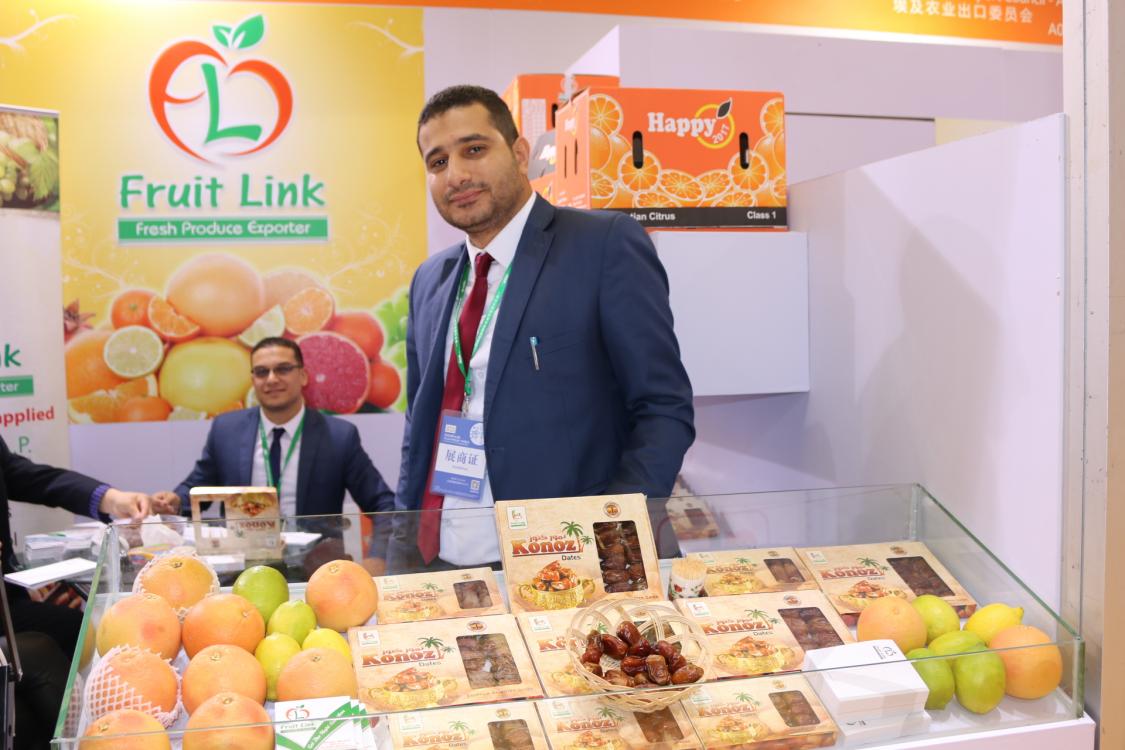 Fruit Link sales director Ayman Bayoumy promotes Egyptian citrus at iFresh Fruit and Vegetable Expo 2016
Photo: Produce Report
Among the seven Egyptian exporters presenting their products at China's iFresh Fruit and Vegetable Exhibition, Fruit Link was one of the most eye-catching participants. Exporting its fruit under the brand 'Happy,' the company was cheerfully welcoming current as well as prospective business partners to its booth. To tap into this positivity, Produce Report spoke with Fruit Link sales director Ayman Bayoumy about their business in China, the popularity of Egyptian fruit, and challenges the exporter faces on China's market.
Produce Report: When did you first step into the China market?
Ayman Bayoumy: We started to export citrus to China three years ago, as at that time citrus was the only fruit from Egypt allowed into China. In 2013, we shipped 25 containers, while this year our shipments are estimated at 90 containers, more than a threefold increase.
Produce Report: What types of citrus do you export?
Ayman Bayoumy: Mostly oranges. We export Navel and Valencia varieties, with Valencia comprising the majority of our exports.
Two years ago, we also started exporting grapefruit to China. However, these export volumes are not comparable with those of oranges. Egyptian grapefruit export season begins in November, the same month when the imported cherry season kicks off in China. Unfortunately for us, most importers are more focused on importing cherries from South America and Oceania than grapefruit from Egypt at that time of the year.
Produce Report: Does this mean that there are no prospects for Egyptian grapefruits in China then?
Ayman Bayoumy: Demand for Egyptian grapefruit in China exists, and it is even steadily increasing. We have studied Chinese consumer preferences in taste, colour, and package design in order to become more successful in China. Nowadays, we only export red grapefruit, as red is a preferred colour among Chinese consumers. Moreover, we sell our fruit 'open-top,' as we observed that presenting the fruit in this manner is more attractive to the customer.
Produce Report: What is the current status of your lemon exports?
Ayman Bayoumy: In mainland China, demand is rather low. However, our lemons are in high demand in Hong Kong as well as in countries across Southeast Asia, which is where our export volume is quite large. Although lemons are not well marketed in China, we are still planning for some export in the coming season [December 2016 - March 2017].
Produce Report: Does Fruit Link plan to export grapes, given that they have been permitted access to China's market this month?
Ayman Bayoumy: Yes, as soon as the season in Egypt starts [May-September 2017], we plan to ship our first batches of grapes to China.
Produce Report: You mentioned that Fruit Link citrus exports have more than tripled since 2013. In your opinion, why is your business in China so brisk?
Ayman Bayoumy: I think this is because the quality of our fruit is good and the price is affordable. Egyptian citrus can cost the same or sometimes even less than China's domestic citrus. And of course, they are much cheaper than those imported from South Africa, Australia, or South America.
Produce Report: What are some of the challenges you face on the China market?
Ayman Bayoumy: Our two biggest challenges are competition with other Egyptian exporters and product quality requirements. Egyptian companies exporting citrus to China have mushroomed in recent years, which has caused competition in this area to become fiercer. Moreover, product quality standards in China among consumers are very high. We strive to ensure that all our shipments are of the finest quality, as Chinese consumers have demonstrated a profound knowledge of and have a discerning eye for high quality fruit. The market — not only in China, but all around the world — has a general rule: if product quality is poor, the brand will be quickly pushed out of the market.
Produce Report: What do you envision for the future of Fruit Link in China?
Ayman Bayoumy: We plan to continue increasing our exports. Presently, we are working on new export destinations in China, such as Guangzhou, Beijing, and other cities so that we can cover a larger area. In fact, I would say that there are no limits to our goals for the future.
Upcoming Events

September 06, 2023

to

September 08, 2023
October 19, 2023

to

October 21, 2023
Featured Produce
Produce Marketplace
Universal Capital Gr

·

Ecuador

AGRI GATEX LIMITED

·

Africa

Qualipac Pty Ltd

·

Australia
Joshua Lim

·

Malaysia

City fresh fruit co.

·

Thailand

Chun lin orchard-Sel

·

Taiwan nan
China Market Access List