You are here
Back to top
Nonbrowning Arctic® Apples Set to Shake Up Apple Market
October 26, 2017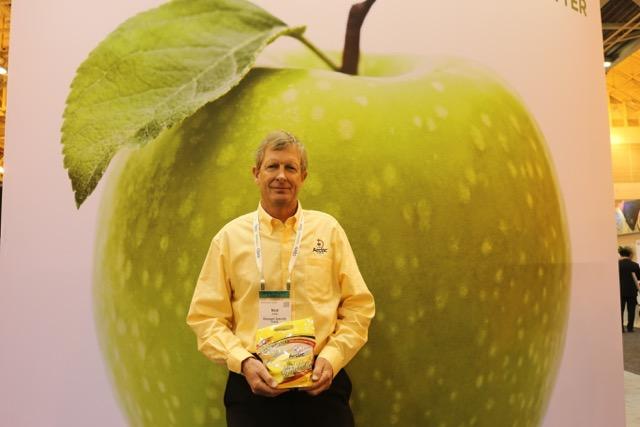 Neal Carter, President and Founder of Okanagan Specialty Fruits and the Arctic® apple
As the world's first genetically modified (GMO) apple, the nonbrowning Arctic® apple, prepares to hit shelves in select U.S. stores in the coming weeks, Produce Report caught up with Neal Carter, president and founder of Okanagan Specialty Fruits, Inc. (OSF) and innovator behind the Arctic® apple, at PMA Fresh Summit 2017 in New Orleans to discover the research, regulatory, and commercial components and development process behind the Arctic® apple.
From Humble Beginnings: Research and Initial Development
Okanagan Specialty Fruits was founded in 1996 in the Okanagan Valley of British Columbia, a region of Canada well known for its vineyards, temperate fruit orchards, and dry weather ideal for agricultural production. The company was created expressly for the purpose of developing a nonbrowning apple, or an apple that wouldn't turn brown when bitten, sliced, or bruised. OSF's first 7 years were spent conducting intensive research and development, utilizing agricultural biotechnology, molecular biology, and genetic engineering to silence the gene in apples which causes them to turn brown when damaged.  OSF's team of approximately five scientists were therefore able to create the world's first GMO apple, the Arctic® apple. However, gaining regulatory approval for the Arctic® apple would prove to be just as, if not more, challenging as its scientific development.

Next Steps: Achieving Regulatory Approval in the U.S. and Canada
In order to grow and sell Arctic® apples, OSF were required to submit extensive applications and copious amounts of data to the four major agricultural regulatory bodies in the United States and Canada, where the apple was to be grown and sold: the United States Department of Agriculture (USDA), the U.S. Food and Drug Administration (FDA), the Canadian Food Inspection Agency (CFIA), and Health Canada. Given that apples are a perennial crop, they possess a longer genetic engineering process, are more difficult to genetically transform, and have a long fruiting period (3-5 years), which led to a very length data collection process.
Each agency also required a separate submission and assessed the Arctic® apple based on a different set of criteria: the USDA assessed whether it was safe to release the apple in the environment to plant and grow it, the FDA looked at any possible adverse impacts on human health (feed and food), the CFIA evaluated its potential effects on the environment as well as on animal feed, and Health Canada examined Arctic® apples based on consumer safety, nutrition, and potential allergens. According to Neal Carter, "Arctic® apples are probably the most scientifically-scrutinized apple in the world…four different agencies over a five-year period extensively studied the apple, using an enormous amount of data, data which we prepared over five years and which we continued to submit over the entire ten-year regulatory assessment period."
In 2015, all four agencies came to the conclusion that Arctic® apple posed no harm to the environment and were as safe and nutritious as traditional apple varieties, and granted OSF permission to start growing Arctic® Golden and Arctic® Granny apples.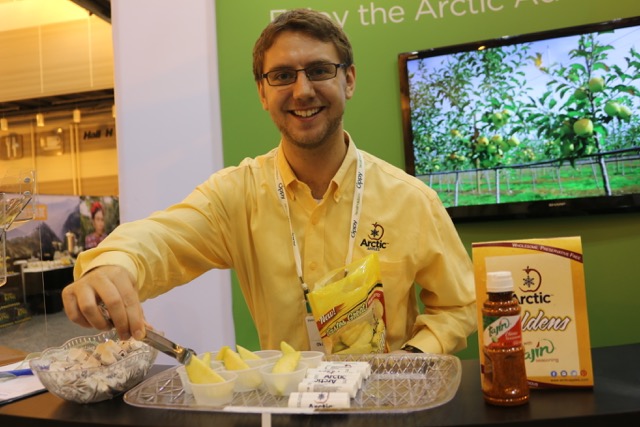 Commercialization among Industry, Trade, and Consumer Groups
In parallel with the regulatory process, OSF began the commercialization process for Arctic® apples, such as attending trade shows and industry events to educate the apple industry as to this unique apple and engaging in consumer research through focus groups and surveys across the U.S. and Canada. As president of an openly-GMO company, Mr. Carter believes that public attitudes and perceptions towards selective breeding and genetic engineering in food products are changing. "We think this is a chance to rebrand and think differently about breeding technologies."
The results of several pre-launch surveys that Mr. Carter shared with Produce Report seem to support this, namely that given the choice, consumers would prefer GMO apples to traditional, chemically-treated apples. "For consumers, everything is on a scale where they need to weigh the positives and the negatives of a purchasing decision. Our consumer research has been very encouraging for us and at the end of the day, will tip the scale in our favour and lead to our success."
Planting, Production, and Expectations
Arctic® apple's current planting area is 260 acres, with 400 more acres to be planted in spring 2018. Total production for 2017 is expected to be 170,000 pounds (80,000 kilograms), which will be sliced and sold in 10-ounce (roughly 300 gram) bags. As of January 2018, apples which prove to be too large to be sliced (approximately 20,000-30,000 pounds) will be dehydrated and sold on Amazon as Arctic® Golden dehydrated apples. Mr. Carter stated that they will be initially working with regional retailers, predominantly in the Midwestern U.S. but also in California, to sell Arctic® apples and that based on the enthusiastic feedback and interest received from consumers, they expect to sell out of Arctic® apple stock quickly.
Featured Produce
Produce Marketplace
Elangeni Food Group

·

South Africa

Universal Capital Gr

·

Ecuador

AGRI GATEX LIMITED

·

Africa
Joshua Lim

·

Malaysia

City fresh fruit co.

·

Thailand

Chun lin orchard-Sel

·

Taiwan nan
China Market Access List