You are here
Back to top
New Zealand Rosy about Exports: Interview at Asia Fruit Logistica
September 21, 2016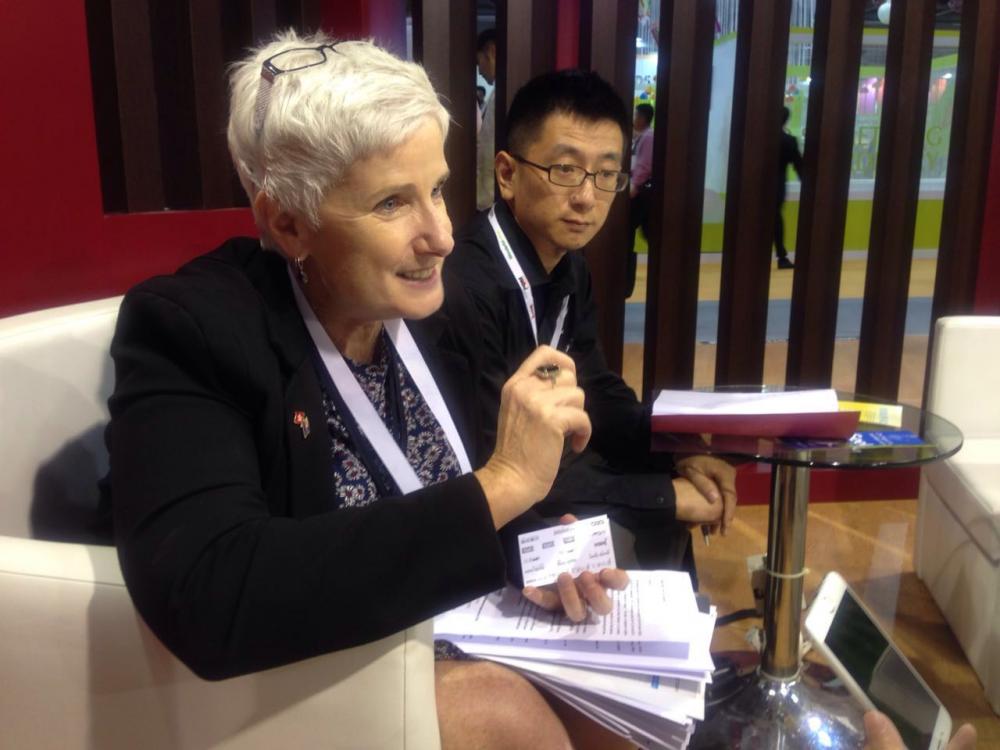 Ms Rachael McGukian, New Zealand Trade Commissioner, Hong Kong and Macau
On 2016-09-09, the Asia Fruit Logistica, which took place at Asia-World Expo, Hong Kong, ended with a very successful note. 26 leading horticulture companies showcased their products at the New Zealand pavilion which occupied a big area near the center of the exhibition hall. Produce Report interviewed Ms Rachael McGuckian, New Zealand Trade Commissioner, Hong Kong & Macau.
According to Ms McGuckian, presently New Zealand's fruit exports amounted to over NZD2 billion in total and this figure would likely double in the next few years. In the first half of 2016, total fruit exports from New Zealand amounted to USD1.17 billion, up by 15.9% over the same period in 2015; of which exports to mainland China reached USD190 million, an increase of 38.1% from last year; USD26.75 million to Hong Kong, up 8.9%. Re-exports from Hong Kong has been modest, at about 7%, mainly to Macau. Ms McGuckian believed that free trade agreement with China has been a major positive effect on exports to the country. As for promotion programs, no special activity by the New Zealand Trade and Enterprise (NZTE) has been planned. They would be organized by the individual companies according to the needs of their different markets.
When asked about the relative importance of different products, Ms McGukian said that the biggest items were kiwi fruits, apples and cherries. Kiwi's volume was biggest but cherries have been growing fastest. Cherry's exports to various countries increased by 3 times in the last 4 years. As a result, supplies have to catch up with demands and increasing plantation would be a challenge. Ms McGukian also stated that avocados, blue berries and strawberries would become more important in the future.
About the major success factors for the buoyant export performance of New Zealand horticultural products, Ms McGukian said that her country's green and clean environment and how New Zealanders have always treated their land as their families were the most important. In addition, innovation technologies and solutions, as well as automations in picking and packing, have facilitated the optimisation of the sector. During the Asia Fruit Logistica, several New Zealand engineering companies exhibited their specialized equipments
The New Zealand pavilion at the 2016 Asia Fruit Logistica was jointly organized by New Zealand Trade and Enterprise (NZTE), working alongside Horticulture New Zealand, PipFruit New Zealand Incorporated, NZ Plant and Food Research, and the various horticulture companies.
Image source: MZMZ/Produce Report
Featured Produce
Produce Marketplace
Elangeni Food Group

·

South Africa

Universal Capital Gr

·

Ecuador

AGRI GATEX LIMITED

·

Africa
Joshua Lim

·

Malaysia

City fresh fruit co.

·

Thailand

Chun lin orchard-Sel

·

Taiwan nan
China Market Access List