You are here
Back to top
Nature's Gift: Breeze™ Apples Take on China
March 29, 2016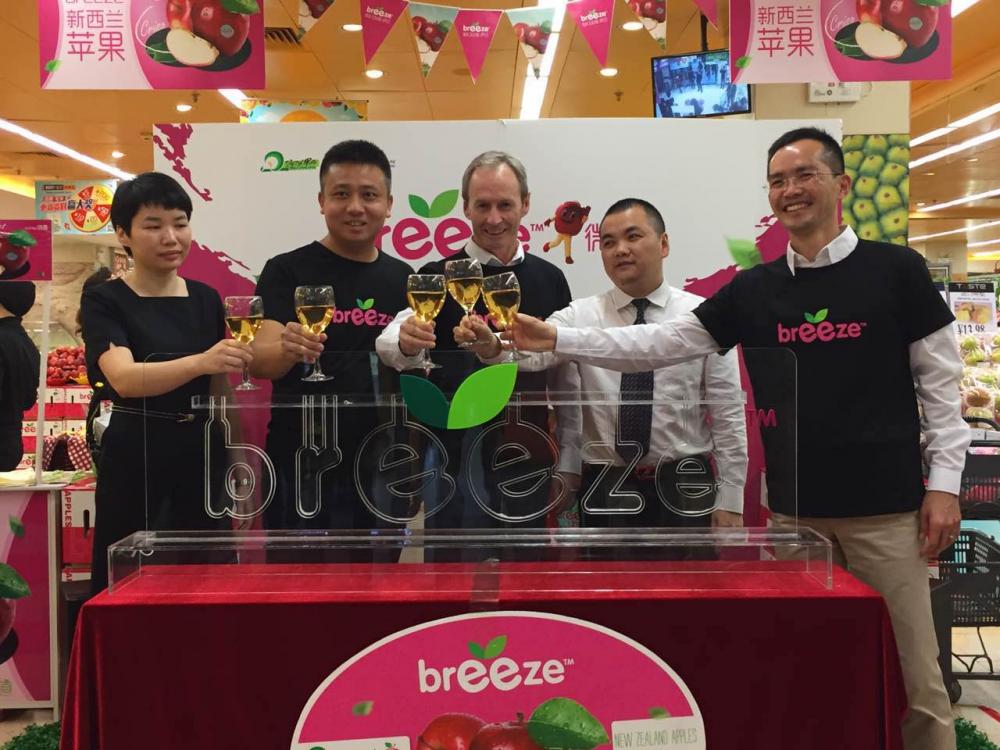 The launch event for BreezeTM, the earliest apples in the New Zealand apple season, kicked off last Saturday in Guangzhou, China. John Mangan, Director of Freshco, shared the story of this variety with Produce Report.
According to Mr. Mangan, New Zealand has mild weather that is very good for growing apples. The country leads the way in developing new varieties of apples, such as Royal Gala, Braeburn, Envy, and many others.
The BreezeTM variety was discovered on a Royal Gala orchard by a grower. Later, Freshco noticed its uniqueness in the early production season and commercialized it. It takes many years for a new variety to stand out in the market and this one has been successful.
"It is the freshest apple that you can buy in China now with sound color and taste." The volume is limited and Freshco decided to make it special to sell it out in a very short time.
Talking about the Chinese apple market, Mr. Mangan thinks it is "fantastic", mentioning that China is already responsible for 40% of global apple production. He explained that ten years ago there was no market for imported apples in China and they were very concerned at that time. However, in recent years, China has suddenly become the market for apples, and the consumption is increasing dramatically.
If they can find the right apple to suit the Chinese market, then everyone will benefit from it. And since China creates the demand for apples, this will benefit apple growers around the world due to the size of the Chinese market.
Although "China pays good money for the best quality", Freshco's main market is still Europe, because they grow sour apples for that market. However, they are now growing more and more sweet apples for China and other Asian markets to better suit the Asian taste. Mr. Mangan also emphasized that the switching process can take up to five years, to grow from one plant to full production.
Founded in 1989, Freshco concentrates on its own varieties such as BreezeTM and SonyaTM, exporting 1.5 million boxes of apples annually. Besides apples, its pumpkins entered the Chinese market three years ago and now have regular orders from the Shanghai region. Mr. Mangan has a very positive vision on the opportunity of vegetables from New Zealand due to its off-season advantage and special taste, although it is a long project. "If we can get some consumers responding to the taste, then I think it's getting a good chance."
Founded in 1997, Shenzhen Yuanxing Fruit Co., Ltd., is the exclusive partner of Freshco for promoting and distributing BreezeTM in China. Lu Shaoshun, Vice GM of the company, told Produce Report that Yuanxing has an entire sales channel across China and many years of experience in the fruit industry. Yuanxing also has a strong network of planting bases, storage areas, packing houses, and warehouses and distribution centers to serve Chinese clients.
Image source: MZMC
Featured Produce
Produce Marketplace
Elangeni Food Group

·

South Africa

Universal Capital Gr

·

Ecuador

AGRI GATEX LIMITED

·

Africa
Joshua Lim

·

Malaysia

City fresh fruit co.

·

Thailand

Chun lin orchard-Sel

·

Taiwan nan
China Market Access List