You are here
Back to top
Miss Fresh and Tencent Aim High with Strategic Partnership
June 24, 2019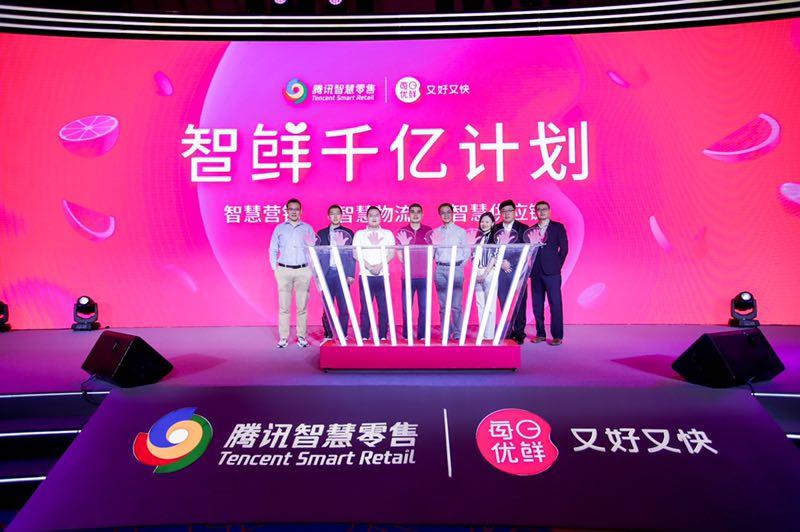 In a recent strategic partnership conference jointly organized by Miss Fresh and Tencent, Xu Zheng, founder and CEO of Miss Fresh, announced the launch of the "Smart and Fresh 100 Billion Plan", which aims to establish an online retail platform for fresh produce. This platform is expected to generate sales turnover of 100 billion Chinese yuan by 2021 via leveraging smart marketing, smart logistics, and smart purchasing.
Xu predicted that online fresh produce sales would become a one trillion yuan (US$ 154.4 billion) business by 2025. In view of this very strong market outlook, Miss Fresh is taking the lead to create its 100 billion yuan fresh produce platform.
Wang Jun, partner and CFO of Miss Fresh, disclosed that repeat customers of the e-commerce company make 2,580 yuan of purchases annually on average and the average member's annual spend is 3,940 yuan, while the average value of a single order is 85 yuan.
Miss Fresh aims to become the biggest online supermarket. It recently launched version 2.0 of its front-end cold-chain logistics system, a major upgrade from the previous setup. The new facilities may reach 300–400 square meters in floor space, and the company plans to increase its number of SKUs from 1000 to over 3000. The exceptional connectivity of Tencent's Smart Retail ecosystem is expected to greatly improve Miss Fresh's operational efficiency and accelerate the expansion of the latter's front-end cold-chain logistics facilities.
Tencent closely cooperates with Miss Fresh in the areas of online payment, advertising, and technical support. Miss Fresh is said to be seeking a new round of financing worth several hundred million US dollars. As Tencent has already participated in the previous four rounds of financing for Miss Fresh, it is quite likely to provide additional capital to its partner again in this round.
Image: Miss Fresh
Featured Produce
Produce Marketplace
Elangeni Food Group

·

South Africa

Universal Capital Gr

·

Ecuador

AGRI GATEX LIMITED

·

Africa
Joshua Lim

·

Malaysia

City fresh fruit co.

·

Thailand

Chun lin orchard-Sel

·

Taiwan nan
China Market Access List