You are here
Back to top
Mega Central Kitchen, Wholesale Market & Internet
August 31, 2016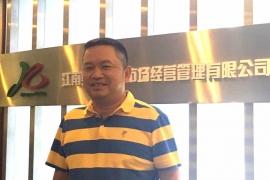 Produce Report recently interviewed Mr. Ye Canjiang, Chairman of Guangzhou Jiangnan Fruit & Vegetable Wholesale Market Co. Ltd. (JN Market in short), to learn about the company's latest development plan.
JN Market was established in 1994, on a 400,000 square meters' piece of land. It is the leading fruits and vegetables wholesaler in China. It accounts for 80% of the total fruit and vegetable transactions in the city of Guangzhou, while handling more than half of the country's imported fruits' business. In 2015, its turnover was 5.11 billion kilograms, RMB 24.82 billion ($3.72 billion) in value terms.
JN Market has taken a progressive approach since its inauguration, achieving very respectable results. Apart from penetrating the major markets in Asia-Pacific, it has been conferred a number of honors by various national and provincial bureaus.
Mr. Ye stated that his company has been planning to set up a massive central kitchen project in the Jiang Gao Town of Guangzhou. The first phase would see the creation of a logistics center for Guangzhou's non-staple food products and a platform for Guangzhou's new standardized food safety system, on 299 mu (roughly 199,300 square meters) of land.
Produce Report has learnt that this project would be an advanced, professional, integrated intra-city logistic system that ensures food safety. By establishing a production base for food ingredients that is free of public hazards, a central clearing-processing-delivery centre, depots (previously wholesale markets), supermarkets and upgraded wet markets; the overall functions of commercial services, testing, inspection and information processing would be integrated.
Jiang Gao Town is a major agricultural town within the Bai Yun District. It is 10 kilometers to the North of Guangzhou City and only 7 kilometers Southwest of the New Bai Yun International Airport. Given its transportation convenience, the new project, when completed, can cover the Greater Pearl River Delta and even influence the whole nations' logistics system for agricultural products.
At the same time, JN Market has recognized the challenge and influence brought by the Internet. As early as 2009, JN Market was the first to experiment conducting business on the Internet for agricultural products, accumulating a lot of valuable experience through trial and error.
On the question of whether fresh produce B2B's emergence would bring serious impact on the traditional wholesale trade, Mr. Ye believes agricultural products' demand for freshness would dictate that traditional markets may not be replaced. Agricultural markets would for a long time in the future continue to be the mainstay of agricultural products' distribution but online sales would gradually become an important trend for agricultural products' distribution, particularly for highly standardized and high value-added imported fresh fruits.
Combining the industry's special nature and own unique advantage, "Internet + imported fruits" B2B online platforms rose up from the horizon. JN Market is hoping to create a new platform for start-ups among its customers, for distributing the best quality fruits from around the world to all corners of the country.
Upcoming Events
October 19, 2023

to

October 21, 2023
Produce Marketplace
Elangeni Food Group

·

South Africa

Universal Capital Gr

·

Ecuador

AGRI GATEX LIMITED

·

Africa
Joshua Lim

·

Malaysia

City fresh fruit co.

·

Thailand

Chun lin orchard-Sel

·

Taiwan nan
China Market Access List