You are here
Back to top
Major changes coming to AQSIQ & China's regulatory environment
March 30, 2018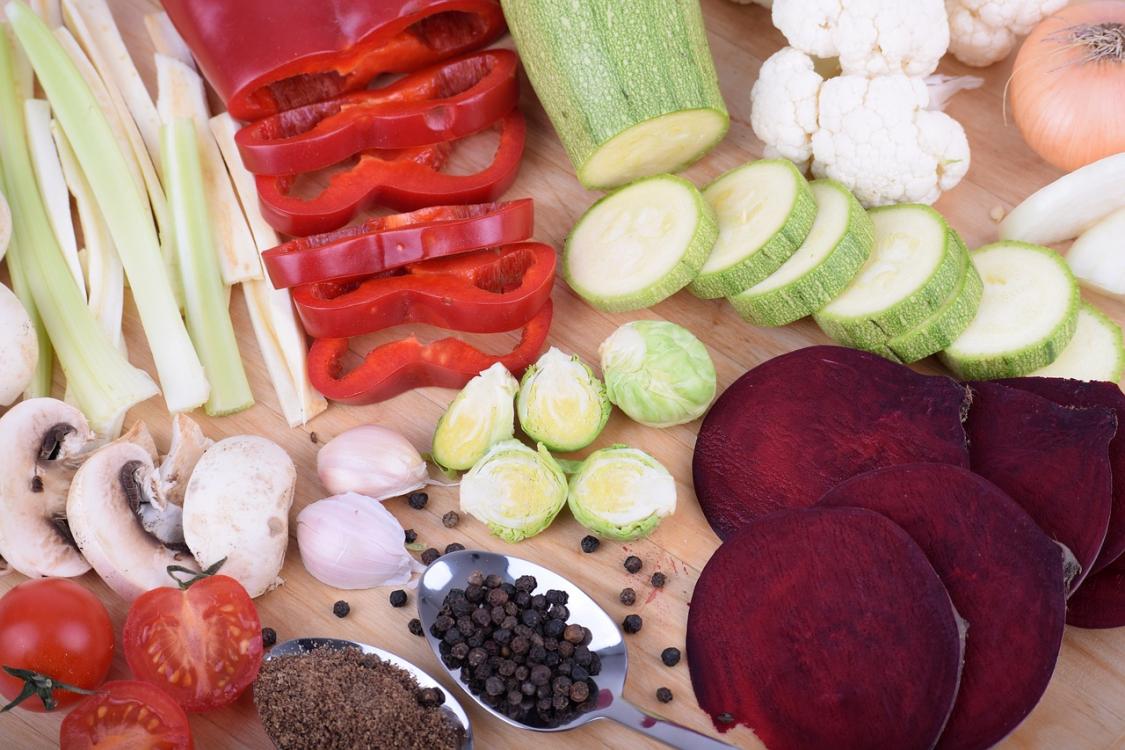 The China's National People's Congress announced a slew of regulatory and administrative changes at its first session on March 13th, 2018, which are certain to have wide-ranging implications for any country currently or planning to export to China. Eight state-level ministries and departments as well as seven sub-ministerial agencies are to be eliminated and their duties to be shifted to several newly-created ministries and agencies in the hope of reducing regulatory complexities and competing bureaucratic interests.
With the goal of improving coordination of food safety regulation and enforcement, the duties of the General Administration of Quality Supervision, Inspection and Quarantine (AQSIQ), the main agency responsible for imported and exported food inspection, safety, and quarantine, are to be shifted to the new State Market Regulatory Administration (SMRA). Two other agencies, the China Food and Drug Administration (CFDA) and the State Administration for Industry & Commerce (SAIC), are also to be incorporated into the new SMRA alongside AQSIQ. This has effectively created a regulatory body with consolidated and far-reaching powers in commodity entry-exit, food safety, anti-trust enforcement, and intellectual property rights protection.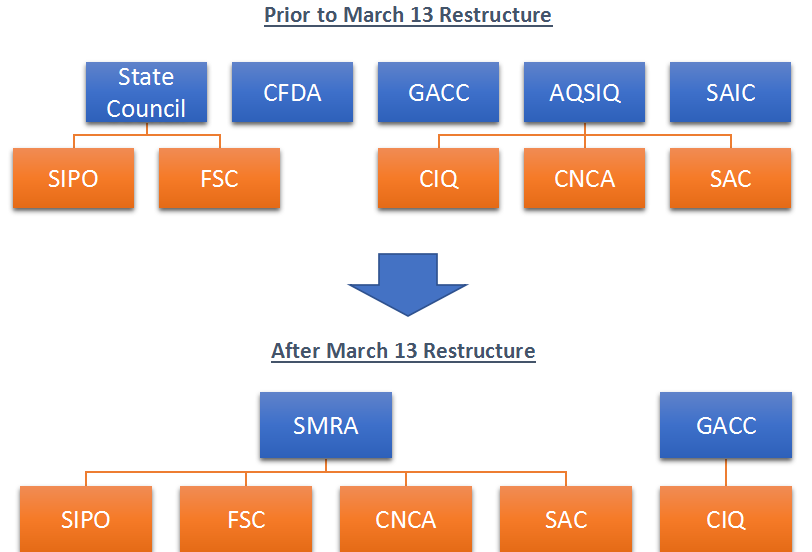 Responsibility for the bodies which AQSIQ previously oversaw will either come under the umbrella of SMRA or be moved to other agencies. China Inspection and Quarantine (CIQ), the roughly 35 offices across China responsible for entry/exit inspection, quarantine, and labeling standardization, will be transferred to the General Administrations of Customs of the People's Republic of China (GACC), also known as China Customs. Shanghai Customs chief Gao Rongkun welcomed this change, noting that the previous system of dual registrations was wasteful and time-consuming: "Previously, the more than 1 million enterprises registered with China Customs across the country had to submit customs declarations with China Customs while also having to register with CIQ…this not only wasted state resources, but was also a great drain on the import and export companies' own time and resources." Chinese trade groups have also signaled their satisfaction with the changes to CIQ, as it is expected to streamline their import processes.
The Certification and Accreditation Administration (CNCA) and Standardization Administration of China (SAC), which were previously managed by AQSIQ, will now fall under SMRA's responsibility, although both administrations will be retaining their own names. As the agencies accountable for approving overseas manufacturing of food for export to China, product certification, and formulating Chinese standards, the incorporation of these CNCA and SAC under the SMRA banner will contribute to a unified approach to Chinese food standards and certification. The recently-created Food Safety Commission of the State Council (FSC) will also be transferred to SMRA but its duties of food management coordination and food policy harmonization among different agencies will remain.  
SMRA will also be the sole responsible agency for antitrust and anti-monopoly regulation and enforcement, as the State Intellectual Property Office (SIPO) will come under direct supervision of SMRA (SIPO was previously directly supervised by the State Council). The consolidation of IP regulation and enforcement under one body will likely provide a more coherent approach and reduce the complex web of antitrust regulation, potentially strengthening China's enforcement of patent, trademark, and other IP-related areas.
For importers and exporters, SMRA and GACC have emerged as the two key agencies with whom it will be crucial to maintain a good relationship, GACC because it now oversees the CIQs and SMRA because most agencies previously associated with AQSIQ have been incorporated into it. As was formerly true for AQSIQ, maintaining open communication and ensuring a good working relationship with SMRA should be one of the top priorities for all foreign companies operating or looking to expand operations to China.
Upcoming Events

November 18, 2020

to

November 20, 2020
November 19, 2020

to

November 20, 2020
Featured Produce
Produce Marketplace
Tien Thinh Agricultu

·

Vietnam

Tien Thinh Agricultu

·

Vietnam

Tien Thinh Agricultu

·

Vietnam
China Market Access List