You are here
Back to top
Hortiflorexpo Blossoms with Ecuadorian Roses and Gypsophilas
May 16, 2017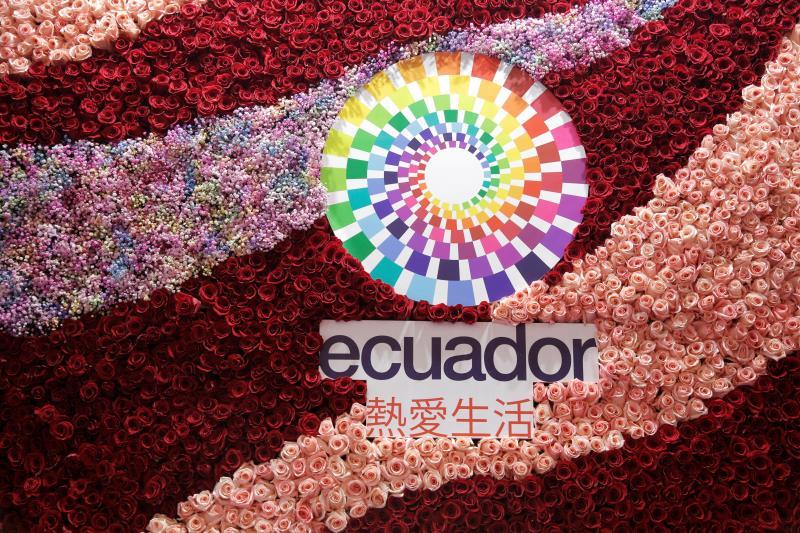 If the peony is king of all flowers, then the Ecuadorian Rose must be its queen. No matter the size, color, pattern, or length, the Ecuadorian Rose is simply stunning—commanding esteem no different than Empress Wu, the only empress regnant in Chinese history. These exquisite roses have voyaged across the world to be observed, in awe, at the 19th Hortiflorexpo. After witnessing the eight Ecuadorian exhibitors, it would be no exaggeration to name Ecuador the "Country of Roses".
Hortiflorexpo is Asia's largest and most authoritative international flower exposition. This year's event brings together horticulture and garden brands, including eight Ecuadorian flower growers supported by the commercial office of Proecuador—Ecuador's Institute of Export and Investment Promotion in Shanghai. The Ecuadorian pavilion's awe-inspiring arrangement of exquisite roses and Gypsophilas affirms its country's floral superiority.
Sr. José María Borja Lopez, Ecuador's ambassador to China, led the opening ceremony and cut the ribbon—affirming the exhibition's official start. During an interview with Produce Report, Ecuador's ambassador stated, "Sino-Ecuadorian trade has entered its peak. The excellent quality of our exports to China, such as flowers, bananas, shrimp and wood, are supported by Ecuador's natural and geographical advantages. Ecuador will strengthen investment and technology to comprehensively develop these areas of trade." He also expounded the natural elements Ecuador bestows to support the health and growth of their country's amazing flowers: ample sunshine near the equator, rich organic soils, copious rainfalls, and fresh water to name a few.
Ecuador is presently the world's major rose exporter. Naturally, roses are Ecuador's main nonpetroleum export commodity. According to data from Proecuador's Commercial Office of Ecuador in Shanghai, in 2016, the cost of Ecuadorian rose exports to China totaled USD 10,000,000 (CIF price)—the main products being fresh roses, Gypsophilas, and preserved flowers.
Representative Hans Viteri of Florecot Group, one of the Ecuadorian exhibitors, told Produce Report their group has a history of flower cultivation and trade that spans 24 years. Their team has reportedly exported products to Russia, Europe, China, and Japan. Three years ago, Florecot Group began exporting to China. Now, they have distributors in both Beijing and Shanghai that provide flower fanatics of each city with the golden rose Solidgo Stelle, the Gysophilia Mirabella, and the new arrival Hypericum. According to Hans Viteri, "We [Florecot Group] export an average of 80 boxes of fresh flowers per week to Chinese cities. The proportion of sales is split evenly between Beijing and Shanghai. This data, however, far from satisfies our market expansion goals. As we exhibit here, we plan to significantly increase our future export volume."
Various dazzling high-grade roses lined the exhibition booth of Glamour Roses. Their booth was not without Gypsophilas of excellent quality and rich color. Located in an obscure town in southern Ecuador, Glamour Roses' 15-hectare farm has an altitude of 2,800 meters above sea level.
Glamour Roses Senior Sales Executive Giovanni Almeida M. proudly suggested that "superior geographic location" are "keywords" for the growth of high-quality roses. As a result, their roses have large and robust stems and remarkably large heads that bequeath an infinite charm. Giovanni Almeida M. remarked, "Take high quality and reasonable pricing and add a two to three-week life span. We work restlessly year round to provide 65 varieties of flowers to places around the world including North America, Europe, Middle East, and Asia. Glamour Roses exports 6000 flowers per week to Chinese markets."
Their flowers are received well in Beijing, Shanghai and Guangzhou—especially strains of white with red trim. Colorful varieties are also very popular right now, but even more so during Spring Festival, Valentine's Day, Mother's Day and other festive occasions.
Much Flowers, who just entered Chinese markets last year, was also present at the exhibition. Their Sales Manager Javier Mantilla expressed "true gold does not fear fire". As such, they remain undaunted by counterfeit Ecuadorian flowers in the market because "certain features and qualities are impossible to reproduce."
Although the majority of Ecuadorian flower exporters remain in the relm of offline retail, Ecuadorian Ambassador José María Borja Lopez expressed awareness to the importance of developments in China's e-commerce market. Moreover, they have reached an agreement with JD.com, one of China's largest online retailers, to sell high-quality goods such as fresh flowers and prawn. This cooperation aims to develop online sales channels and increase product visibility.
Sales Manager of Flowercargo S.A. Bryon Torres Ortiz explained air transport of flowers to China takes two days and necessitates an import tax of approximately 7%. Flowercargo S.A. has 21 years of experience shipping perishable goods. Each of the former commodity logistic companies has cold chain facilities throughout the supply chain—from truck shipments to storage facilities. Furthermore, Ecuadorian flowers, especially their roses, have a strong ability to retain water, which preserves freshness during shipping.
In terms of lowering the import tax on flowers, Ecuador's ambassador Sr. José María Borja Lopez noted a handover of government will take place on May, 24, which will be the time to further discuss the tariff of agricultural goods with the Chinese government. All else aside, he disclosed an interest to increase Ecuadorian chocolate exports to China as well.
Featured Produce
Produce Marketplace
Elangeni Food Group

·

South Africa

Universal Capital Gr

·

Ecuador

AGRI GATEX LIMITED

·

Africa
Joshua Lim

·

Malaysia

City fresh fruit co.

·

Thailand

Chun lin orchard-Sel

·

Taiwan nan
China Market Access List