You are here
Back to top
Hema "Chile Week" Welcomes New Year with Cherries, Avocados and Blueberries
January 03, 2019
With Christmas just past, China's Hema Fresh supermarket chain and the Chilean Fruit Exporters Association (ASOEX) on December 26th launched a "Chile Week" fresh fruit promotion to welcome the coming of the new year.
Chile Week, which ran through January 1st, kicked off on its first day at the Shanghai One branch of Hema with remarks by Hema Global Sourcing Director April, Hema Shanghai One Store Manager Chuxi, Chilean Fruit Exporters Association (ASOEX) Marketing Director, Europe and Asia Charif Christian Carvajal, and Eladio López of the Chilean Avocado Committee China office, who then all joined together to formally launch the promotion with a ribbon cutting ceremony. An eye-catching arrangement of fresh Chilean cherries, avocados and blueberries was on special display for Chile Week, and drove quite a number of purchases by shoppers.
Hema Fresh is a division of ecommerce giant Alibaba Group. Since it was launched in 2016, Hema has been growing swiftly. In November of this year, it opened its 100th branch ahead of a previously announced schedule, and is now expected to surpass 120 branches by the time the Lunar New Year and Chinese Spring Festival roll around in early February. Alibaba also recently announced that Hema Fresh would take over management of the Tmall Supermarket fresh division—driving further integration of Alibaba's online and offline offerings and accelerating its efforts to build a complete chain for fresh goods. Hema is thus poised to be a key player in the development of fresh produce "new retail" in China and has therefore garnered close attention from the fresh produce industry.
Hema Global Sourcing Director April focused on quality in her Chile Week opening ceremony remarks, noting that Chile is very far from China and fresh fruit is a highly sensitive product: it is thus very important to maintain a 0-4 °C cold chain while in transit to China. She indicated that this season's Chilean cherry quality is very high, and that, in order to bring a burst of southern hemisphere flavor to every consumer, Hema had spent a long time planning the Chile Week promotion.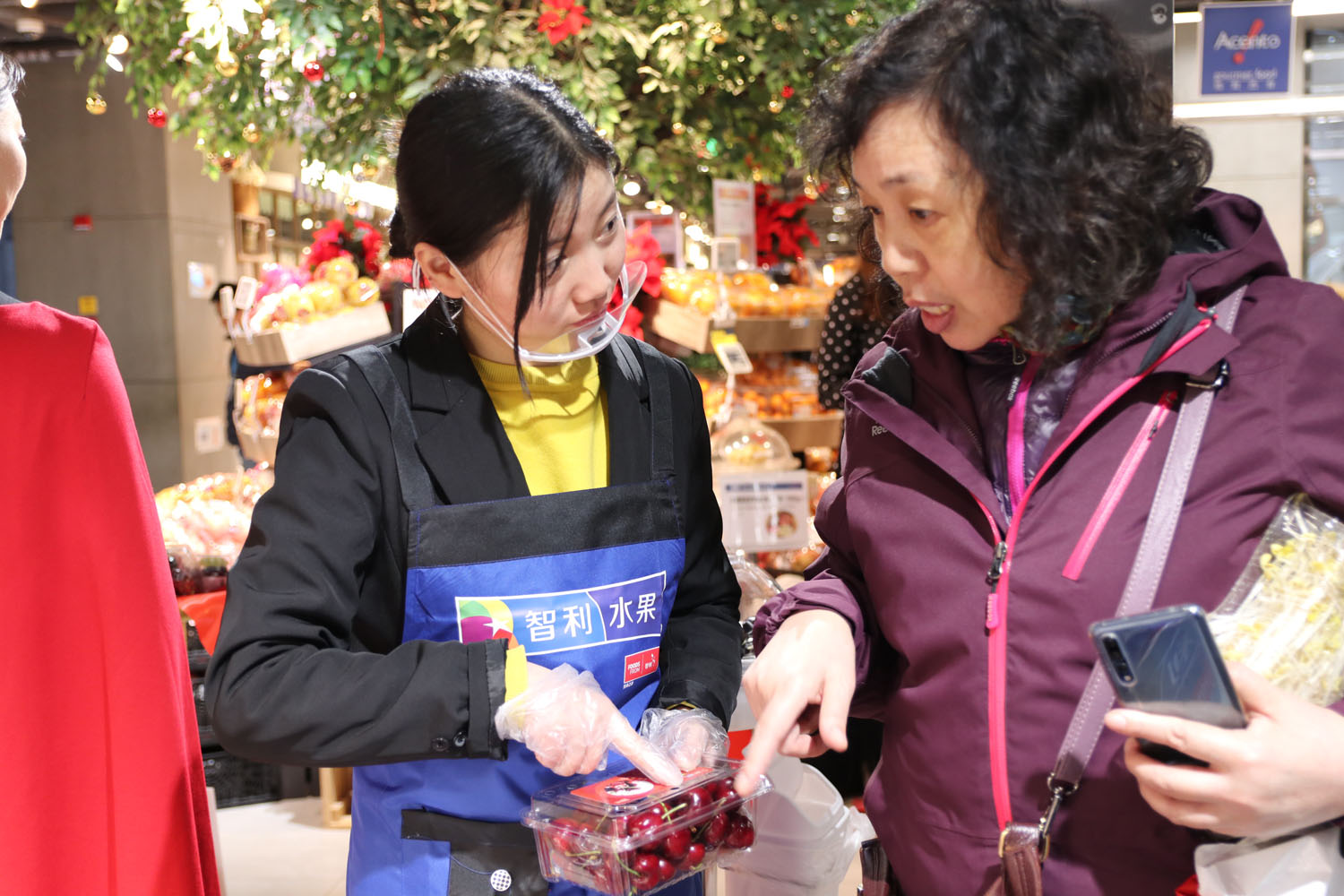 She went on to say that the Chile Week promotion is being carried out online and offline simultaneously. As the proportion of Hema sales that come through its app is as high as 70%, this will allow more consumers to take advantage of the Chile week promotion via home delivery of Chilean fresh fruits that they order on the app. Hema will reportedly stock different Chilean cherry SKUs in order to target different consumer groups, with 5kg boxes expected to be most popular in the days leading up to the Lunar New Year on February 4. This is not just because the 5kg boxes make good gifts, but also because they are suited to sharing among friends and family. It was indicated that in the future Hema would like to start directly sourcing cherries from Chilean producers.
During his remarks, Charif Christian Carvajal of ASOEX said, "China is a very important market for Chile and we are happy that we can bring so many fresh fruits here. We extend our gratitude for the hard work put in by Hema, the Chilean Avocado Committee, the Chilean Blueberry committee and the Chilean Cherry Committee. We hope every Hema customer will take the opportunity of Chile Week to sample our delicious Chilean fresh fruit."
Eladio López of the Chilean Avocado Committee expressed that specialty products from Chile have a great deal of potential for development. He noted that Chilean avocados in the China market are highly competitive on price because they can be imported with no tariff due to the China-Chile Free Trade Agreement. Chilean avocados also enjoy the advantage of being available in China even at times when avocados from other southern hemisphere countries are not, said López.
Chilean blueberries have also become popular with consumers in China, where they enjoy a counter-seasonal advantage. Exports to China of Chilean blueberries have been rising rapidly in recent years. The Chilean Blueberry Committee of ASOEX has been promoting Chilean blueberries over the last few years at points of sale, in vending machines, at wholesale markets, and online. This season's Chilean blueberry promotional campaign starts from mid-January and is expected to include a series of interactive events at cinemas that will promote blueberries as a sweet and healthy snack.
According to April of Hema, the Chile Week promotion represents a first step in cooperation with ASOEX, and Hema looks forward to working with ASOEX and its committees, such as the Chilean Cherry Committee, Chilean Avocado Committee and Chilean Blueberry Committee, to share more high quality Chilean fresh fruits with its customers.
[Editor's note: Employees of Alibaba Group often use only nicknames or single-word English names in a professional context. Thus, Alibaba employees in the preceding article are called by their professional nicknames or English given names.]
Upcoming Events

September 23, 2019

to

September 27, 2019

September 26, 2019

to

September 28, 2019

October 17, 2019

to

October 19, 2019
Featured Produce
Produce Marketplace
Tien Thinh Agricultu

·

Vietnam

Tien Thinh Agricultu

·

Vietnam

Tien Thinh Agricultu

·

Vietnam
China Market Access List