You are here
Back to top
Groundbreaking EPP Turnover Box: Antimicrobial and Water Resistant Fresh Food Transport
May 24, 2018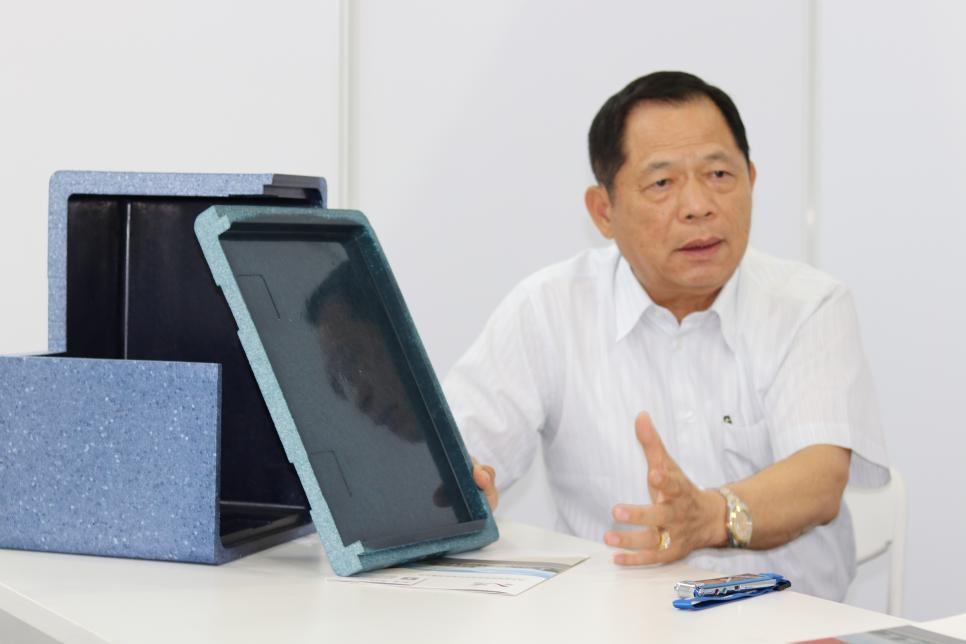 In the wake of China's consumer upgrade, many industry insiders have recognized that establishing a topnotch produce brand is not enough. Equally important is the continual improvement of the entire supply chain. This includes two critical aspects of cold storage transportation: guaranteeing the freshness of ingredients and the safe transportation of goods from the source to the consumer's table. At these two supply chain segments, research and development in new technology and packaging material assist long-distance transportation of fresh produce around the world.  
Shipping boxes for fresh produce in cold storage transportation, particularly turnover boxes, are typically made of Expanded Polypropylene (EPP). EPP, also known as Foamed Polypropylene, is a high performing crystalline polymer and gas composite material. The material is lightweight, heat resistant, heat insulated, and completely recyclable. As a result, EPP is widely utilized in the packaging industry.
Standard EPP turnover boxes have shortcomings, however. For one, the typical EPP turnover container does not have antimicrobial properties. Therefore, these boxes can easily become contaminated with bacteria that produce a bad smell, leaving contents tainted and difficult to clean. Moreover, fruits and vegetables with soft surfaces, such as cherries and blueberries, have certain requirements for transport temperature and packaging material. In this instance, packing material with inadequate hardness can be damaged easily during transportation—leaving the goods inside ruined as well.
A well-known Chinese packaging company, Suzhou Fushun New Packaging Material Co., LTD. (Fushun New Material), has launched a new type of EPP turnover box—the antimicrobial one-batch formed mirror surface EPP turnover box. Fushun New Material has already applied for a patent of invention in China. It is said that the innovated product can offer a peace of mind when shipping fresh produce via cold storage transportation. Mr. Chen Shifang, Chairman of Fushun New Material, spoke to Produce Report about the revolutionary device at the Fresh Logistics Asia trade show recently.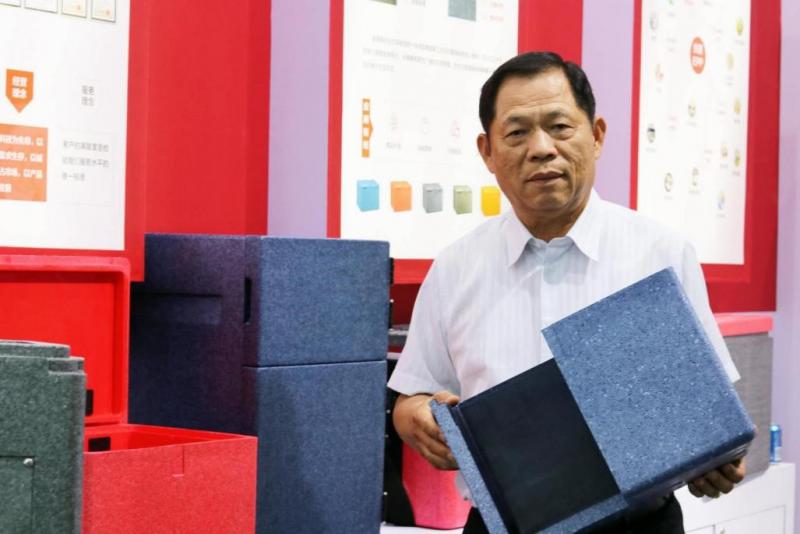 Founded in the year 2000, Fushun New Material is a high-tech enterprise that specializes in the production of new packaging materials, large-scale machining, EPP molding equipment, machinery equipment, mold manufacturing, sales, and shipping. The company's products are used in food transportation, medical articles transport, children's home appliances and more.
One-batch formed mirror surface: cost-effective and made to order
The technological craftsmanship of Fushun New Material's antimicrobial one-batch formed mirror surface EPP turnover box differs from the EPP products currently being used on the market. During the production of this new product, raw materials are loaded into the mold cavity by air and formed via steam heating. Because the raw material particles are integrally shaped after a one-time molding process, all capillary pores of EPP are completely sealed. The space between particles is cast in the mold by steam. The surface melts resulting in a mirror-like exterior. The process of one-batch forming, in addition to cutting down on cost, allows for customized box dimensions according to the size of the shipping load. In regards to this concept, Mr. Chen said, "For example, when packaging blueberries or other small fruits, we [Fushun New Material] can maximize the use of space by employing this technology as to protect the integrity and freshness of the fruit."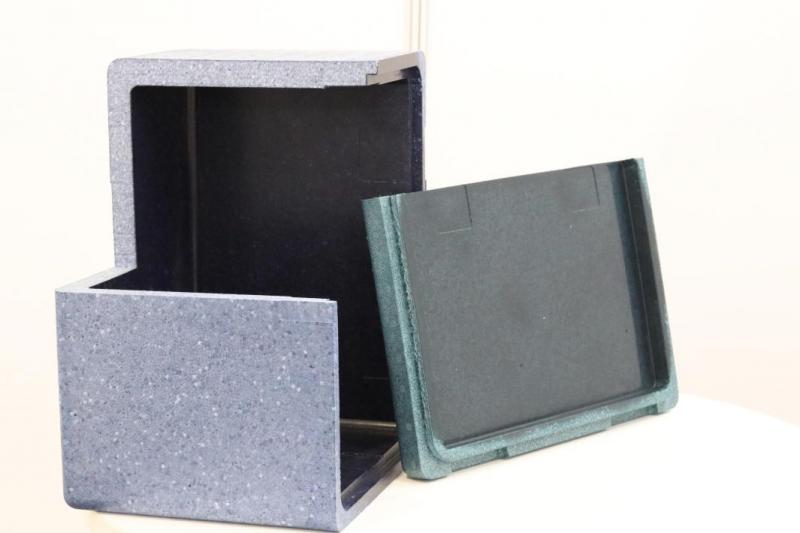 Antimicrobial, nonpermeable and environmental friendly
According to Mr. Chen, following one-batch forming, the hardness of this new EPP turnover box is increased to 95HC of medium grade plastics, which makes damaging internal goods much more difficult. Additionally, the water permeability of this new model's "mirror surface" is 0 G/L—achieving a completely watertight exterior. In effect, the strengthened box protects the cleanliness of goods packaged inside the container. Mr. Chen explained, "If this box was used for delivering food, one wouldn't be afraid of liquids ruining the container. This guarantees the safety of the food we receive. Furthermore, this turnover box is recyclable, which saves on energy and materials."
Real-time temperature monitoring and food traceability
This new EPP turnover box model is fitted with an LCD screen on the outside. As explained by Mr. Chen Shifang, the screen is one part of this model's intelligent traceability technology. A sensor reads the real-time internal temperature which is then displayed on the exterior LCD screen. What's more, this information can be immediately synchronized with other smart devices such as a user's mobile phone application. The user can easily monitor the internal parameters of goods at any time.
R&D of antimicrobial materials is a must for high-end produce
"Good technology doesn't fear a lack of markets," Mr. Chen Shifang noted. Currently, many logistics companies already use this one-batch formed mirror surface EPP turnover box, which suggests full market potential.
Twenty years after being founded, Fushun New Material continues to invest 20% of profits into research and development every year, continuously iterating products. Mr. Chen Shifang told Produce Report, Fushun New Material and Japanese company Kaneka have entered into a long-term strategic cooperation to integrate new packaging technologies and concepts, sparing no effort in the development of antibacterial materials. Through technological iterations and research, Fushun New Material strives to escort fruits and vegetables all the way to its destination.
For more information about Fushun New Material, please contact:
Mr. Heqing Shen (cellphone:15906131258 ) or Mr. Guisong Li  (cellphone:13625283187).
Upcoming Events
October 19, 2023

to

October 21, 2023
Produce Marketplace
Elangeni Food Group

·

South Africa

Universal Capital Gr

·

Ecuador

AGRI GATEX LIMITED

·

Africa
Joshua Lim

·

Malaysia

City fresh fruit co.

·

Thailand

Chun lin orchard-Sel

·

Taiwan nan
China Market Access List