You are here
Back to top
Fruitday Teams Up with Zhangjiang High-Tech Company, Ready for a New Start
August 12, 2016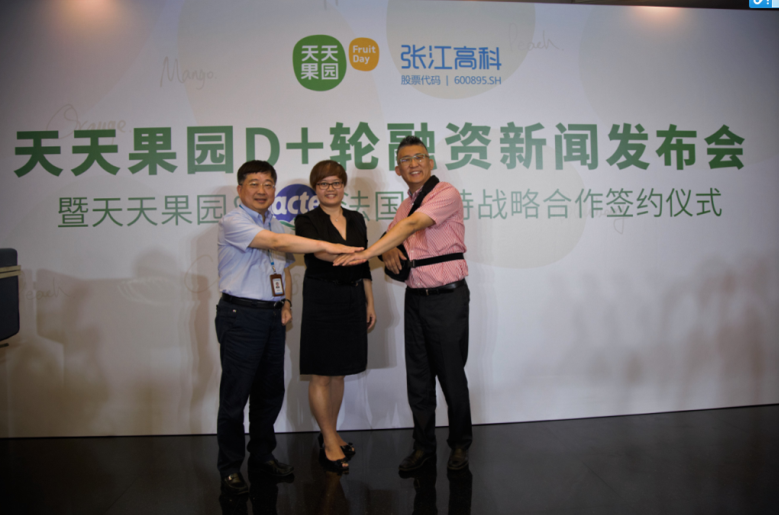 Recently, Fruitday held a press conference regarding their series D+ funding round, announcing that it had just received 100 million RMB from Zhangjiang High-Tech Company. Furthermore, Fruitday declared that it would form a strategic cooperation with Lactalis, which is one of the biggest dairy companies in the world.
When asked the reason for choosing Fruitday as the investment target, Mr. Ge, the president of Zhangjiang High-Tech Company, explained that it represents a win–win strategy. On the one hand, Fruitday started its business in Zhangjiang High-Tech Park, which makes it a convenient choice for investment. On the other hand, it is the mission of Zhangjiang High-Tech Company to help build a group of local leading enterprises – and Fruitday is on that list. Zhangjiang High-Tech Company is trying to help make Fruitday one of these technology- and innovation-oriented enterprises.
On the subject of new plans for Fruitday's future, Wang Wei, the founder and CEO of Fruitday, displayed great confidence and enthusiasm. In terms of the fruit business, Fruitday has developed several self-owned brands, such as Cherry Queen for cherries, which has been on the market for about half a year, and the avocado brand Zing, produced in Mexico and Peru. Mr. Orange is their brand of oranges, which has been adopted for the Australian oranges that are currently on the market.
The fruit business is not the only endeavor that Fruitday has been focusing on. What most people do not know is that Fruitday is actually a large cold-chain logistics company, taking on average 100,000 orders for cold-chain logistics every day. The cooperation with Lactalis is precisely one of the accomplishments of Fruitday's cold-chain logistics business. According to Wang Wei, the cooperation with Lactalis is a symbol of Fruitday's future development – that Fruitday is going to become an E-business company providing a full variety of products to meet the wide range of needs of its customers. Moreover, Fruitday has always paid great attention to the user experience and will continue to consider this a priority in the future, including customer service, logistics, app design, and product exhibition.
Speaking of the future, Wang Wei also mentioned that it has always been Fruitday's goal to become a listed company in China and that plan remains unchanged. Wang Wei showed great confidence in this and anticipated launching this plan by 2019. He also expressed his firm belief that Fruitday will become the first E-business company selling produce to generate a profit in China.
Image source: MZMC
Featured Produce
Produce Marketplace
Elangeni Food Group

·

South Africa

Universal Capital Gr

·

Ecuador

AGRI GATEX LIMITED

·

Africa
Joshua Lim

·

Malaysia

City fresh fruit co.

·

Thailand

Chun lin orchard-Sel

·

Taiwan nan
China Market Access List