You are here
Back to top
Fruitday partners with offline Shanghai retailer City Shop
April 01, 2017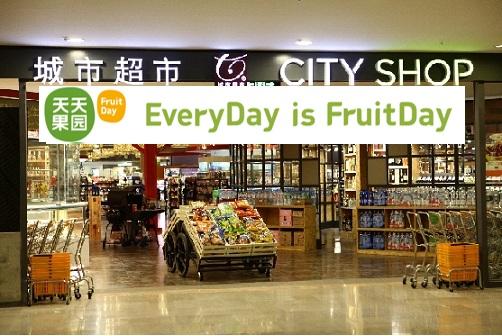 China's leading fresh produce e-commerce platform Fruitday (天天果园) recently announced a strategic partnership with Shanghai's brick-and-mortar fresh produce store City Shop (城市超市).
News of their cooperation is just another of many new developments in China's growing e-commerce market. At the end of last year, fresh food e-commerce giant Yiguo (易果生鲜) acquired stakes in Lianhua Supermarket. Likewise, Alibaba (阿里巴巴) and Bailian Group (百联集团) formed a strategic cooperation at the start of this year. The development of Online to Offline (O2O) e-commerce services for fresh produce is expanding rapidly in China.
Fruitday was founded in 2009 and established offline retailers as far back as 2012—usually small stores selling fruits or fruit juice. Fruitday hoped to reconcile the gap between offline and online retail early on. However, conditions for O2O business structures were not ideal, yet. Physical locations require high fixed and operating costs. Online retail, on the other hand, allowed for a vast selection of goods without the cost. As of June 2016, Fruitday APP has accumulated over ten million users, and its services have expanded to over 100 Chinese cities.
Alternatively, City Shop originated in 1995 as Shanghai's first upscale imported grocery store. City Shop currently operates 15 brick-and-mortar locations in chic areas of Beijing and Shanghai. Both Fruitday and City Shop mainly supply imported goods, targeting high-end consumers. Fruitday has command of a comprehensive global supply chain for fruits. City Shop has 20 years of history, global supply chain for imported foods, an agricultural base, and production cooperatives.
As a result of this cooperation, City Shop shoppers can now purchase fresh produce—such as New Zealand Zespri Kiwi, New Zealand Envy Apples, US Ruby Cherries, US Florida Grapefruit, and so forth—from the same global suppliers as those purchased on the Fresh Day APP. No matter if it is the consumers of Fruitday or City Shop, both will enjoy a richer selection of products and high-quality fresh produce.
City Shop can now act as a "showroom" for Fruitday's consumers. City Shop is the location to attract this certain type of customer that is willing to visit a local store rather than wait for a delivery. Although, City Shop has now introduced an innovative "lighting service" that ensures deliveries within twenty-nine minutes.
The strategic partnership between Fruitday and City Shop highlights China's ever expanding O2O e-commerce services—bridging the gap between online and offline retail.
A Fruitday representative noted, "Fruitday selected City Shop during the tireless process of exploring new retail." In reality, their cooperation is a response to increased consumption. Regardless, Fresh Day remains dedicated to providing everyone with a convenient alternative for enjoying fresh fruit produce.
Upcoming Events

October 27, 2022

to

October 29, 2022

November 02, 2022

to

November 04, 2022
Featured Produce
Produce Marketplace
AGRI GATEX LIMITED

·

Africa

ALOE ECO PARK SAPI D

·

Mexico

Tien Thinh Agricultu

·

Vietnam
Joshua Lim

·

Malaysia

City fresh fruit co.

·

Thailand

Chun lin orchard-Sel

·

Taiwan nan
China Market Access List