You are here
Back to top
Fruitaly Italian Kiwi Using Quality Appeal to Penetrate China
January 17, 2017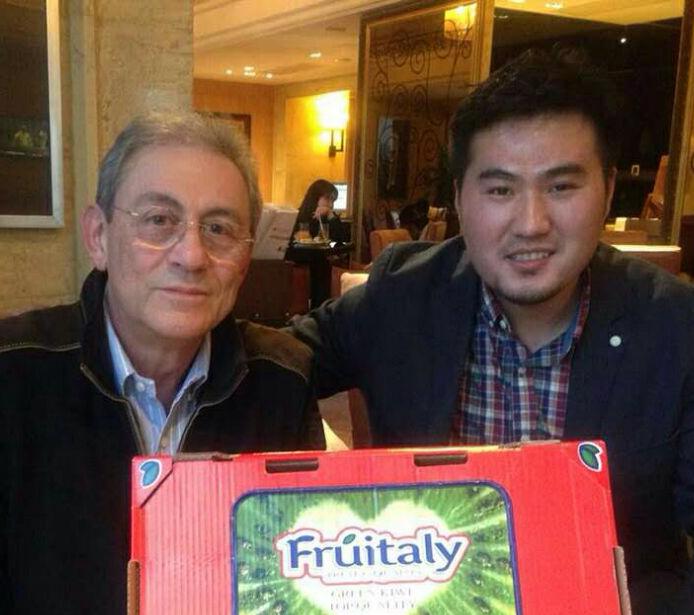 On January 13, an Italian delegation held a "Made in Italy Fruit and Vegetables Say Hello to China" press conference in Beijing. Italian Ambassador in Beijing, trade officials and representatives from Italian fruit and vegetable export companies etc. delivered a number of presentations during the half-day event. Taking advantage of the visit by the delegation, Produce Report interviewed Mr. Furio Mazzotti, Managing Director of Campagnia Italiana Della Fruitta S.p.A (Della Fruitta in short), which is launching high quality Italian kiwi fruit in eastern China under the Fruitaly brand.
According to Mr. Mazzotti, Italy is in fact a major producer country for kiwi, with 27 thousand hectares of growing area and annual production of over 700,000 tons, making Italy the second largest kiwi producing country in the world and number one in Europe. Picking is done within a month from October till around November 15. The picking seasons for southern and northern parts of the country is about a month or so apart. The picked fruit would ripen within 2 weeks in cold storage. Italy exports around 55-60% of all kiwi produced. According to data provided by Italian Trade Agency in Guangzhou, Italy exports around USD470 million worth of kiwi annually. China is the third largest market for Italian kiwi, behind Europe and the US.
Mr. Mazzotti explained that Della Fruitta was founded 14 years ago, by 7 companies including 2 cooperatives. They together account for 27% of all Italian kiwi crops. Della Fruitta only exports the best quality Italian kiwis. It has a limited supply of around 4,500 tons per year. Canada, US and China are the key markets.
Mr. Mazzotti believed that high quality and reasonable prices would be the key competitive advantages of Italian kiwis. He told Produce Report that Della Fruitta's cooperatives also supplied Zespri, the well-known global brand that is also very popular in China. These products are marketed under the Zespri brand. "You can see in our packing lines that we pack Zespri brand on one side and our own brands on the other," said Mr. Mazzotti. He stated that for the same quality as the ones supplied to Zespri, his prices would be about 30% more competitive.
As for the challenges for expanding sales in China, Mr. Mazzotti believed that price fluctuation as supply volume changes would always be one of the major issues for agricultural products. A good harvest season would see prices plummet. This situation would be more pronounced in China because the country is the biggest producer of kiwis (in volume terms) in the world and price wars in China are very common. However, Mr. Mazzotti stressed that Della Fruitta would resolve these issues mutually with its distributors.
Another challenge facing Della Fruitta is that, unlike big brands like Zespri, its promotion budget is limited because of the relatively small volume. Mr. Mazzotti stated that his company would protect its distributors' interest by working with only a few good ones – one each in Shanghai, Guangzhou and Shenyang for eastern, southern and northern China markets respectively. Competition among distributor would be minimized by having different brands for different regions. Fruitaly is the brand chosen for eastern China markets. MadeinBlu is the brand for southern and northern China.
According to Mr. Dawud Bai, General Manager of Fruitceo Co Ltd, Della Fruitta's distributor for eastern China, Fruitaly would be marketed with a new packaging design. The eye-catching packaging, in "China Red" color, should be much welcome by consumers, particularly during the imminent Chinese New Year. He stressed that his company would cooperate closely with Della Fruitta, and step up marketing efforts to enable more Chinese consumers to enjoy the tasty kiwi from Italy.
Featured Produce
Produce Marketplace
Elangeni Food Group

·

South Africa

Universal Capital Gr

·

Ecuador

AGRI GATEX LIMITED

·

Africa
Joshua Lim

·

Malaysia

City fresh fruit co.

·

Thailand

Chun lin orchard-Sel

·

Taiwan nan
China Market Access List