You are here
Back to top
Fruit Retail Chain Pagoda Acquires Online Store 1mxian.com
December 12, 2016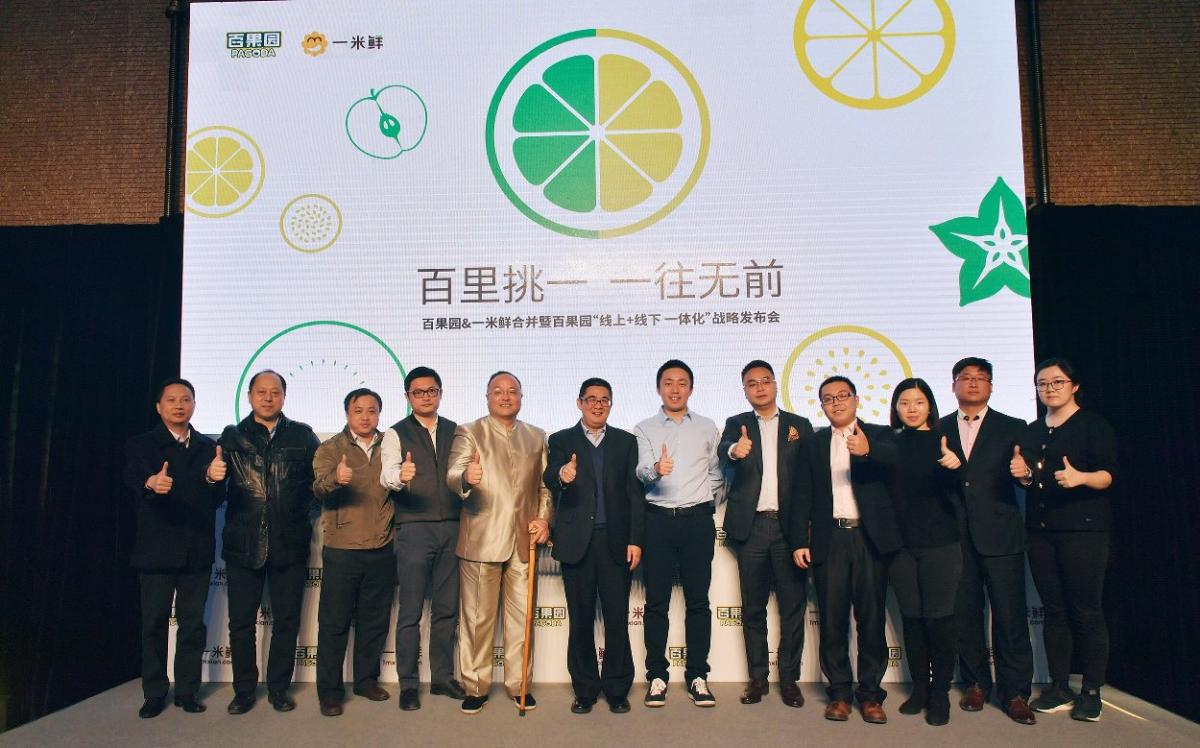 2016/12/11, at a special press conference, Pagoda's founder, Mr. Yu Hui yong, announced the completion of the acquisition of 1mxian. Founded in 2002, Pagoda is China's largest fresh fruit retailer with 1700 outlets across the country. 1mxian made its debut in 2014, on a C2B (consumers to business) business model, with procurement upon receiving orders from consumers and delivery by the next day, while running an O2O (online to offline) operation simultaneously. Accumulated users quickly in major cities and reaching the 4 million mark in less than two years, 1mxian' annual turnover is estimated to reach 150 million Yuan (USD 21.7million) this year.
The acquisition was done by exchange of shares between the two companies. No cash was involved and the percentage of shareholding in Pagoda owned by 1mxian's members after this stock-for-stock merger was not disclosed. 1mxian's founder, Mr. Jiao Yue, has been appointed deputy general manager of the Pagoda Group, with overseeing the group's e-commerce business as his main responsibility.
Pagoda first launched its own online store in 2008. Even though it has not been losing money, overall result has not been satisfactory. Merging the operation with 1mxian was aimed at reaping the synergy from leveraging on Pagoda's brand, network of physical outlets and supply chain as well as 1mxian's e-commerce mindset and experience. Apart from creating a better platform for realizing the full potential of the merged company's O2O strategy, the expanded operation would cater to the needs of a broader based clientele. Both the Pagoda and Imxian brands are being kept and would have separate and independent development based on their own distinct brand positioning. Pagoda's current customers are skewed towards the 25 to 40 age group while 1mxian has stronger following among younger consumers aged between 18 and 25.
Before the actual announcement on Sunday, Pagoda and 1mxian have been cooperating for a while with conspicuous, positive results. According to Mr. Jiao, sales for the online stores grew by 200% per month during the immediately preceding quarter. New customers exceeded 600,000, and 80% of them made repeat purchases within one month. He predicted that Pagoda would become the largest fresh fruit e-commerce company, and among the top three in fresh produce e-commerce, in 2017.
Currently fresh produce retailing in China is facing many challenges as new retail concepts emerge in the market. Marketing online has been Pagoda's weak link. This merger with 1mxian may help Pagoda address this issue and help speed up the company's overall business growth.
Photo source: Pagoda
Upcoming Events
October 19, 2023

to

October 21, 2023
Produce Marketplace
Elangeni Food Group

·

South Africa

Universal Capital Gr

·

Ecuador

AGRI GATEX LIMITED

·

Africa
Joshua Lim

·

Malaysia

City fresh fruit co.

·

Thailand

Chun lin orchard-Sel

·

Taiwan nan
China Market Access List