You are here
Back to top
Freshness from Europe Promotes Italy
April 23, 2017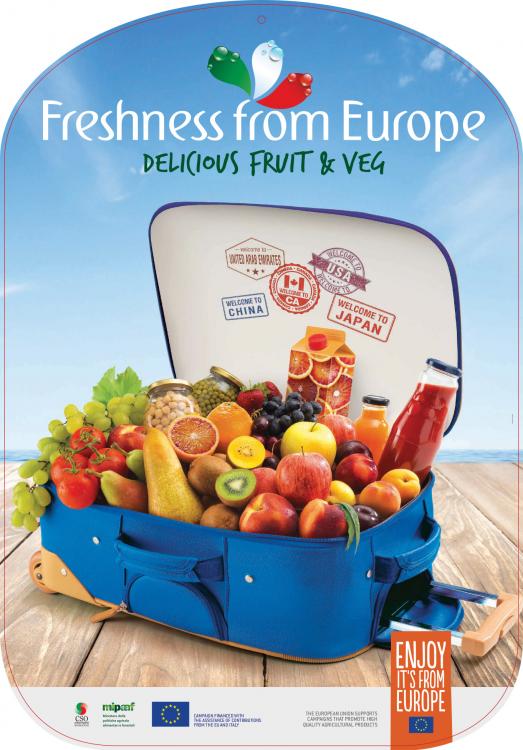 Italy is one of Europe's leading producers of fresh fruit and vegetables and as such, it is striking that so little Italian fresh produce is available in China. To date, only Italian kiwi fruit has been opened for export to the Chinese market, with citrus fruit looking set to make its debut in the near future. A project co-financed by the European Union, the Italian Ministry of Agriculture (MIPAAF) and the CSO, an association of some of Italy's main players in the fruit and vegetable sector, aims to set the spotlight on this important Italian industry and hopefully facilitate future Italian exports to Asia's largest market. Produce Report interviewed the head of marketing and PM for CSO, Luca Mari to find out more.
The project, "Freshness from Europe" was established in 2015 with a budget of 5.2 million euros and the goal of raising awareness about quality Italian fruit and vegetable produce in China, the USA, Canada, the United Arab Emirates and Japan over a 3 year period (2016-2018).
Over the next two years Freshness from Europe will be carrying out public relations and communications activities, promotions in sales outlets, social and traditional media outreach, and organising trade fair events in which the products of some of Italy's major producers will be on display. These will include the produce of companies such as Apoconerpo, Apofruit, Alegra, Assomela, King Fruit, Ceradini, Naturitalia, Made in Blu, Origine Group, Oranfrizer, Opera, Orogel and Conserve Italia, which together represent over 60 percent of Italy's fruit and vegetable sector.
In January of this year the project was presented in Beijing within the context of the Spazio Italia initiative, sponsored by ICE (Italy's foreign trade office) and was attended by European, Italian and Chinese dignitaries, including Li Yan, General Director of the Chinese Ministry of Agriculture.
Through initiatives such as these or the Sweetki kiwifruit promotions, which included a presentation at the Guangzhou's Jiangnan wholesale market and online events such as wechat lectures, it is hoped that in the near future other Italian products will be able to enjoy the kind of success that kiwis have had. "Italy is the leading European fruit producer," said the head of marketing and PM for CSO, "and kiwi fruit are the product most exported. Italian kiwis have always been cultivated in compliance with the most advanced integrated production techniques that safeguard both the environment and human health." In the 2014/2015 season, Italy exported 15.528 tons of the fruit to China and over 5000 tons to Hong Kong.
This year there were high hopes for the opening of citrus fruit exports from Italy, however these expectations were dashed as the final hurdle of registering the orchards and packing facilities remains incomplete. According to Luca Mari, "there are ongoing activities between the ministries of the two countries to define the next steps and allow the market to open to citrus in China. There is no precise information on the timing, but we are at a good point with the different activities." Once the market is open Italy will be able to provide Chinese consumers with unique fruits such as Sicily's Tarocco blood oranges.
Also jockeying for position and access to China's massive market for high quality fruits are other unique products, such as Abate Fetel pears from the Emilia Romagna region, and Italy's famous apples from the pristine Alpine regions of Trentino and Alto Adige. However, the list of excellent products runs on with peaches and nectarines, plums, grapes and tomatoes to name but some, all of which carry a passport for health, safety and traceability that is guaranteed by the rigid food regulations of the European Union.
However, for these products to make their way to Chinese consumers a thoroughgoing effort still has to be made, including meetings and dialogue at the highest level in order to reach the sort of bilateral agreements necessary for expanding the range of viable exports to China.
Featured Produce
Produce Marketplace
Elangeni Food Group

·

South Africa

Universal Capital Gr

·

Ecuador

AGRI GATEX LIMITED

·

Africa
Joshua Lim

·

Malaysia

City fresh fruit co.

·

Thailand

Chun lin orchard-Sel

·

Taiwan nan
China Market Access List