You are here
Back to top
Exploring Cherry Growing Regions in China
May 30, 2019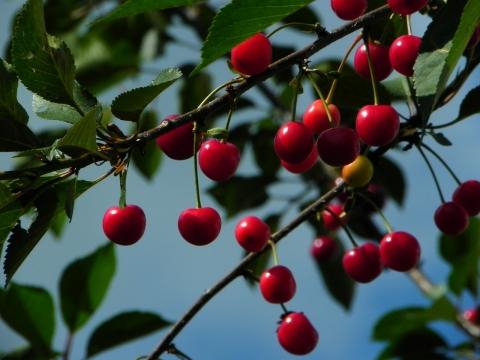 May is the peak selling season for Chinese cherries. Hence, cherries have become the center of attention in the market, also partly caused by the growing popularity of imported cherries. There is a lot of cherry producing areas in China. The many variants differ significantly in price, ranging from below RMB40.0 to almost RMB200.0 per kilogram. This article will introduce the various cherry producing areas in the country.
Cherries were first brought into China in the 19th century. Yantai City of Shandong Province was the first area to produce the fruit. 140 years later, cherry growing areas have spread across the whole country with 3.0 million mu (亩, 494,211 acres) of cherry orchards, producing a wide variety of cherries including Brooks, Bing, Sweetheart, Rainier, and Lapin. Total harvest is about 1.2 million tons, making China the world's largest producer of cherries in terms of total orchard acreage and volume. Bohai Bay area, Lanzhou-Lianyungang Railway region, and the Southwest and Northwest highlands are the three major production areas.  At the same time, China is the largest cherry importing country. Last year, China imported 186,000 tons of cherries from Chile and other countries. The total value of imported cherries amounted to RMB9.0 billion (USD1.3 billion).
Shandong Province is the largest cherry production area in China. It is part of the Bohai Bay area. Yantai City has been most famous since the first cherry trees were planted there in 1871. Its orchard acreage and production volume accounted for 21% and 40% of the country total respectively. Yantai's climatic and soil conditions are suitable for producing early, middle and late harvest varieties. Cherries have become the second largest fruit crop of Yantai, behind apples. Yantai cherry's brand value has been estimated to worth RMB4.758 billion (USD689.1 million), number one among all cherries and 11th among all fruit brands. Fushan area is the most famous cherry producing area within Yantai City. Its 110,000 mu (18,121 acres) of orchards, produce 80,000 tons of cherries with a value of RMB1.0 billion (USD144.8 million). Within Shangdong Province, the cities of Pingdu, Yingnan, Linyi, Feixian, Zaozhuang, Laiwu, and Taian, as well as Pingyi and Tengxian counties are also important cherry growing areas.
Dailian City of Liaoning Province is the leader in China for using controlled environment agriculture to grow cherries. Located also in the Bohai Bay area, it currently has 280,000 mu (46,126 acres) of orchards, producing 170,000 tons of crops. It is also the largest user of controlled environment agriculture for cherries with 74,000 mu (12,190 acres) of orchards, producing 32,000 tons of cherries. Using controlled environment agriculture, Dalian's cherries come onto the market earliest, starting March each year, and command the highest prices. Dalian's cherry production is concentrated in Anbo Town, Siping Town, Lvshun area, and Jinzhou area. Together they won a special award in 2018 by the Chinese Society of Horticultural Science.
Cherry orchards have developed very rapidly in Shaanxi Province in recent years. The province is now among the three largest cherry growing areas in China. It belongs to the Lanzhou-Lianyungang Railway region and has 360,000 mu (59,305 acres) of orchards, including a small area for sour cherries. The orchards are more concentrated in the cities of Xi'an, Baoji and Tongchuan. Tongchuan is most famous and has received special national awards repeatedly. It has 35,000 mu (5,766 acres) of orchards, producing 15,000 tons of cherries with a value of over RMB350 million (USD50.7 million).
The highlands in Southwest and Northwest of China also produce good quality cherries. Sichuan Province's Wenchuan area produces a rare variant of highland cherry. In 2009, it was conferred with the preserved agricultural geography status. Its over 10,000 mu (1,647 acres) of orchards cannot produce enough to meet the local demand. Qinzhou in Gansu Province is another award-winning cherry production area with 77,000 mu (12,684 acres) of orchards, about half of it with crops that can be harvested, yielding 20,000 tons of cherries, worth more than RMB360 million (USD52.1 million).
Picture source: Pixabay
Upcoming Events

October 27, 2022

to

October 29, 2022

November 02, 2022

to

November 04, 2022
Featured Produce
Produce Marketplace
AGRI GATEX LIMITED

·

Africa

ALOE ECO PARK SAPI D

·

Mexico

Tien Thinh Agricultu

·

Vietnam
Joshua Lim

·

Malaysia

City fresh fruit co.

·

Thailand

Chun lin orchard-Sel

·

Taiwan nan
China Market Access List