You are here
Back to top
ESEN Foods and KJT.com Joining Hands in SH FTZ
September 27, 2015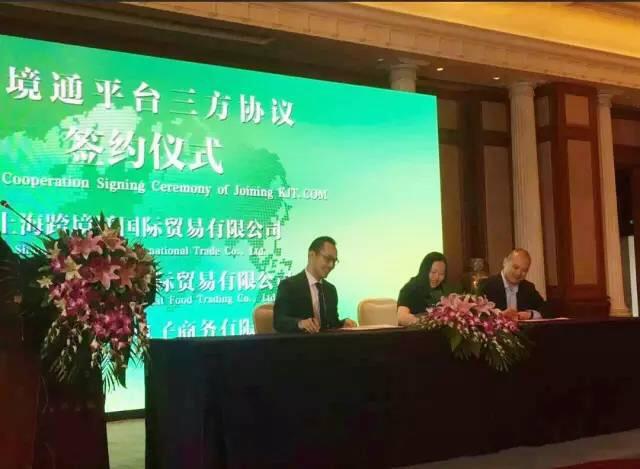 On September 18, Office of Yangshan Free Trade Port Area, China (Shanghai) Pilot Free Trade Zone (FTZ), Shanghai ESEN International Food Trading Co. Ltd. and Shanghai Kuajingtong International Trading Co. Ltd. jointly organized a conference to promote the e-commerce platform of Yangshan Free Trade Port Area. The objective of the conference is to attract online retailers of imported fruits and other fresh produce to set up on KJT.com without charge. Through ESEN's efficient offline services, they can complete "overseas purchases" mode of marketing to satisfy the ever increasing domestic demands for imported fresh produce and fruits.
Shanghai ESEN Foods' Executive Managing Director, Bao Jian Ling, thanked all the 300 invited guests and the support from Shanghai Entry-Exit Inspection and Quarantine Bureau, and the commercial attaché of the embassies of Australia, Spain, France, Thailand and New Zealand, the Dutch Ministry of Agriculture, Nature and Food Quality, as well as many fresh fruit importers, fresh produce e-commerce companies and overseas trade associations. This reflected the amount of attention given to the developments of KJT.com. ESEN is going to provide e-commerce companies hosted on KJT.com with a series of services including company registration, bonded warehouse, cold chain logistics, and repacking. It would also process customs declarations for these e-commerce companies and arrange distribution of imported fruits to different parts of China, reducing logistics and manpower costs associated with double handling.
Bai Zhang Hong, Director of Division For Supervision On Animal and Plant Quarantine of the Shanghai Entry-Exit Inspection and Quarantine Bureau, commented that FTZ has already implemented a new policy which would allow samples to be sent by air for inspection and when the goods arrive by sea, inspection officers would release the goods on the basis of the analysis of the samples sent by air.
Mao Wei, Chairman of Shanghai Kuajingtong International Trading Co. Ltd., pointed out that consumers could learn about the details of their purchases through KJT.com, including prices and tax rates. KJT would also provide small and medium importers of fresh fruits and fresh produce e-commerce companies an efficient transaction platform that would ensure the goods' freshness. Presently, KJT.com has already received more than 2,000 applications, while highest single-day number of transactions exceeded 10,000. After starting cooperation with ESEN and FruitDay, fresh fruit cross-border transactions have reached more than 1,000 a day.
The deputy head of Yangshan customs, Qiu Ya Bing, indicated that any legitimate cross-border e-commerce company may do business on KJT. Customs bureau would expedite work process, reducing lead time for goods release from 72 to 6-7 hours. Compared with previous customs declaration, lower logistics and labor costs plus tax reductions would hopefully lead to a 20-30% drop in prices.
In June this year, Yangshan Free Trade Area became the first designated port of entry for fruits and FTZ's special point for inspection and quarantine. FruitDay is the first one to set up cross-border e-commerce operation in the FTZ and the first in China to use the bonded warehouse importation model.
At the conference, FruitDay's founder Zhao Guo Zhang commented that previously his company imported fruits through the normal trading process. Bulk volumes were put into the bonded warehouse, transported to a designated place in Shanghai for inspection and quarantine after customs declaration, and then shipped to FruitDay's own warehouse. With the arrangement for inspection and quarantine within FTZ, customs processes can be completed within the zone with no need to pay taxes upfront. When orders are executed, products will be shipped directly from FTZ, paying only 10% of cargo tax, none if total amount of tax were less than RMB50. This means that any order of RMB500 or less is to be tax free.
Four agreements with ceremonial meanings were also signed during the conference, including a strategic alliance among KJT, ESEN and FruitDay. The various parties have created a foundation for cooperation, providing cross-border e-commerce services to small to medium size fresh fruits importers and hence opening up a new business opportunity in the market.
Upcoming Events
October 19, 2023

to

October 21, 2023
Produce Marketplace
Elangeni Food Group

·

South Africa

Universal Capital Gr

·

Ecuador

AGRI GATEX LIMITED

·

Africa
Joshua Lim

·

Malaysia

City fresh fruit co.

·

Thailand

Chun lin orchard-Sel

·

Taiwan nan
China Market Access List