You are here
Back to top
Entering 20 years, China's Leading Fruit Company marches towards world-class fruit group
January 09, 2018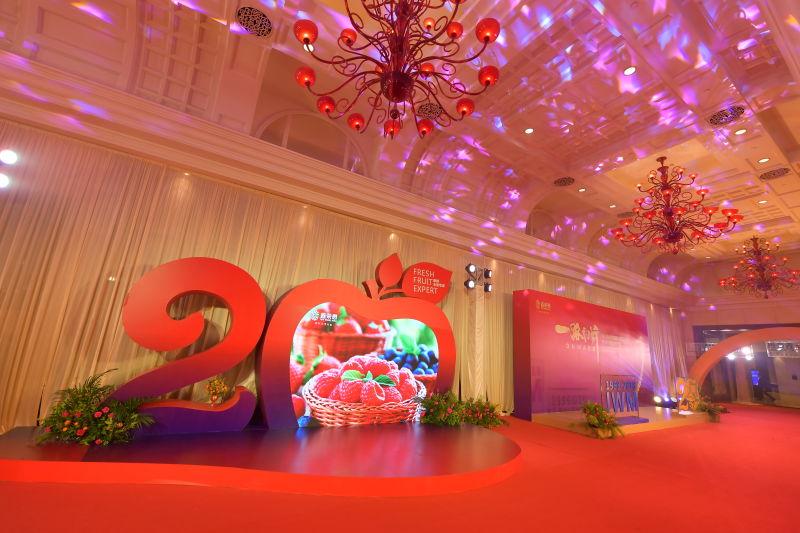 "We expect in the next 20 years" says Mr. Mau wah Liu, Chairman of Joy Wing Mau group, "our company will become a world-class "sharer of fruit value chain!" Mr. Liu expressed full confidence on the group's future at its 20 years celebration on Jan 7 in Shenzhen. Hundreds of industry elites from more than 20 countries and regions gathered together at the event. Delegates from world's top fruit companies including Capespan, Hortifrut, T&G, Driscoll's and Zespri , delegates from New Zealand, Australia, Chile, US embassy and consulates and major associations, delegates from major wholesale markets and leading fruit companies in different provinces all attended the event.
From zero to almost 10 bn
In 1998 in Shenzhen, Joy Wing Mau started its undertaking with a few people and one truck. In the past 20 years, Joy Wing Mau has been pioneering in China's fruit industry. It evolved from a fruit trader to retail service provider, from a vertically integrated fruit company to a value chain platform. And its annual turnover climbed from 100 mn RMB in 2002 to almost 10 bn in 2017.
In 2004, Joy Wing Mau first introduced ERP system in China's fruit industry and worked with Oracle in 2016 to match up international benchmark; in the same year, it implemented stock restructuring and ESOP; in 2011, it introduced Capespan as shareholder to go global; in 2016 it purchased 19.99% share of T&G, set up joint venture with Hortifrut. With series of innovative measures, Joy Wing Mau now has become the leading fruit company in China. It owns over 50 demonstration production bases in China, 6 orchards abroad; it distributes 2000 tons of fresh fruit every day; through 7 major DC and 40 secondary DCs, it delivers fruits to over 80 cities and serve 5000 retail stores, 10000 fruit shops, 10mn consumers daily. It drives the common development of 1,200,000 growers in China.
Serve the Country through Industrial Development
In countries with developed agriculture, varietal research and species replacement are inevitable drivers. Mau Wah Liu, Chairman of Joy Wing Mau group says at the celebration. He points out that it is urgent for China to access the new varietals, technologies from agro-developed countries especially looking at where China's fruit industry stands now. He expressed the willingness to push quality Chinese fruit to go global as well as introduce the best varieties and technologies to go local so that "we could serve the country through industrial development, promote the development of China's fruit industry and bring benefits to growers and welfare to consumers."'
"Pls always keep our visions in mind," says Mr. Liu to the audience "provide safe, fresh fruit to consumers; provide efficient fruit supply chain service to clients; provide a platform where employees work and live happily; improve the production technology of China's fruit industry."
Looking for partners on the industry chain
Joy Wing Mau always holds the philosophy of Create value and share value, puts Mr. Jason Zhang, President of Joy Wing Mau group. "We will take on the strategy of becoming a "sharer of global fruit value chain" and keep open and cooperative to look for and work with the best partners around the globe. By working together, we hope to build a value chain eco-system with the best variety, best farms, best brands, highest efficiency, best status and best customer experience."
 World-class leading fruit company in five years, promote industry upgrading
As to the company's future, Jason puts that Joy Wing Mau will integrate five platforms including R&D, product, logistics, channel and marketing to connect the core resources around the globe and march towards a professional platform company in omni channels. He sets forth the objective for JWM: by 2022, turnover reaches 50 bn RMB, top 500 listed companies in China, top 500 companies in China and a world-class leading fruit company.
Apart from JWM's own development, he also mentioned that JWM has a long-term goal to contribute to the industry and the society. "Through our efforts, we hope to improve the operation of the industry to reach international standards; promote the commercial civilization for sustainable development; improve the social value and social status of fruit industry!"
Mr. Liu also expresses similar expectation: "We expect in the next 20 years, our company will become a world-class "sharer of fruit value chain; become a leading fruit company with annual turnover of 100 bn; become a brand that deeply rooted in consumers; become a major contributor to China and even the world's fruit industry! I'm in full confidence to realize that."
Upcoming Events

November 04, 2021

to

November 06, 2021

February 09, 2022

to

February 11, 2022

September 07, 2022

to

September 09, 2022
Produce Marketplace
Tien Thinh Agricultu

·

Vietnam

Tien Thinh Agricultu

·

Vietnam

Tien Thinh Agricultu

·

Vietnam
China Market Access List