You are here
Back to top
Cold Front Severely Damages Fruit Trees in Northern China
April 15, 2018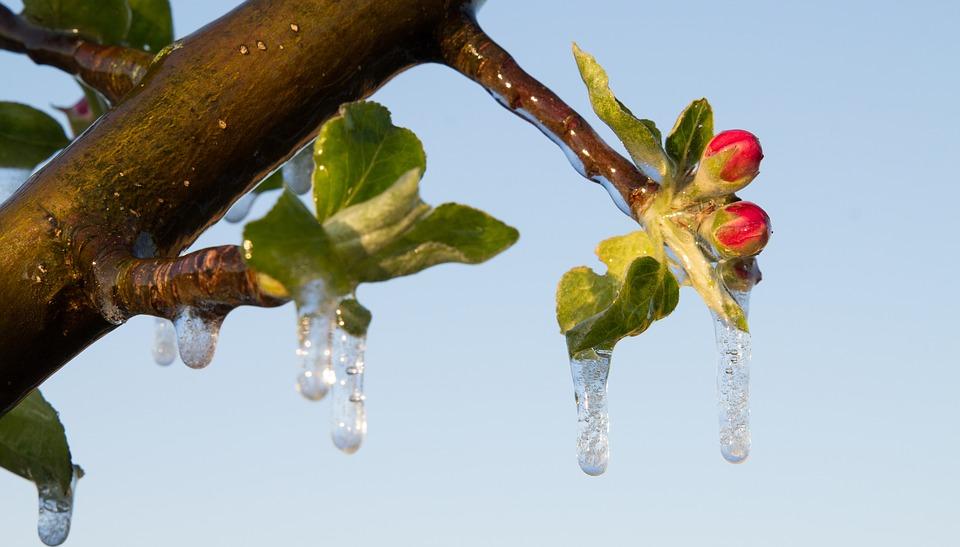 In early April, two cold fronts swept across China. The first occurred between April 1-3, cooling the north and bringing wind and sandstorms along the way. The second wave continued April 4-7, which generated high winds across the country and even snowfall in the north. Temperatures in the northwest and northern China were above 30°C, prior to the cold weather events. That quickly changed, however, when temperatures dropped below 0°C and weather conditions worsened. April's cold fronts severely impacted fruit production in northern China. Northern provinces, including Gansu, Ningxia, Shaanxi, and Shanxi, bore the brunt of the storms. Xinjiang, Hebei, Henan, Shandong, and Liaoning suffered some damage from the weather as well. Significant leaf damage and loss of cherries, pears, peaches, kiwis, grapes, persimmons, walnuts, winter jujubes, apples, and flower buds are likely.
These storms produced the largest frost in 10 years. Along with compromised fruit production and quality of fruits in northern China, the impact is expected to spill over into the fruit spot market and apple futures market. According to an expert from the Chinese Academy of Agricultural Sciences, more than ten thousand acres of apple crop has been affected by the frost. Nearly 70% of Yulin's fruit trees froze, causing crop failure in low-lying orchards, according to Shaanxi Fruit Industry's administrative department. Production in Yan'an and Luochuan fell 5%, whereas Fuxian production rate dropped 8-10%. Apple loss in Weinan was more than 20%. Overall, China's apple production is expected to decrease 15-20%. Depressed production this year could mean the end of an extended period of apple oversupply in the Chinese market.
Kiwi producing areas were also hit hard by the cold wave. The amount of damage varied across different regions. North China suffered the heaviest losses while the south managed to avoid any major crop damage. Xi'an, Baoji, Xianyang, Weinan, and the northern Qinling mountains of Shaanxi province endured the most damage. Half of this region recorded minor crop loss; however, 30% of the region suffered significant crop damage — closure of a few orchards for the remainder of the year is feasible. Henan, Shandong and other northern kiwi fruit production areas also took a beating. Losses, however, were less than those in Shaanxi. Areas in southern China were largely unscathed by the cold wave.
Shaanxi had the misfortune of being the epicenter of the cold storm. An investigation into the weather disaster confirmed that Shaanxi's walnut producing area was hit the hardest by severe frost. A number of mountain walnut gardens appear to have suffered from total crop failure. Kiwi, cherry, Sichuan pepper and apples experienced moderate to severe frost damage. Additionally, pear, peach and grape growing areas were also hurt by low temperatures and frost.
Four factors made this storm particularly destructive. First, temperatures in early April were above average this year, which triggered the flowering period of many kinds of fruit trees to occur a week earlier than usual. Second, the cold wave delivered freezing temperatures in a short period of time—especially in the morning of April 6 and 7, when temperatures dropped by 8-18°C. Other producing areas felt temperatures tank by 20°C. Third, low temperature lingered for an extended period of time. Frosts typically last for two to three hours, but this time subzero temperatures began at midnight and lasted about six hours. Four, a combination of violent winds, rain, snow, hail, and cooling occurred simultaneously. The result was a perfect storm that left a significant dent in China's fruit production.
Upcoming Events

October 27, 2022

to

October 29, 2022

November 02, 2022

to

November 04, 2022
Featured Produce
Produce Marketplace
AGRI GATEX LIMITED

·

Africa

ALOE ECO PARK SAPI D

·

Mexico

Tien Thinh Agricultu

·

Vietnam
Joshua Lim

·

Malaysia

City fresh fruit co.

·

Thailand

Chun lin orchard-Sel

·

Taiwan nan
China Market Access List