You are here
Back to top
China's pending FTAs: potential impact on imported fruit market?
October 12, 2016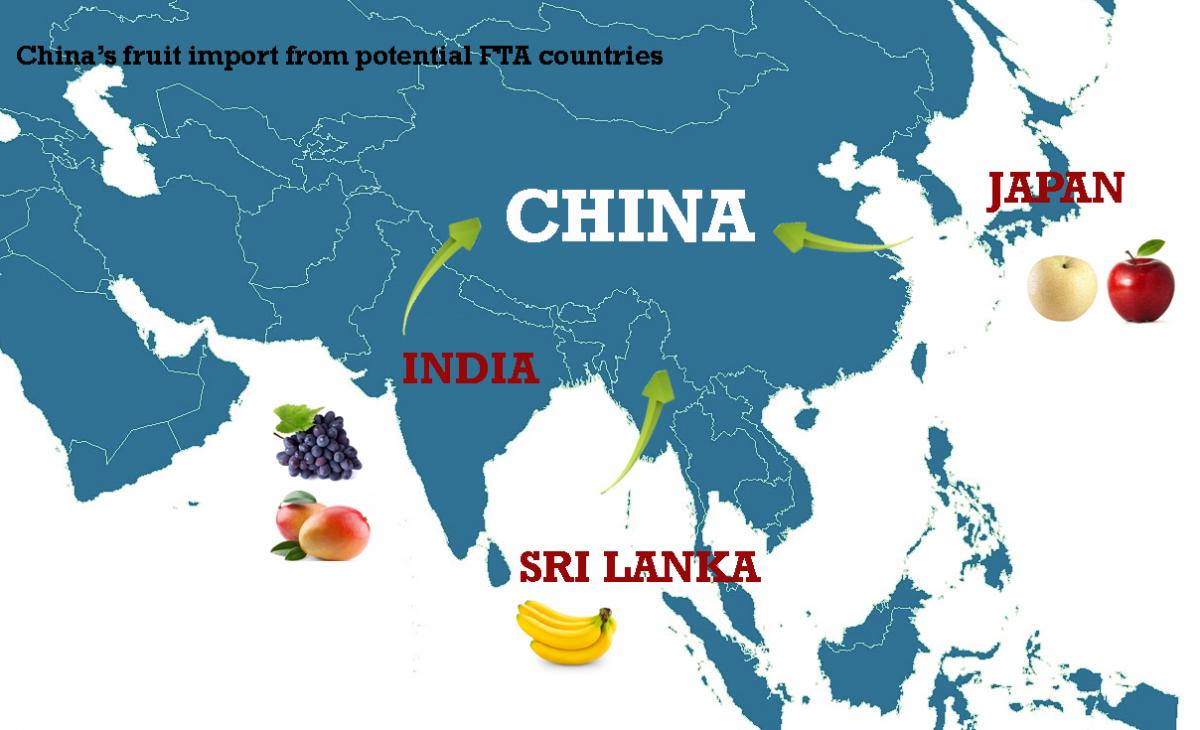 According to China's Ministry of Commerce, China is presently engaged in negotiations over free trade agreements with eight other countries and economic groups: Sri Lanka, Maldives, Norway, Georgia, Japan and South Korea (a tri-lateral agreement), the countries of the GCC (Bahrain, Kuwait, Oman, Qatar, Saudi Arabia, UAE), the member states of ASEAN (Brunei, Burma, Cambodia, Indonesia, Laos, Malaysia, Philippines, Singapore, Thailand, Vietnam), and the countries of the Regional Comprehensive Economic Partnership (RCEP), which includes ASEAN countries along with Australia, India, Japan, New Zealand, and South Korea.
Certainly not all these potential agreements would have a large impact on the current state of China's imported fruit market. Some of the countries listed above already have bilateral agreements with China, such as all of the RCEP member states (excluding Japan and India), whereas fruit exports to China from several of these countries are negligible at best, such as the Maldives, Norway, Georgia, and GCC member states. In effect, there are only three countries with which a FTA would have a noticeable impact on China's imported fruit market: Sri Lanka, Japan, and India.
According to the directions and regulations put forth by the AQSIQ on permissible fruit imports into China, Sri Lanka has already been allowed to export bananas to China. Over the past several years, banana imports into China have blossomed and bananas have become China's most imported fruit, with the value of banana imports skyrocketing over the past two years in particular, reaching $806.8 million in 2014 and $772.8 million in 2015. This could be considered solid grounds for trade and a FTA between China and Sri Lanka; however, competition for China's lucrative banana trade is fierce and already well-established. The Philippines, Ecuador, Costa Rica, and Columbia are the world's biggest exporters of bananas and already supply China with large quantities of their product. Trade with the Philippines and Costa Rica is further bolstered by already-existing free trade agreements with China. Moreover, Sri Lanka's bananas have struggled to obtain quarantine certification from Chinese authorities, and even after three years of working towards meeting China's inspection requirements, no shipments of Sri Lankan bananas have been permitted entrance to China. In this context, Sri Lanka cannot be viewed as a country which can have a large impact on China's overall fruit imports, despite the increasingly rapid pace of bilateral FTA negotiations (three rounds since the 2014 launch of negotiations).
Japan is well-known for its premium produce and fruit from Japan enjoys great popularity in China due to the continuing perception of high quality, premium fruit imports as symbols of status and wealth. Japanese fruit is expensive enough within Japan, and when import taxes and tariffs are added to this already high base price, imported Japanese fruit becomes incredibly expensive to the Chinese consumer. Many Chinese consumers long for Japanese apples and pears, the only Japanese fruit granted import into China, to become more affordable. If an FTA was signed between these two countries, tax/tariff rates could be slashed and import quotas increased, which would in turn significantly lower prices. Chinese buyers regard this possible outcome with enthusiasm and optimism, whereas Japanese exporters are more ambivalent: they would surely reap some benefits from a potential free trade deal but these would be neither large nor pronounced. Competition is fierce, as eleven countries from Asia, Europe, and the Americas already export apples and pears to China. Demand for these fruit is also weaker than many other categories of fruit: in 2015, apples were only the 8th most imported fruit in China, with pears not even making the top ten. As a result, there is not much opportunity for Japan to become China's main supplier of apples and pears and turn its luxury fruit exports into bestsellers on the Chinese fruit market. Nevertheless, a certain degree of optimism, however cautious, remains and is based on China's continued fondness for luxury products and nurtured by active bilateral FTA negotiations. Having started in 2013, these talks have already achieved tangible results, which were highlighted during the latest tenth round of negotiations this past summer.
According to AQSIQ, India already exports two types of fruit to China: grapes and mangoes. These both make the list of top ten imported fruit in China, with grapes ranked third and mangos sixth for 2015. The increasing demand for these fruit has caused India to put their full faith and effort into the FTA negotiations with China. Currently, most grapes are imported from distant countries such as the United States, numerous South American countries, South Africa, New Zealand, and Australia, with South Korea and Taiwan as the only exceptions. Although the world's biggest grape exporters (namely Chile and the US as number one and two, respectively) already export to China, the vast export distance between themselves and China makes India a potentially more attractive and competitive option, regardless of the fact that it is only the 15th largest exporter of grapes in the world.
Mangoes are a different story however, as China's mango imports are almost fully supplied by ASEAN countries, which are geographically much closer to China and with whom China already has signed FTAs in place. This presents certain difficulties for India, the 5th largest exporter of mangoes in the world, as it must compete with these well-established ASEAN countries for a greater market share in China. Nonetheless, healthy prospects remain for the signing of a FTA between China and India in the near future, as negotiations have been lively and have progressed rapidly since the first round was launched in 2012, advancing to their 14th round less than two months ago. The leading exporters of fruit to China, such as Chile, Peru, Australia, New Zealand, and the member states of ASEAN, have benefited greatly from signing FTAs with China. These trade agreements have turned them into China's major fruit trade partners, with Thailand, Chile, Vietnam and the Philippines currently the top exporters. These countries have also come to define China's imported fruit market through the variety of fruit they export to China and are responsible for the strong representation of subtropical and tropical types and varieties of fruit. Even if agreements with Sri Lanka, Japan, and India were to not bring about drastic changes to the imported fruit market in China, these countries could still certainly achieve some degree of success.
Upcoming Events
October 19, 2023

to

October 21, 2023
Produce Marketplace
Elangeni Food Group

·

South Africa

Universal Capital Gr

·

Ecuador

AGRI GATEX LIMITED

·

Africa
Joshua Lim

·

Malaysia

City fresh fruit co.

·

Thailand

Chun lin orchard-Sel

·

Taiwan nan
China Market Access List