You are here
Back to top
China is Developing a Taste for White Asparagus
November 17, 2016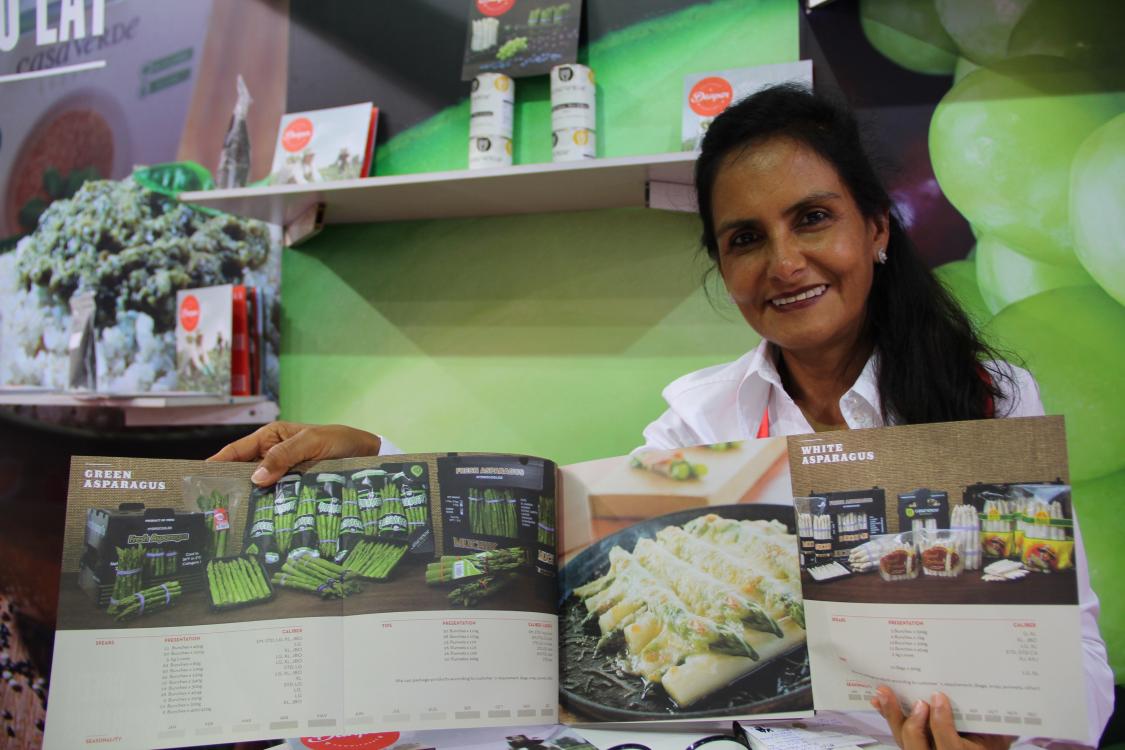 Aurora Bazán, chief commercial officer of Danper, shows the varieties of Peruvian asparagus exported to China by her company

Photo: Produce Report
"Chinese consumers still tend to mostly buy green asparagus," Aurora Bazán, chief commercial officer of Danper, one of Peru's leading exporters, told Produce Report. "However, they are already showing an increased interest for white asparagus. In the future, Peruvian green and white asparagus exports to China may indeed reach equal volume." Chinese consumers' current preference for green asparagus is due in large part to their unfamiliarity with, and the higher prices of, white asparagus, which is classified as a gourmet product, as the trade and investment specialist of the Economic and Commercial Office of Peru in Shanghai Jose Arias explained to Produce Report.
It is important to note that transportation costs are a considerable factor affecting the price of both Peruvian green and white asparagus, as these vegetables are shipped to China by air. The maximum shelf life of asparagus is roughly two weeks, which makes it impossible to transport them cheaper sea freight. "Regardless of the price, our product always finds eager customers in China, as many are willing to pay a premium for Peruvian quality," remarked Jose Arias.
Danper is a Peruvian pioneer in exporting asparagus to China and began its first deliveries to China in April of this year. Aurora Bazán elaborated on Danper's current asparagus shipments to China: "As direct flights between Peru and China are still unavailable, we transport our asparagus via South Korea. Overall travel time is two days and we send 3,000 kilograms of our product to the Chinese market this way every week."
In China, Danper collaborates with the Citysuper supermarket chain and two additional importers, which distribute the asparagus to retailers and other food vendors. Although asparagus is grown in Peru year-round, during some months, such as in summer (January, February, and March) and winter (July and August), output decreases slightly. "Despite the seasonal decline, Danper always has enough product to supply its international customers," said Aurora Bazán.
China itself is the world's leading producer of asparagus, growing more than 7.35 million tons of the vegetable last year. Competing with domestic producers is no easy task for Peruvian asparagus in China. However, whereas asparagus is only grown between March and October in China, Peru benefits from a 12-month long growing season, with November and December as peak export months. China's imports of asparagus from other countries is minimal at best: in 2015, China imported just 12 tons of asparagus from Thailand, and only 2 tons in 2014. A mere seven months after entering the Chinese market, Peru has already managed to export six times more asparagus (around 84 tons) to China than was imported from Thailand over the past two years. Evaluating the initial results of Peruvian asparagus exports to China, Aurora Bazán noted that, "there are many opportunities for us to grow."
In addition to asparagus, Danper already exports avocados, mangos, and grapes to China, with blueberries to join this list in the near future.
Upcoming Events
October 19, 2023

to

October 21, 2023
Produce Marketplace
Elangeni Food Group

·

South Africa

Universal Capital Gr

·

Ecuador

AGRI GATEX LIMITED

·

Africa
Joshua Lim

·

Malaysia

City fresh fruit co.

·

Thailand

Chun lin orchard-Sel

·

Taiwan nan
China Market Access List