You are here
Back to top
Breakthrough by Lantao: Mexican Avocado Charter Flights to China
August 04, 2015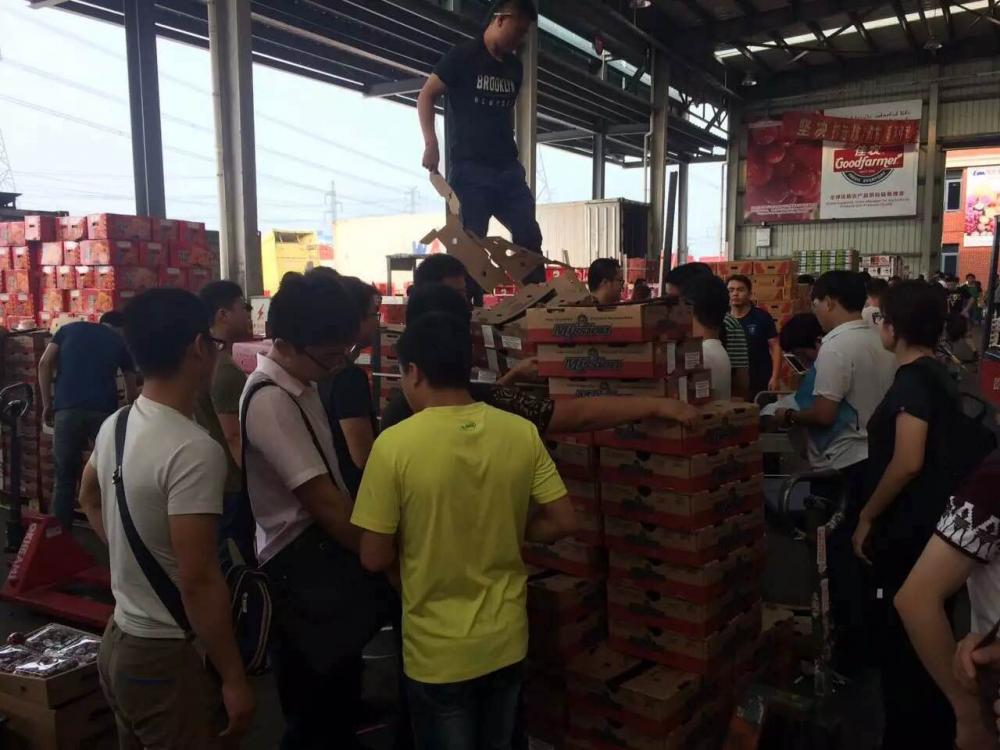 On July 18, 2015 the first ever charter air shipment of avocados from Mexico to China arrived in Shanghai, marking a new stage of development for China's avocado import market. The flights are being handled by premium fruit importer and distributor Lantao International, which is working in strategic cooperation with Mission Produce, the world's largest avocado producer. As of August 1, Lantao had completed 10 Mexican avocado air charter flights to China, or totaling 200 pallets of avocados by air.
 
"Frequent avocado charter flights in such a short time have not only set a precedent in China's imported avocado industry, but also have broken the world record for air avocado shipments," said Asia Export Manager at Mission Produce, Thomas Padilla.
Mexico avocado trees get two crops.  The normal or first crop begins in September.  The early Mexican crop (also known as the Flor Loca, or "Crazy Fruit") begins in May.  So by shipping this early fruit to market by air, Mission and Lantao were able to meet a high demand period during a gap period in the Chinese market.
 
"This is the first time in history that Mexican avocados have been sent by air charter flight to China," said Lantao's Shanghai Manager, Ge Lei. "There have been small-scale air freight shipments in the past, but increasing demand, especially from middle and upper class consumers, has rapidly created a need for full air charter shipments.
 
Lantao's Mr. Ge said that avocados sent by air are aimed specifically at high-end customers. Avocados are the second hottest fresh produce item in China's e-commerce landscape following only imported cherries. But there have been some quality problems with poorly handled avocados in the Chinese market that have led to complaints by online consumers such as dark stringy fibers in the fruit and "rotten head" issues. Shipping avocados by air has proven a very effective solution to these quality problems. 
 
"Actually, there is a misunderstanding that avocados have a long shelf life," says Ge. "The ideal storage temperature for the avocado is 4 to 8 degrees Celsius. If the temperature is too cold or the period is too long, decay at the ends of the fruit and black fibers in the flesh will occur, which are customers' main quality complaints." 
 
Mexico is the largest traditional avocado producing region, offering the most stable quality and supply. Through many years of market development and education in China by Mission and Lantao, the fruit has gained a large number of loyal customers. Despite the tremendous growth in exports to China over the past few years, Mexican avocado exports to China still achieved substantial growth in the first half of this year.
 
According to Ge, "This year, sales should be over three times over last year.  Air freight is expensive, but it ensures improves the customer purchase experience, and at the same time boosting positive consumer sentiment about avocados.  Compared with the 20-day shipment by sea, just two days by air has obvious superiority in quality."
 
According to customs data, as of the end of 2014, avocados were the fastest growing import category by value, up 400.1% from a year earlier, and has seen successive year-on-year growth of more than 400% since 2012. Data from the trade association APEAM indicate that China has become the fastest-growing export market for Mexican avocados.
 
In fact Chinese demand for avocados is so strong that a recent sea shipment delay caused by a typhoon even caused a week-long period of avocado scarcity in China, resulting in a nationwide price spike. But with the opening of the China market to Chilean and Peruvian avocados, there will be less gaps and a more stable market in the future for China's imported avocado market.
 
"Chilean and Peruvian avocados have an advantage in cost, but we'll have to wait and see if the market will accept them as readily as the Mexican fruit," says Lantao's Ge. "As one of the major importers of avocados, Lantao will continue to develop avocados from more countries and geographic regions for clients, based on the demands of the market and customer."
Mission Produce is an industry leader in quality, ripening, food safety and innovation, which has lead them to be one of the largest global players in the avocado industry.
Lantao is the largest importer and distributor of premium fresh fruit from around the world into China.  Their distribution locations include Shanghai, Beijing, Guangzhou, Zhengzhou, Herbing, Shenyang and Qingdao.
Upcoming Events

September 06, 2023

to

September 08, 2023
October 19, 2023

to

October 21, 2023
Featured Produce
Produce Marketplace
Universal Capital Gr

·

Ecuador

AGRI GATEX LIMITED

·

Africa

Qualipac Pty Ltd

·

Australia
Joshua Lim

·

Malaysia

City fresh fruit co.

·

Thailand

Chun lin orchard-Sel

·

Taiwan nan
China Market Access List