You are here
Back to top
Betting on Unmanned Convenience Shelves' Future
January 07, 2018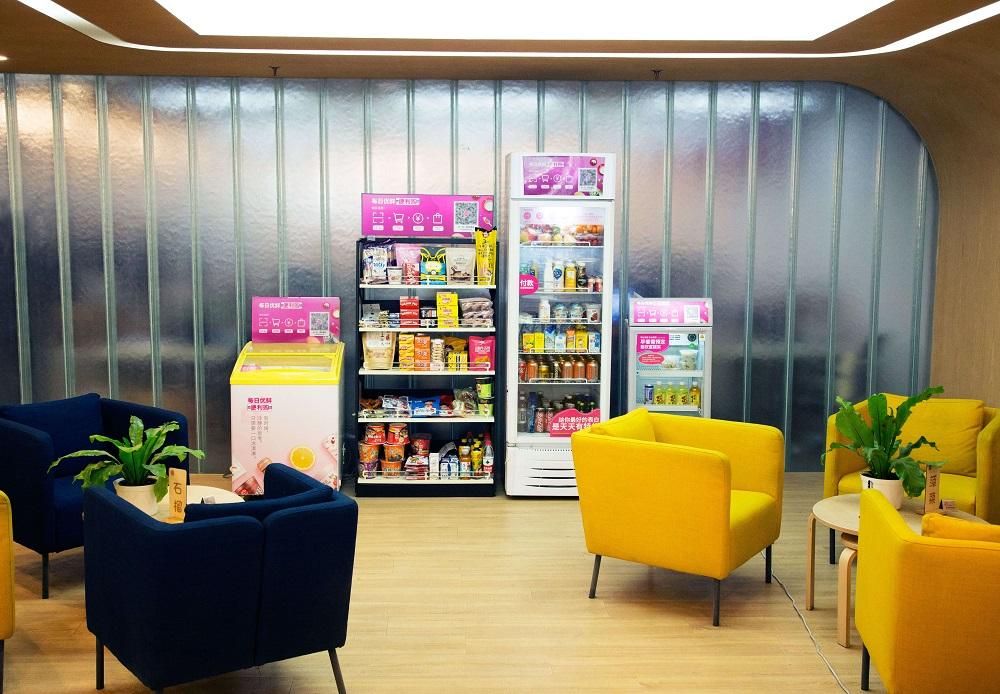 Despite still very much an embryonic operation model, China's unmanned stores are already attracting attention from the country's major venture capitalists and other corporate investors.
On December 29, 2017, MissFresh, a major company in fresh produce e-commerce, announced the launch of a subsidiary for entering the business of a new form of unmanned convenience stores. It also disclosed that the new venture has already completed the first two rounds of financing, worth US$200 million in total. Tencent, China's leading social media company, led a group of venture capitalists for the A round and CDH Investments was the lead investor for the B round.
MissFresh's founder and CEO, Mr. Xu Zheng, indicated that his company was leveraging its existing supply chain for home delivery, built up over the last three years, to launch the new venture, branded as Bianligou (or easy-purchase). Bianligou installs unmanned convenience shelves carrying fresh fruits, snacks, cold and hot drinks as well as prepared meals in office premises. According to Mr. Li Yang, Bianligou's CEO, the new company has already penetrated 18,000 points of sales.
Completion of the two rounds of financing would afford Bianligou the resources to extend its reach to 60 cities, with the target to create 500,000 high quality points of sales. Incubated for 6 months prior to its launch, Bianligou represents a move by MissFresh to integrate online and offline retailing. The additional market coverage by Bianligou would thus create synergy with MissFresh's home-delivery service. According to Mr. Li Chaohui, General Manager of Tencent's Investment Department, retailing near the consumers has become the trend while unmanned shelves inside office premises would be the best way of achieving this. CDH Investments' partner, Mr. Li Haifeng, on the other hand, opined that unmanned shelves would bring merchandise to within 10 meters of the consumers, significantly reducing the distance between them.
On Jan 3, Yiguo.com, another major fresh produce e-commerce company, announced that it has served as the lead investor in providing the A round financing for Hami Technology. B round financing has been in the works and the two rounds of financing is said to be worth US$100 million. Hami was a pioneer in the unmanned convenience shelves retailing. It has hence attracted a lot of interest among the financiers.
By utilizing Yiguo's national supply chain and delivery network, Hami would possess the capability for servicing the customers efficiently. Hami is said to have 20,000 points of sales, each serving more than 100 customers. Number of transactions averages 300,000 per day. With Yiguo's capital injection and distribution network, Hami would be able to quickly achieve its objectives of penetrating 100 cities and 500,000 quality distribution points.
Mr. Zhao Wenqiang, CEO of Hami, explained that setting up points of sales should only be the starting point for unmanned convenience shelves. Cost reduction would be the key for future development. He said, "in the next three months, 60% of the players would flop due to business development issues, and within this year, 90% of the players would fail because of supply chain problems." He believed that, with the additional resources provided by Yiguo, Hami has already entered the second phase of development.
Unmanned retailing was a very hot topic in 2017. Just the unmanned shelves' segment alone had attracted more than 50 players, investing more than RMB2 billion in total. Business development, supply chain, technology and operation management have been seen as the four key success factors. Hami already possesses strong business development and operational capabilities. Bringing in Yiguo's supply chain resources would help Hami develop its competitive advantage in unmanned convenience shelves.
Currently, Hami and Yiguo share common resources in manpower, logistics, warehousing, supply chain and online traffic. Not only would this allow business expansion, Hami's single order processing cost has been reduced by 15%. Other competitors' costs are estimated to be somewhere between 80-200% higher. Mr. Mao Chengyu, a partner at Rising Capital, Hami's angel investor, stated that his company has been following closely the development of the new form of retailing. To him, catering to the details about supply chain and logistics has to be the basis for rapid business growth.
Upcoming Events
February 08, 2023

to

February 10, 2023

September 06, 2023

to

September 08, 2023
October 19, 2023

to

October 21, 2023
Produce Marketplace
Universal Capital Gr

·

Ecuador

AGRI GATEX LIMITED

·

Africa

Qualipac Pty Ltd

·

Australia
AI Global

·

AI Global

Joshua Lim

·

Malaysia

City fresh fruit co.

·

Thailand
China Market Access List