You are here
Back to top
Argentine Cherries Test Waters in China for Next Season
February 20, 2019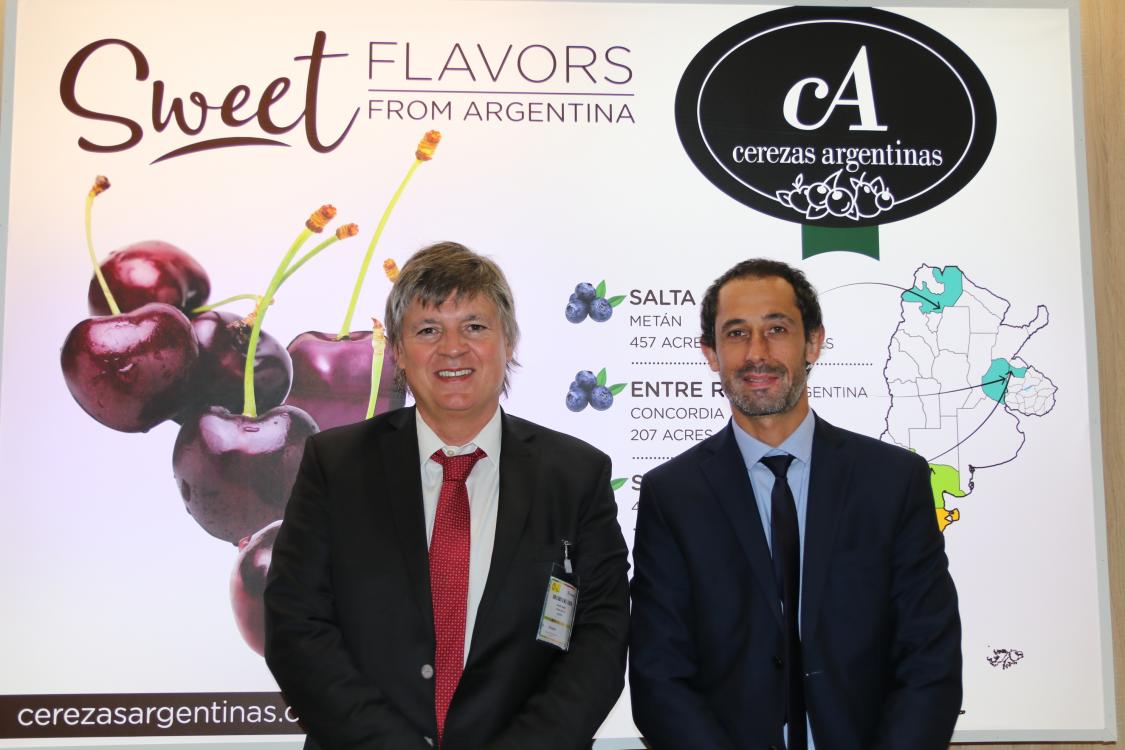 ▲Adolfo Storni-Cerezas' CEO(left),Matias Notti-Sales Manager (right)
Soon after gaining market access to China, air-freighted Argentine cherries made their China market debut in January of this year. Then, on Feb 8th, the inaugural sea shipment also landed in China, consisting of eight containers of Argentine cherries. To explore the Argentine cherry industry, Produce Report talked with two industry insiders at Fruit Logistica 2019 held in Berlin on February 6-8.
Ms. Alit Fasce, responsible for fresh fruit exports at the Argentinian Agency of Trade and Investment, an association committed to promoting exports, noted that over 80% of cherries produced in Argentina are destined for overseas markets. In Patagonia, Argentina's foremost cherry growing region, fruit production benefits from the unique climate and clear and pure waters of the region, for which it is famous. Patagonia contributes approximately 70% of the national cherry output. In this area, the cherry season extends for around three months, from mid-November to mid-February.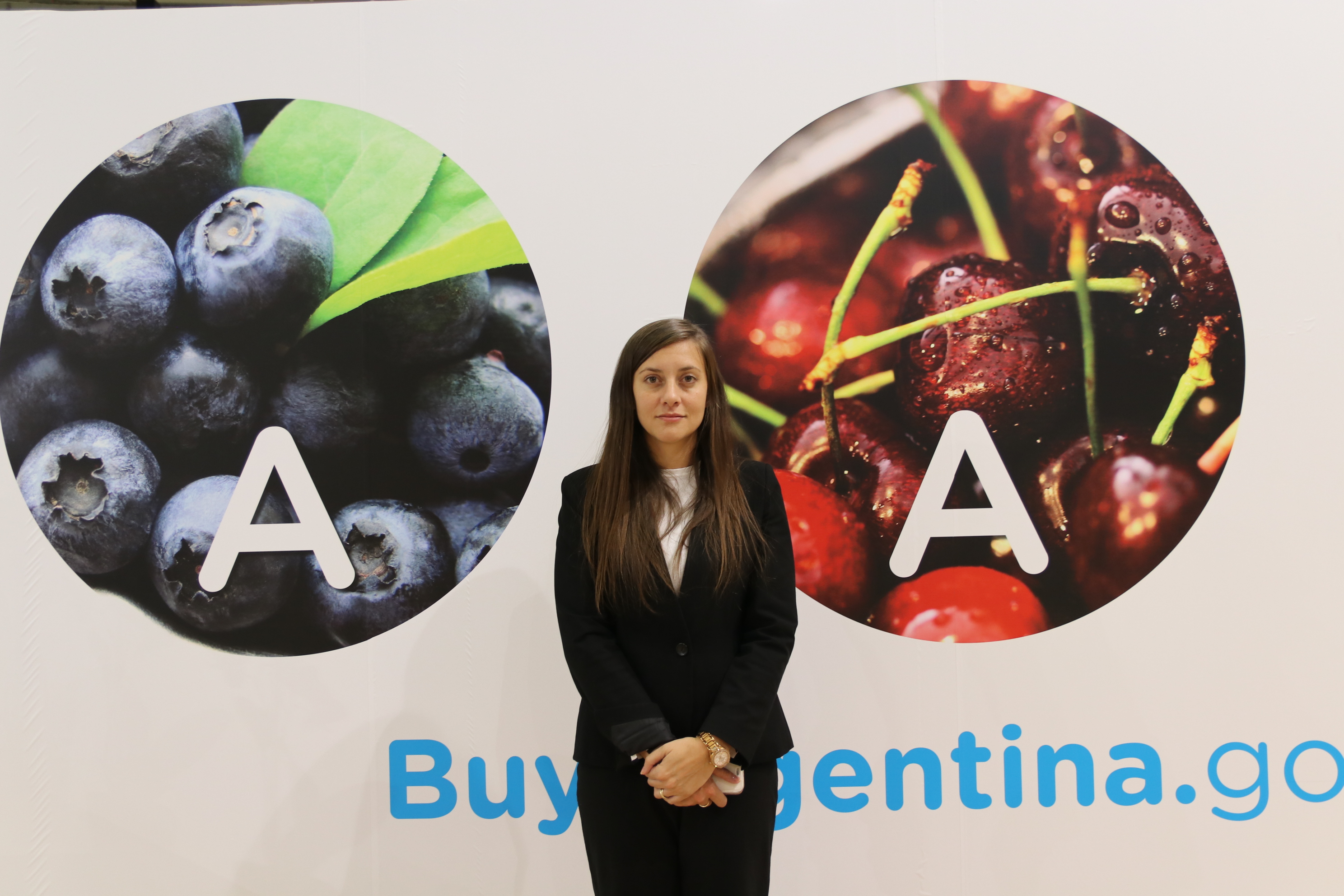 ▲Ms. Alit Fasce
To meet the phytosanitary protocols demanded by the Chinese government, Argentine cherries are required to undergo a 15-day period of cold treatment. Shipments must undergo phytosanitary measures prior to cargo loading if being sent by air, or cold treatment can be completed during transit if going by sea. However, Alit also told Produce Report that Argentina has been negotiating with the Chinese government to be recognized as a fruit fly-free country of origin, a status which has already been acknowledged by other export markets following public and private sector efforts in Argentina for over a decade. This would lead to fresher Argentine fruits at lower prices and quicker transport to Chinese consumers.
"Although it was already on the tail end of this season when Argentine cherries were officially allowed to come into China, we still value it as an excellent opportunity to test the market, which allows us to enter the next season well prepared," Alit said.
Cerezas Argentinas S.A., a company established in 2008 and located in the Patagonia region, possesses more than 750 hectares dedicated to the commercial production of fresh fruits including cherries, blueberries, pears and apples. Last month, Cerezas witnessed as the first air shipment carrying its cherries left Buenos Aires bound for China. At the company's Fruit Logistica booth, Produce Report interviewed Mr. Matias Notti, Sales Manager of Cerezas.
According to Matias, two of the total eight containers in the first sea shipment of Argentine cherries to China held cherries from Cerezas, with Sweetheart as the main variety. As to China's voracious appetite for premium cherries, he noted that, "Chinese consumers are known for their distinct preference for cherries being large in size, dark in color, and sweet in flavor. The cherries we market are all produced by ourselves, thus helping us in on-demand production and quality control. In the coming years, we will focus more on supplying China with early maturing cherry varieties which are one of Cerezas' key strengths."
Cerezas has turned its attention toward China even before Argentine cherries got a final approval. At Asia Fruit Logistica 2018, the company made contact with a number of Chinese traders. For this season's cherry exports to China, Cerezas smoothly entered into cooperation with importers such as Dalian Yidu.
Image source: MZMC
 
Featured Produce
Produce Marketplace
Elangeni Food Group

·

South Africa

Universal Capital Gr

·

Ecuador

AGRI GATEX LIMITED

·

Africa
Joshua Lim

·

Malaysia

City fresh fruit co.

·

Thailand

Chun lin orchard-Sel

·

Taiwan nan
China Market Access List